Internet's short video creativity crisis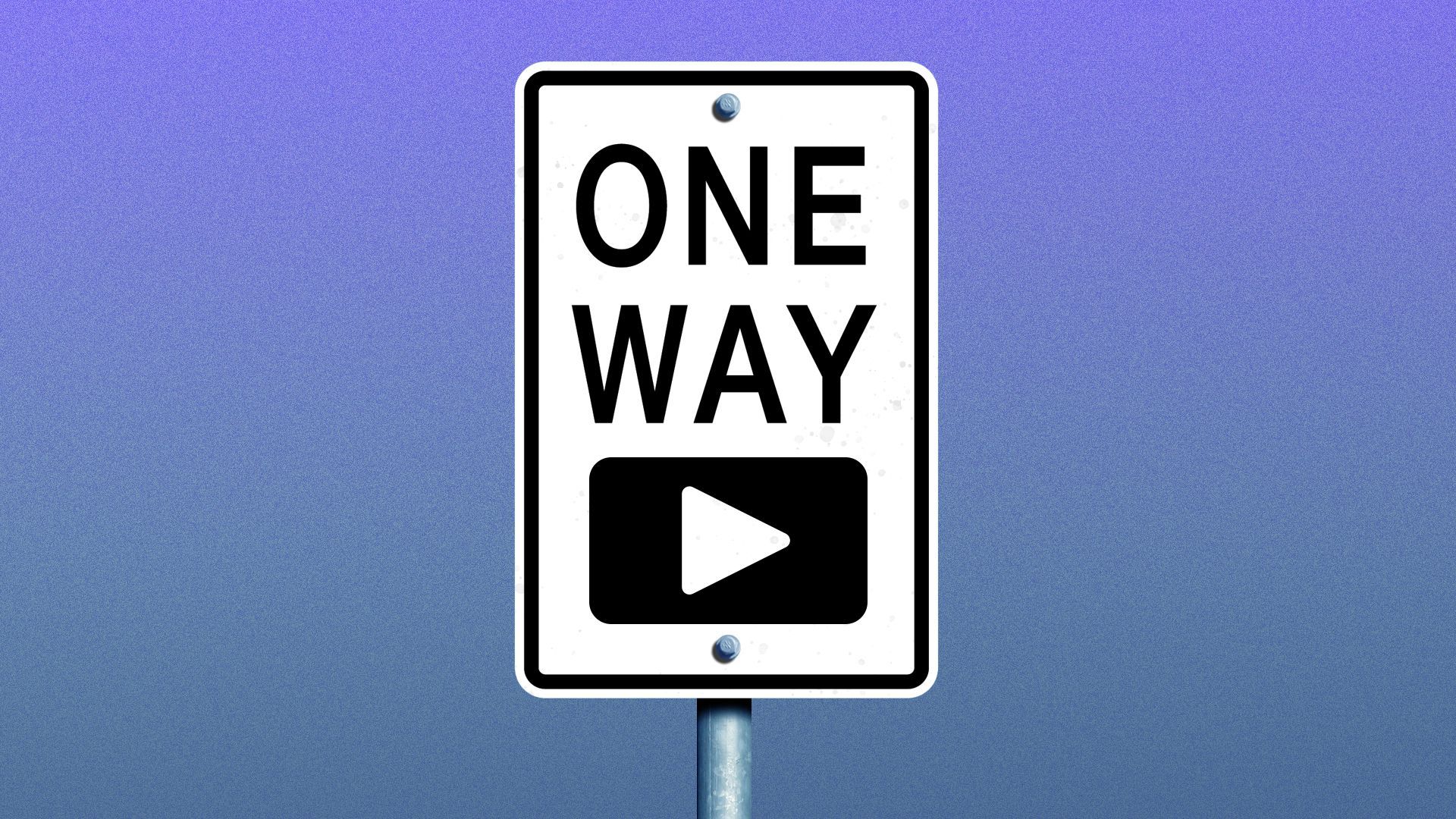 A new era of short-form video is sweeping the internet, forcing every kind of creator — from podcasters to photographers and publishers — to adjust their media strategies.
Why it matters: There have never been so many opportunities to create content online, but business incentives are driving all kinds of creative individuals and enterprises to chase the same viral trends.
Be smart: "With TikTok, Instagram Reels and some other new platforms, the addiction is to the platform," said Sasha Kaletsky, co-founder of Creator Ventures, a creator economy investment firm. "The user isn't looking for any specific creator, they are looking to be entertained," he told Axios on stage last month.
For creators, that means a broad move into quick, cheap behind-the-scenes videos.
TV journalists, eager to build new audiences as linear TV fades, are leaning into "get ready with me" videos that show their morning-rush routines.
Photographers are posting videos of their photo shoots and dramatic before-and-after photo edits.
Podcasters are posting videos of themselves interviewing guests in their recording studios that they hope will lure users to their shows on Spotify or Apple.
Meme-makers even tried posting meme images as short videos on platforms like Instagram to boost their rankings in the app's algorithms.
By the numbers: A new report from mobile analytics firm data.ai finds users spend on average 3.1 billion hours globally streaming user-generated content daily on mobile-native, short-form video apps like TikTok and YouTube.
Zoom out: Almost all of the user growth amongst teens online is going towards short-form video apps. That means the best shot creators can take at building an audience is to lean into viral video trends — even if they aren't video professionals.
How we got here: The explosive rise of TikTok during the pandemic and growing concerns around user data privacy have pushed nearly every major social media company to fundamentally shift their strategy for distributing content.
Meta said in July it would emphasize recommending Facebook content to users based on what's going viral over boosting content based on social connections — a change that would transform the app to feel more like TikTok.
"It's natural that social networks probably will lean into recommendation media for the foreseeable future, because if social networks are supportive of ads, the most highly engaged content is going to be what generates the maximum amount of advertising revenue," said Michael Mignano, a creator economy investor at Lightspeed Venture Partners.
Yes, but: When it began rolling out those changes on Instagram — an app built for photographers, artists and other creative professionals — users revolted.
"A lot of artists are having a lot of trouble with the shift," Kaya Yurieff, a reporter for The Information who focuses on the creator economy, told Axios. "But they're embracing video because they don't have much of a choice anymore."
National Geographic, the publisher with the largest following on social media, is facing that pressure. "Our incredible social reach is largely based on our strength on Instagram, which is based on our strength in photography, which is great," National Geographic's new editor-in-chief Nathan Lump told Axios last month.
"But obviously, we know that video is driving a lot of engagement in social, and that's where a lot of growth is in terms of engagement and users and social platforms. And so we need to put a lot more emphasis there."
Between the lines: Social media platforms have a lot to gain long-term from leaning into short-form video. But for now, the user adoption of short-form video has outpaced business opportunities for creators.
"Ad load on short-form video products remains low as platforms prioritize growing engagement rather than monetization at this point," analysts at MoffettNathanson wrote in a memo to clients earlier this year.
BuzzFeed blamed that dynamic, in part, for having to lay off 12% of its workforce earlier this month.
What's next: There are still more people than ever who are making new content, and some observers believe the advent of generative AI tools like Dall-E, Stable Diffusion and ChatGPT will make it even easier for newcomers.
"The way I think about AI right now is that it's a way to enable humans to create more and express themselves more, but it's not a replica or replacement for true human creativity," said Lightspeed's Mignano.
But many artists distrust generative AI. They object to AI firms' use of vast quantities of data, including some material under copyright, to train the programs. And they fear the new tools will make their tough business even tougher.
What they're saying: "There's been a paradigm shift from mass produced content to the one-on-one, sort of hyper-personalized content, which is becoming easier and easier with these AI tools," said Anushk Mittal, co-founder of generative AI avatar startup Circle Labs.
"I think it's an emerging field that we still have to explore," said Mittal. "My take on it is ... we're looking at art all the time and that's how you get inspired to create new art. It's the same thing but instead of humans doing it, it's a machine."
Go deeper