Here's what Kevin McCarthy said after winning House speakership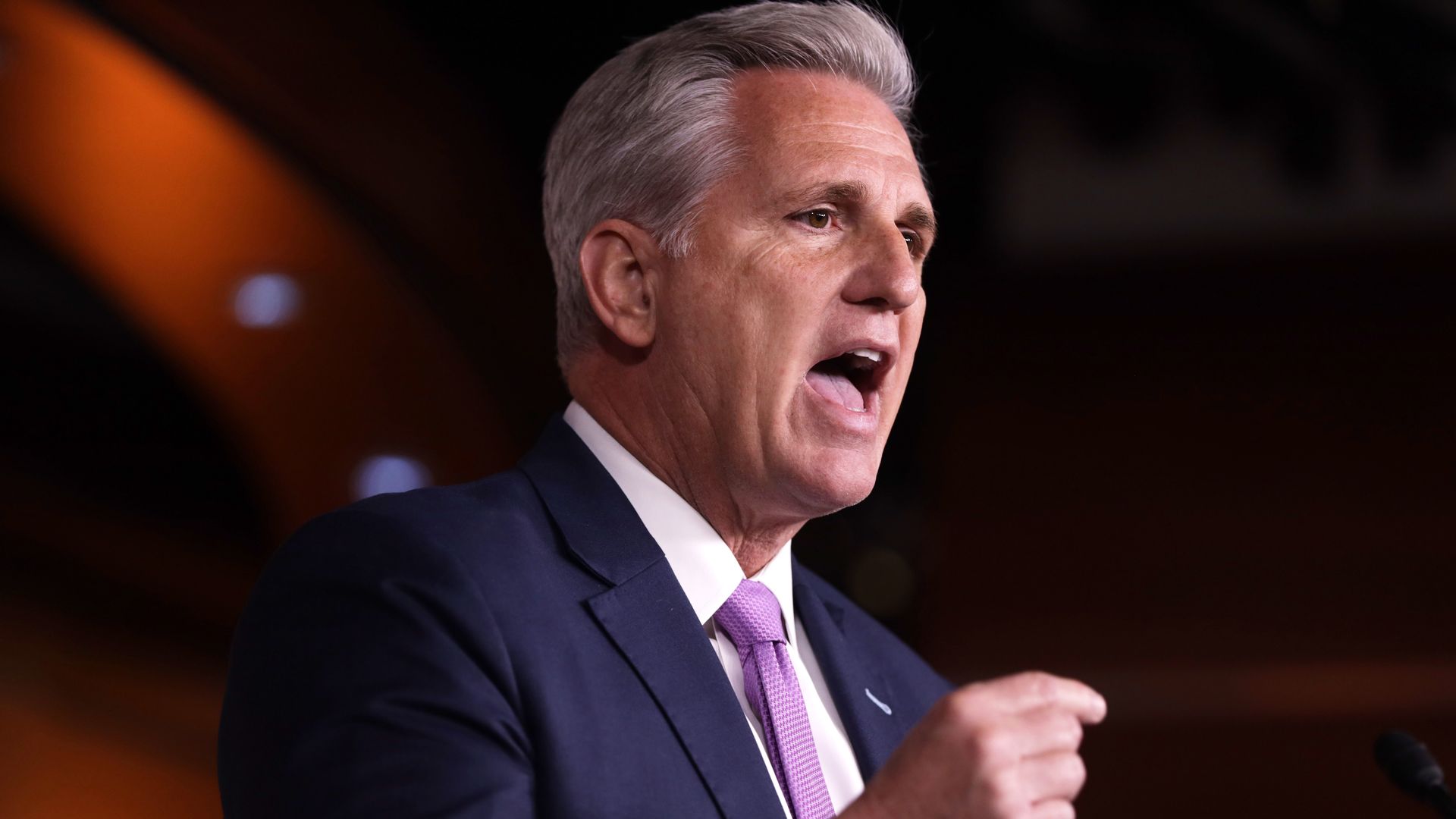 Rep. Kevin McCarthy (R-Calif.) gave his first speech as Speaker of the House after midnight on Saturday in which he pledged "to be the check and provide some balance" on the Biden administration.
The big picture: McCarthy clinched the speakership after suffering 14 ballot vote losses in a historic vote that stretched multiple days.
What he said: "I hope one thing is clear after this week: I will never give up. I will never give up for you, the American people," McCarthy said. "And I will never give up on keeping our commitment to America."
"As Speaker of the House, my ultimate responsibility is not to my party, my conference, or even our Congress. My responsibility — our responsibility — is to our country," he added.
"Our system is built on checks and balances. It's time for us to be the check and provide some balance to the President's policies...There is nothing more important than making it possible for American families to live and enjoy the lives they deserve."
Finishing his remarks, McCarthy added, "Our nation is worth fighting for. Our rights are worth fighting for. Our dreams are worth fighting for. Our future is worth fighting for."
After his speech, McCarthy thanked former President Trump when speaking with reporters.
"I don't think you should doubt, anybody should doubt, his influence," McCarthy told reporters. "He was with me from the beginning. … And he was all in. He would call me and he would call others."
"And he really was – I was just talking to him tonight – helping get those final votes. And what he's really saying really for the party and the country, that we have to come together," he added.
The other side: President Biden congratulated McCarthy in a statement released Friday night.
"As I said after the midterms, I am prepared to work with Republicans when I can and voters made clear that they expect Republicans to be prepared to work with me as well," Biden said. "Now that the leadership of the House of Representatives has been decided it is time for that process to begin."
"As the last two years show, we can do profound things for the country when we do them together."
More from Axios:
McCarthy elected House speaker after historic battle with GOP rebels
McCarthy talks escalate as speaker vote adjourns on Day 3
Go deeper