More atmospheric river events take aim at California with flooding rains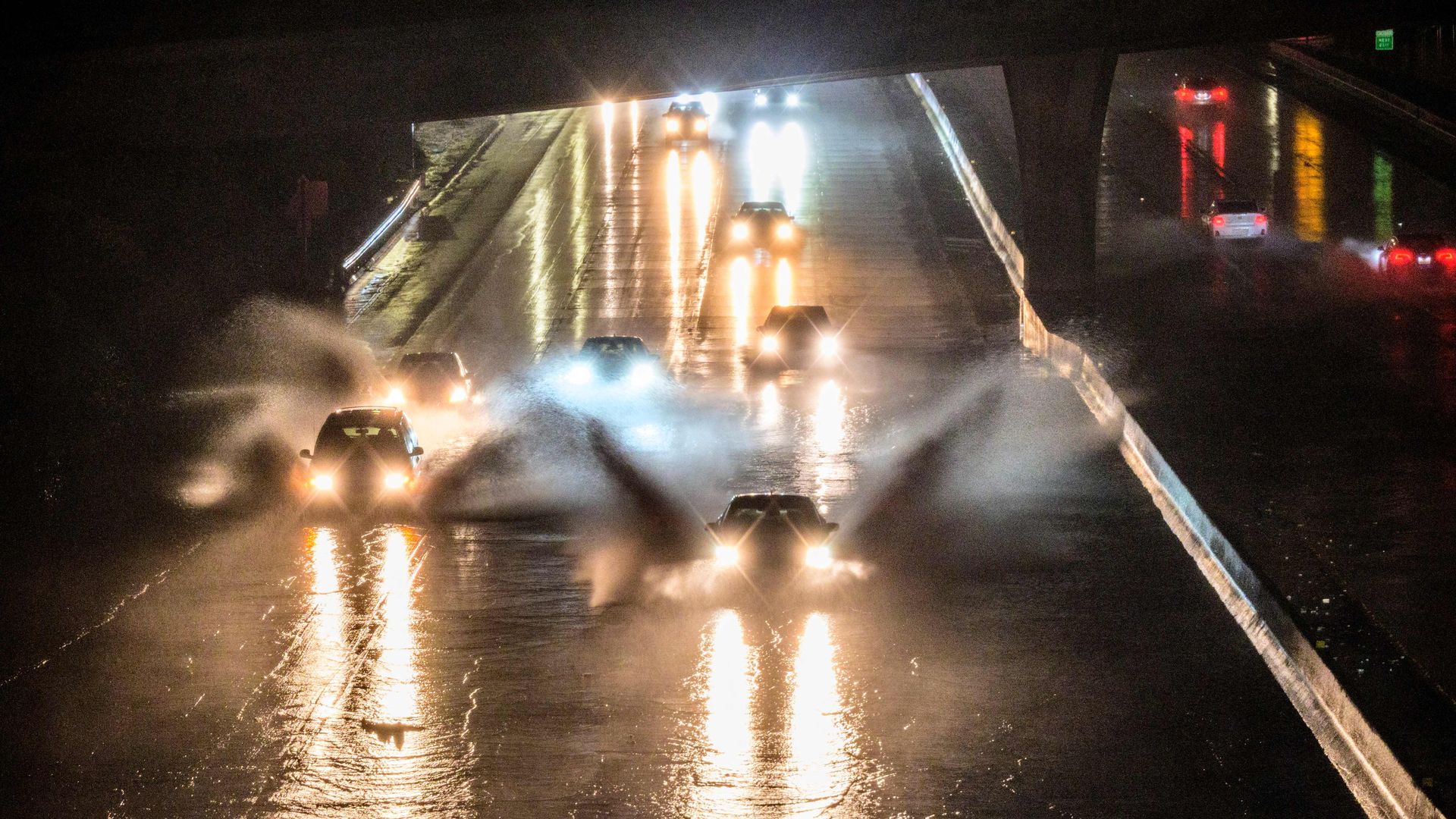 After a powerful storm left at least two dead and homes and businesses flooded across California this week, more damaging weather systems are lined up for landfall on the West Coast for the foreseeable future.
Why it matters: California is mired in a historic drought, but too much rain in a short period will lead to increasingly devastating flooding, forecasters warn.
The big picture: Northern and Central California saw several inches of rain fall in the most recent storm, which was a powerful atmospheric river associated with a bomb cyclone over the northeast Pacific Ocean.
As a result of storms so far, rivers are at or near flood stage. The coastline has taken a beating from high waves and storm surge. High winds felled trees well inland, including in higher elevations where gusts were clocked above 100 mph.
The good news is that the state's reservoirs, which had been reaching worrisome lows, are filling back up again. Lake Oroville, the state's largest reservoir, is now at 77% of its historical average capacity at this time of year.
And the snowpack in the Sierra Nevada Mountains is off to a robust start. At the UC Berkeley Central Sierra Snow Lab, 5 feet of snow fell in the last week alone.
State of play: The weather pattern that has delivered so much precipitation along the West Coast is stuck in place, with a roaring jet stream blowing clear across the Pacific Ocean, from Japan to Hawaii and onwards to California.
This current of air at the upper levels is steering storm systems loaded with moisture into the Golden State.
Atmospheric rivers are narrow currents of moisture-laden air that can transport vast amounts of water vapor thousands of miles.
What they're saying: "Potential hazards include widespread flooding, damaging winds, and dangerous beach and marine conditions," the NWS stated in an online discussion. "Please stay tuned for forecast updates as these conditions pose a direct threat to life and property."
Threat level: The next atmospheric river event is slated for this weekend, and will mainly affect northern California. But a stronger and more widespread storm is anticipated early next week.
The Weather Prediction Center has taken the rare step of issuing a "moderate" outlook for excessive precipitation in coastal areas of Northern California for next Monday.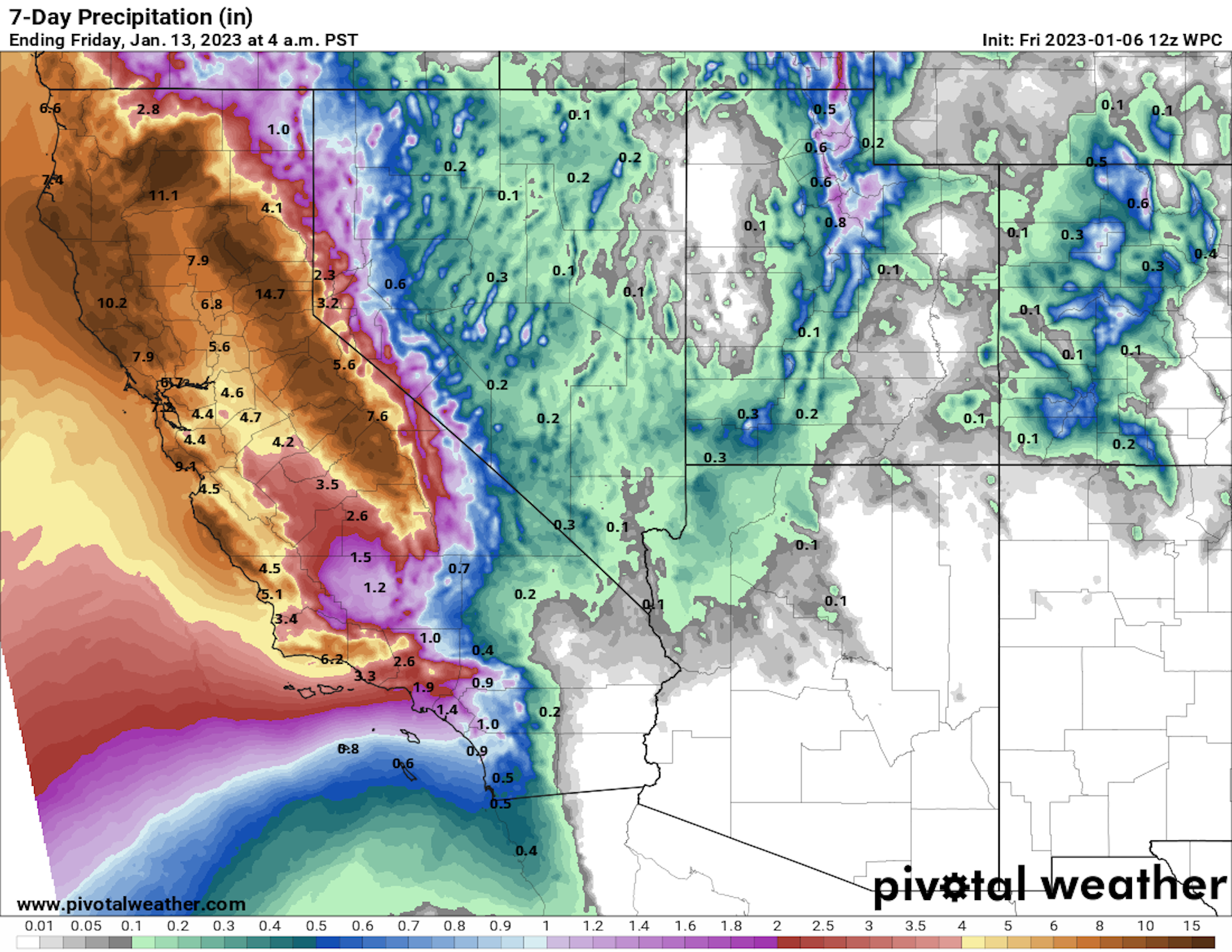 Typically, such designations are made much closer to the event, which is a sign of the potential for an unusually prolific storm to strike.
"Many areas are already or will be very sensitive to additional rainfall given the ample recent and shorter term forecast rainfall," the NWS stated.
The Center for Western Weather and Water Extremes at the Scripps Institution of Oceanography is predicting the storm early next week will rank as a 4 out of 5 on its intensity scale.
Flood watches are in effect for much of the Golden State beginning Saturday and lasting in some areas through Wednesday.
Winter storm watches for heavy snowfall are in effect in the Sierra Nevada Mountains, where avalanche concerns are increasing.
Context: The dizzying swing from drought concerns to flood worries is what scientists expect in California due to the effects of a warming climate.
Paradoxically, the increased atmospheric thirst for moisture from warming air and sea temperatures means the odds of both severe droughts and megafloods are each increasing.
According to UCLA climate scientist Daniel Swain, a flood of a magnitude similar to an event that occurred in California in 1862 is more than three times as likely to occur now compared to a century ago, due to the effects of human-caused global warming.
Other research shows that as the waters of the North Pacific and the atmosphere warm up, atmospheric rivers are already capable of carrying more moisture than they used to and dumping it on the Western U.S.
Go deeper