U.S. and Germany sending armored vehicles to Ukraine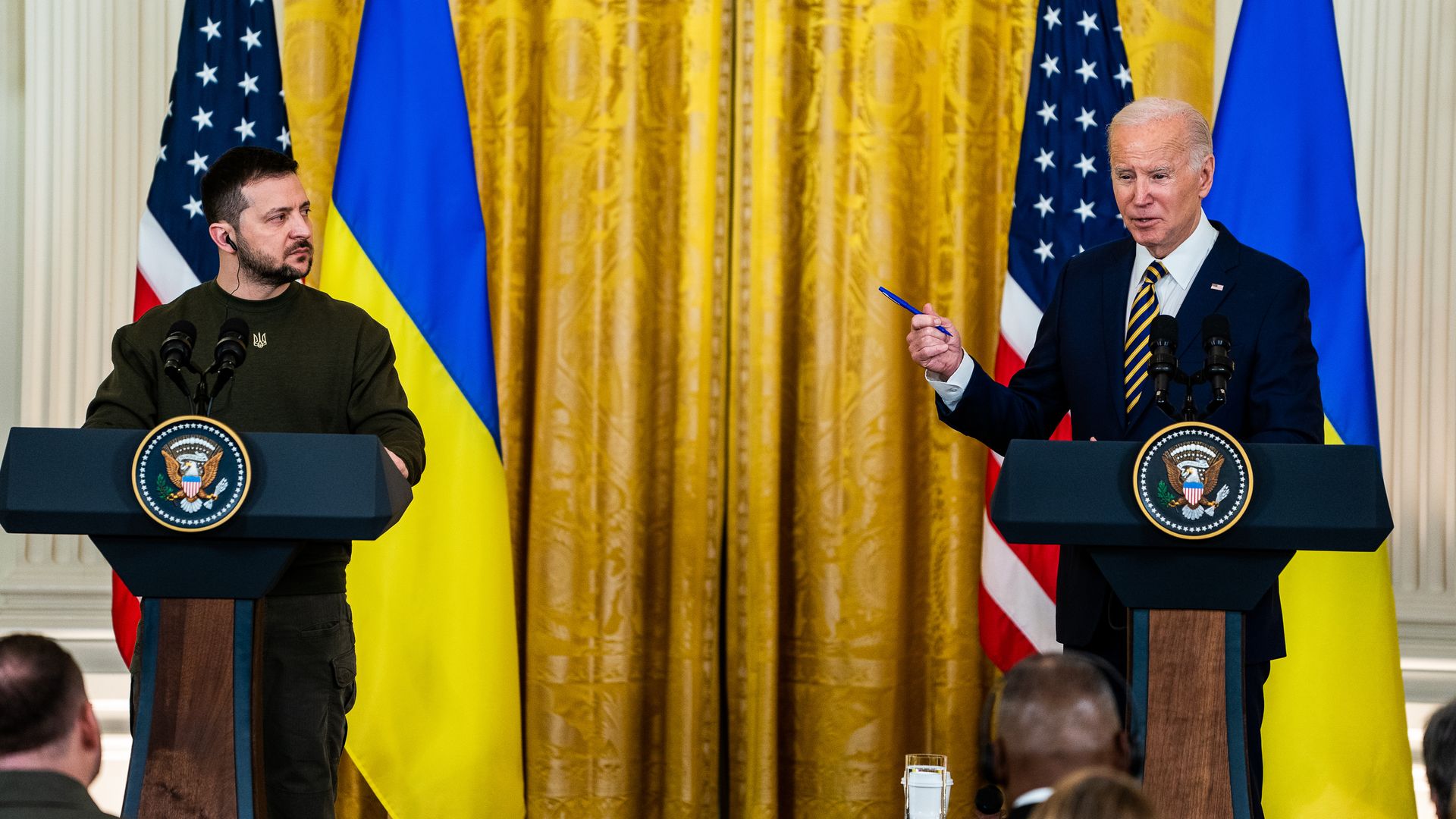 President Biden and German Chancellor Olaf Scholz announced Thursday that they would send armored fighting vehicles to Ukraine, following a similar announcement Wednesday from French President Emmanuel Macron.
Why it matters: As the war has carried on, Ukraine's western backers have slowly crossed new thresholds by agreeing to send heavy artillery, longer-range rockets, advanced air defense systems, and now more lethal armored vehicles, which Kyiv has been requesting for months to aid its counterattacks.
Driving the news: Macron had previously opposed sending tanks, but announced on Wednesday that France would supply its AMX-10RC, which he called "light battle tanks" (the definition of "tank" is fuzzy).
On Thursday, Biden and Scholz made a joint announcement, following a phone call, that the U.S. would provide Bradley infantry fighting vehicles while Germany would send Marder infantry fighting vehicles (neither are tanks).
Between the lines: Macron's announcement put Germany under pressure because Berlin had justified its reluctance to send Leopard tanks — which sit near the top of Kyiv's wishlist — partially on the grounds that no one else had provided Western-made tanks.
The armored vehicles promised this week should give Ukraine new capabilities ahead of counteroffensives expected this spring, but Kyiv is likely to keep up the pressure for German Leopards and American Abrams tanks.
State of play: Russian President Vladimir Putin claimed on Thursday that Russian forces would observe a unilateral 36-hour ceasefire beginning Friday to mark Orthodox Christmas.
Ukrainian officials dismissed the announcement and Biden said he didn't put much stock in it given that Putin was "ready to bomb hospitals and nurseries and churches… on the 25th and New Year's."
The heaviest fighting at present is around the eastern city of Bakhmut. Russian fighters — many of them Wagner Group mercenaries — are attempting to capture the city after six months of brutal combat, though Ukrainian President Volodymyr Zelensky claimed Thursday that the Russians had been expelled from Bakhmut's outskirts.
A senior U.S. official briefed reporters on Wednesday that the outcome of the battle was in the balance, but it was "curious" that the Wagner Group was willing to spill so much "Russian blood" for Bakhmut, which had a pre-war population of around 80,000 but is now largely destroyed.
Meanwhile, Russia now says 89 of its soldiers were killed in a Ukrainian strike on New Year's Day in occupied Donetsk, up from the 63 announced previously. Ukraine puts the death toll at around 400. Neither number can be independently verified, but it appears to be the deadliest single strike of the war.
Go deeper