Bills-Bengals game won't resume this week, NFL says, as Hamlin remains in critical condition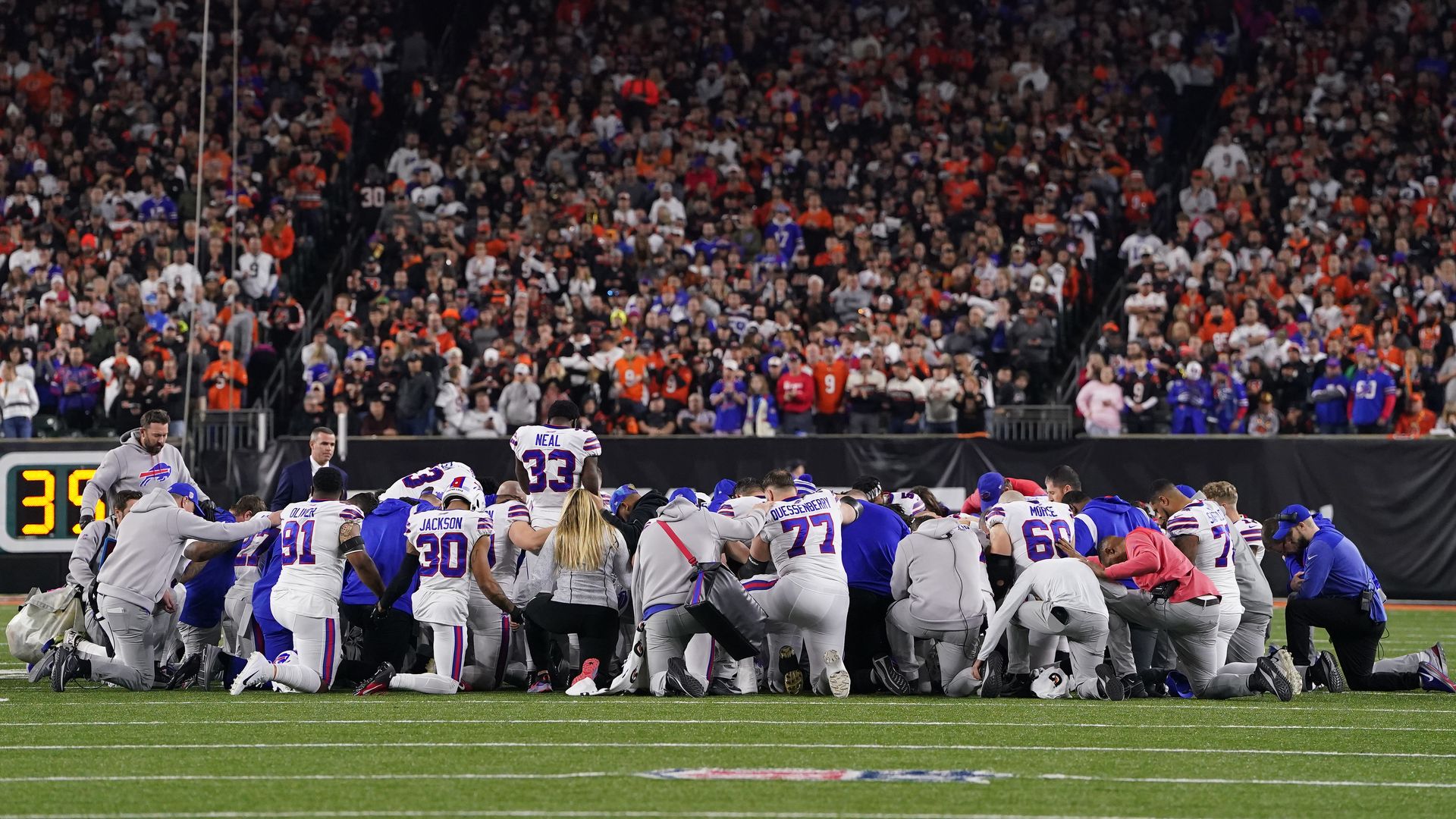 At 8:54pm ET on Monday night in Cincinnati, the score of a football game seemed important. By 8:55pm, it couldn't have mattered less.
Driving the news: Monday night's blockbuster matchup between the Bengals and Bills was suspended and later postponed after Bills safety Damar Hamlin collapsed on the field at the 5:58 mark of the first quarter.
The latest: The NFL said Tuesday that the suspended Bills-Bengals game will not resume this week and "has made no decision regarding the possible resumption of the game at a later date."
The NFL said there will be no changes to the upcoming week 18 regular season schedule.
Earlier Tuesday, Hamlin's family released a statement, saying they "will release updates as soon as we have them."
"On behalf of our family, we want to express our sincere gratitude for the love and support shown to Damar during this challenging time," the family's statement said. "We are deeply moved by the prayers, kind words, and donations from fans across the country."
The Bills released a statement overnight saying Hamlin "suffered a cardiac arrest" and that his heartbeat was restored on the field before he was taken to the University of Cincinnati Medical Center. He is "currently sedated and listed in critical condition," per the team.
What happened: Hamlin, 24, made a normal-looking tackle on Bengals WR Tee Higgins, whose helmet appeared to hit Hamlin in the head and chest area as they went to the ground.
Hamlin quickly stood up — then he collapsed backward as his body went limp. He was given CPR on the field before being taken away in an ambulance alongside his mother, who was in attendance.
Players were in tears as they huddled to pray for Hamlin. Both teams then returned to their locker rooms, where they remained until the game was officially called off roughly 35 minutes later.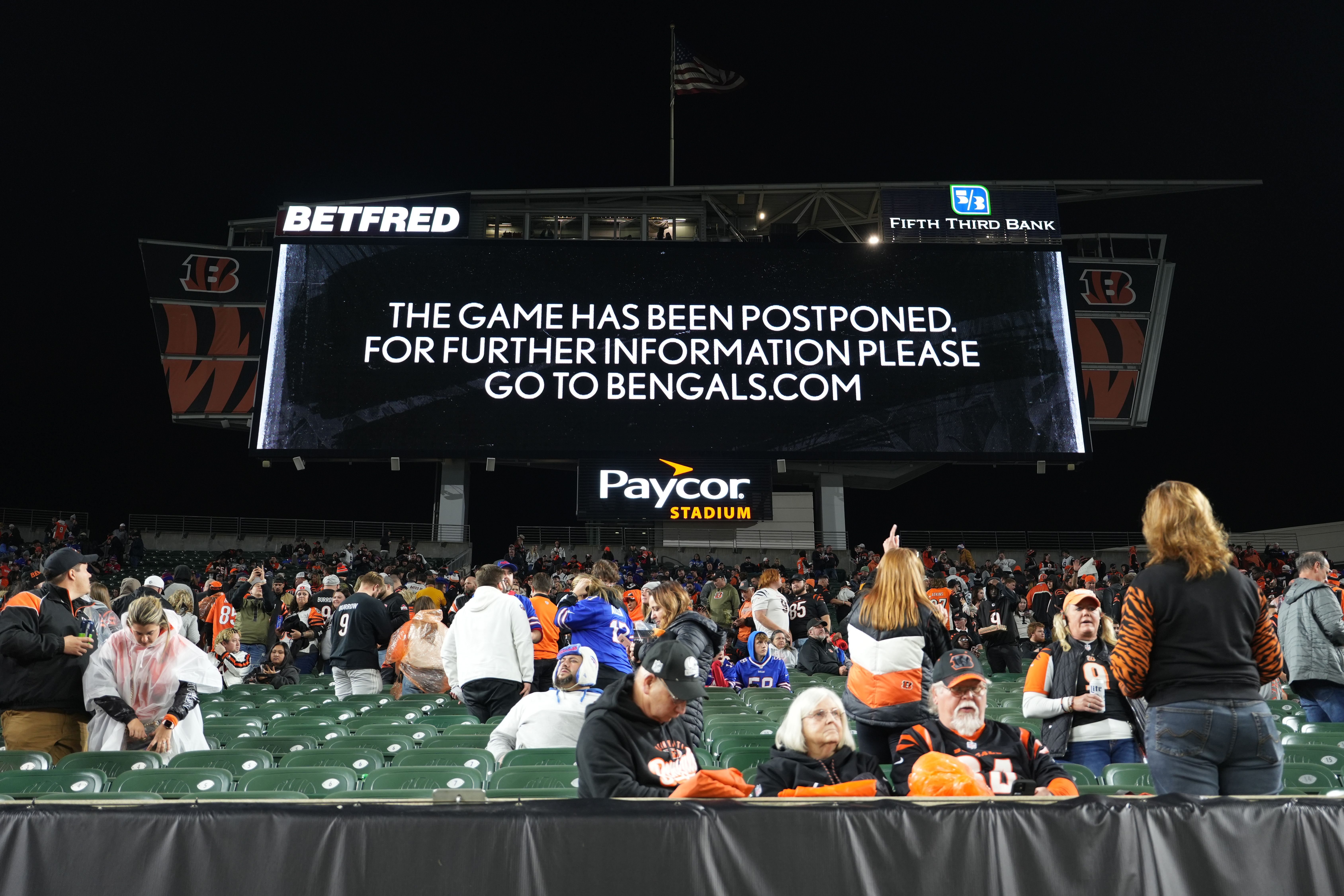 Timeline: In a media conference call late Monday night, the NFL said the decision to postpone the game came after both head coaches, Sean McDermott and Zac Taylor, met with their teams in the locker rooms.
8:55pm ET: Injury occurs
9:18pm: Game suspended
9:25pm: Ambulance leaves
10:01pm: Game postponed
The coverage: ABC/ESPN handled things about as well as possible, with the booth (Joe Buck, Troy Aikman, Lisa Salters) and the studio (Suzy Kolber, Booger McFarland, Adam Schefter) showing humanity and compassion. Former NFL player Ryan Clark later joined Scott Van Pelt on "SportsCenter," where he delivered a powerful message.
"Tonight we got to see a side of football that is extremely ugly. A side of football that no one ever wants to admit exists."
—
Ryan Clark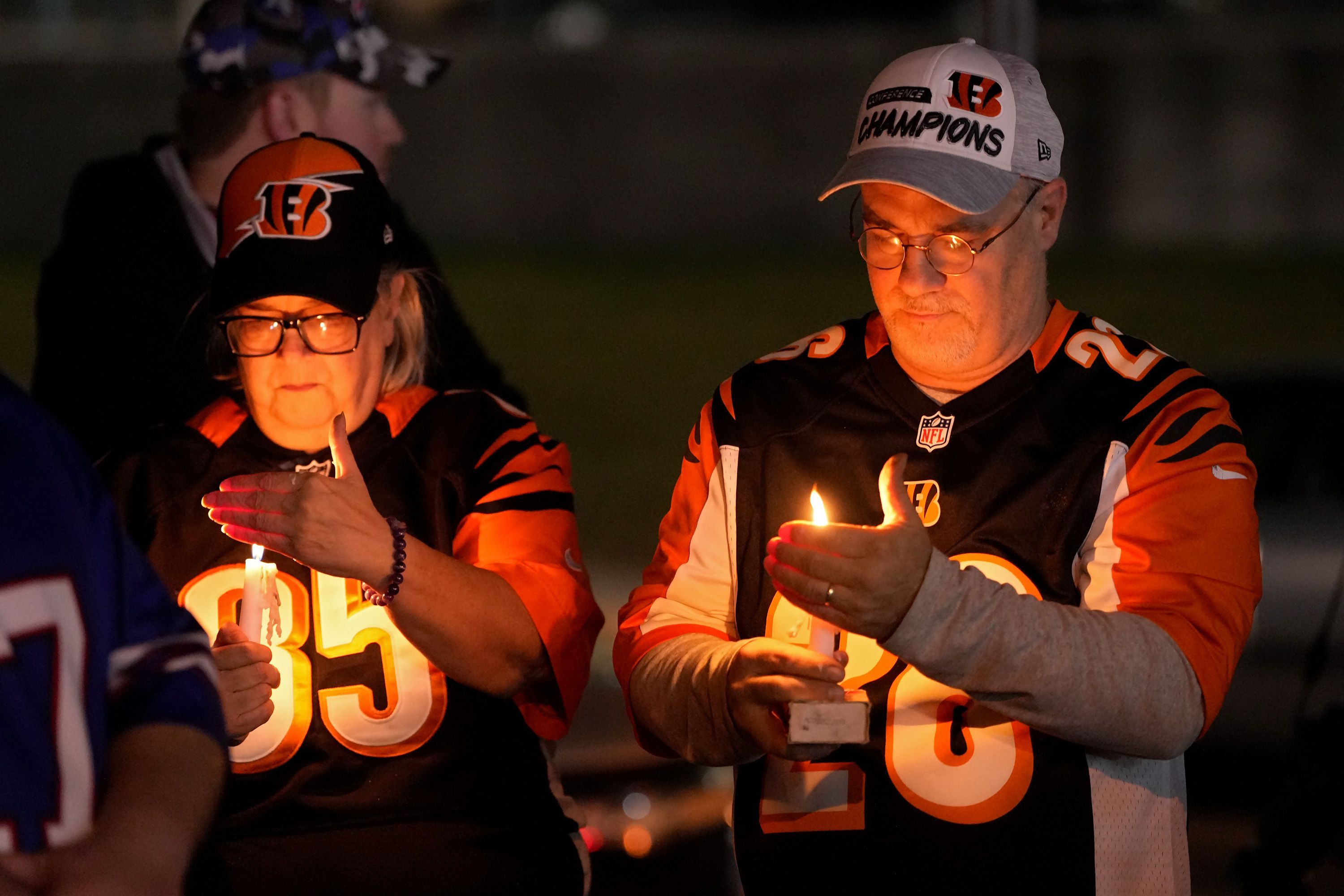 The response: In December 2020, Hamlin set up a community toy drive for children in need in his hometown of McKees Rocks, Pennsylvania.
On Monday night, that GoFundMe page became a way for people around the world to send their love and support.
The original goal of the fundraiser was $2,500. As of 6am ET this morning, nearly $3.2 million had been donated by 124,000 donors.
What's next: The Bengals-Bills game, pegged as one of the season's best matchups, will likely have to be rescheduled. But that's for another day.
"Not in consideration right now," NFL VP Jeff Miller said Monday. "Our concern is with the player and his wellbeing. At the appropriate time I'm sure we'll have a conversation ... regarding the game."
The Bills returned to Buffalo on Monday night, per the NFL, but some players chose to remain in Cincinnati to be near Hamlin.
Go deeper: Sign up for the Axios Sports newsletter
Editor's note: This article has been updated with new details throughout.
Go deeper