Appeals court denies GOP-led effort to retain Title 42 immigration policy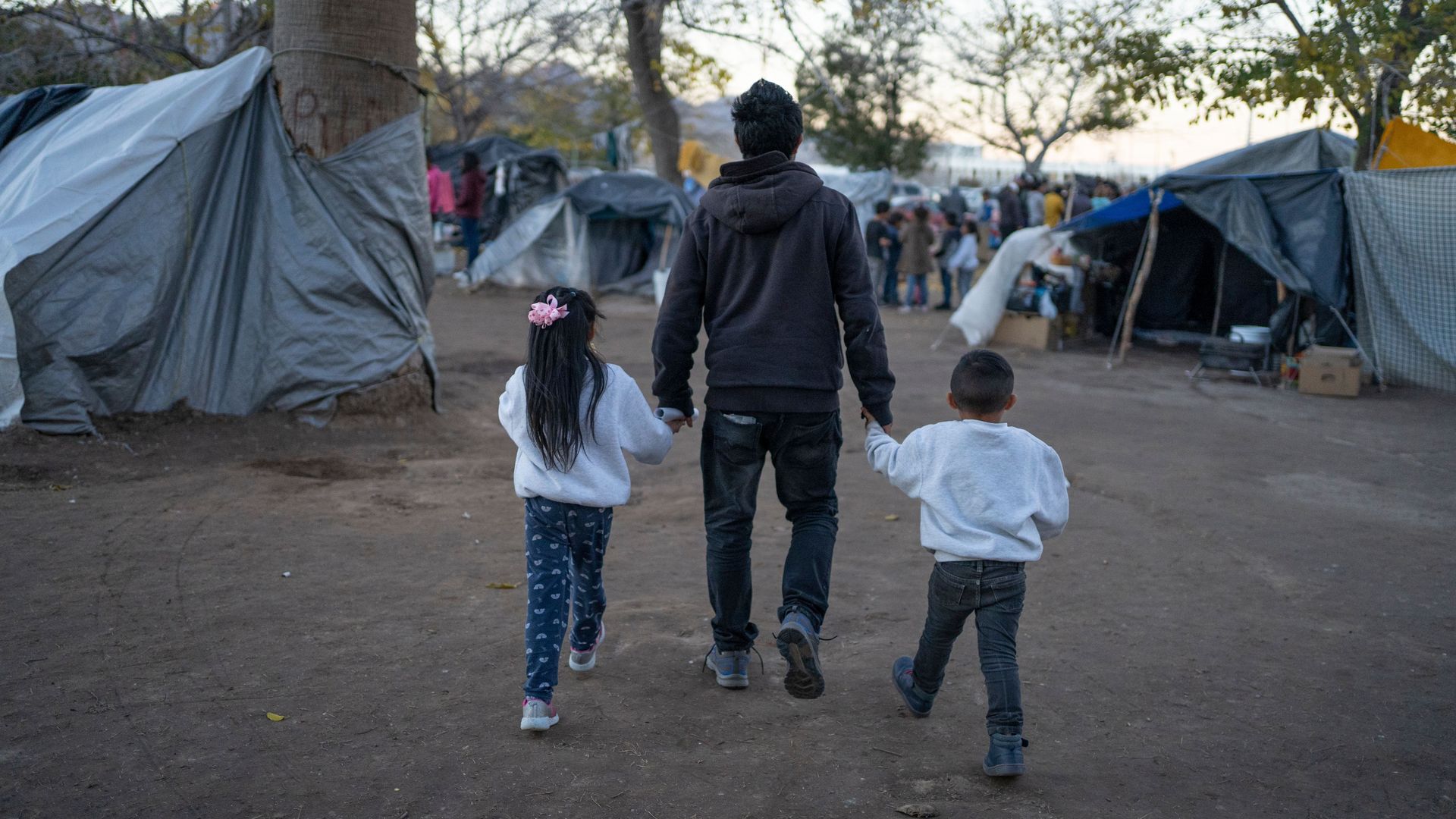 An appeals court on Friday denied a GOP-led effort to retain the Trump-era Title 42 policy that allows the U.S. to expel migrants at the southern border without the chance for asylum, AP reports.
Why it matters: After a lengthy litigation battle, Title 42 is set to expire next Wednesday after a federal judge ruled it unlawful. Fifteen GOP-led states, however, made a last-ditch bid to block its termination last month.
The coalition filed a motion to intervene in an attempt to join the legal proceedings surrounding Title 42.
Details: Former President Trump first invoked the policy in 2020 using emergency public health authority in what he called a move to mitigate the spread of COVID-19.
Immigration advocates have argued the policy unfairly denies migrants the chance to seek asylum — a human right under the United Nations' Universal Declaration of Human Rights — and that Republicans are wielding Title 42 in an underhanded attempt to crack down on immigration.
But Republicans, especially those living in the South, have countered that the record surge in border crossings must be stemmed and that they will suffer "irreparable harm from the impending Termination of Title 42."
The coalition of states had asked for the opportunity to make their case before Title 42's Dec. 21 end date.
What they're saying: "The lifting of the Title 42 public health order does not mean the border is open. Anyone who suggests otherwise is doing the work of smugglers spreading misinformation to make a quick buck off of vulnerable migrants," White House assistant press secretary Abdullah Hasan told Axios in a statement.
"We will continue to fully enforce our immigration laws and work to expand legal pathways for migration while discouraging disorderly and unsafe migration."
"Instead of playing political games, Republican officials should provide the funding the President requested for border security and management, and pass the comprehensive immigration reform measures he proposed so we can finally have a modernized immigration system that works," the statement continued.
What's next: Friday's decision, handed down by the U.S. Court of Appeals for the D.C. Circuit, means Title 42 will expire as scheduled barring further appeals.
If the dispute goes before the Supreme Court, Title 42 could remain in place for months while litigation continues.
Worth noting: The Biden administration is also appealing the ruling that struck down Title 42 — not to retain the policy but to argue that the Centers for Disease Control and Prevention's Title 42 orders were lawful and valid and that the court "erred in vacating those agency actions."
The big picture: American Civil Liberties Union attorney Lee Gelernt, who led the lawsuit challenging Title 42 on behalf of a group of asylum-seeking families, has said the policy "caused enormous harm to tens of thousands of asylum seekers."
But top U.S. officials are considering drastic measures — including barring some asylum seekers and surging prosecutions of illegal border crossings — in preparation for the end of Title 42, Axios' Stef Kight reports.
The Biden administration is bracing for the possibility of 14,000 migrant crossings a day.
Editor's note: This story has been updated to include a statement from the White House.
Go deeper