Major storm sweeping U.S. brings blizzards, flooding and tornadoes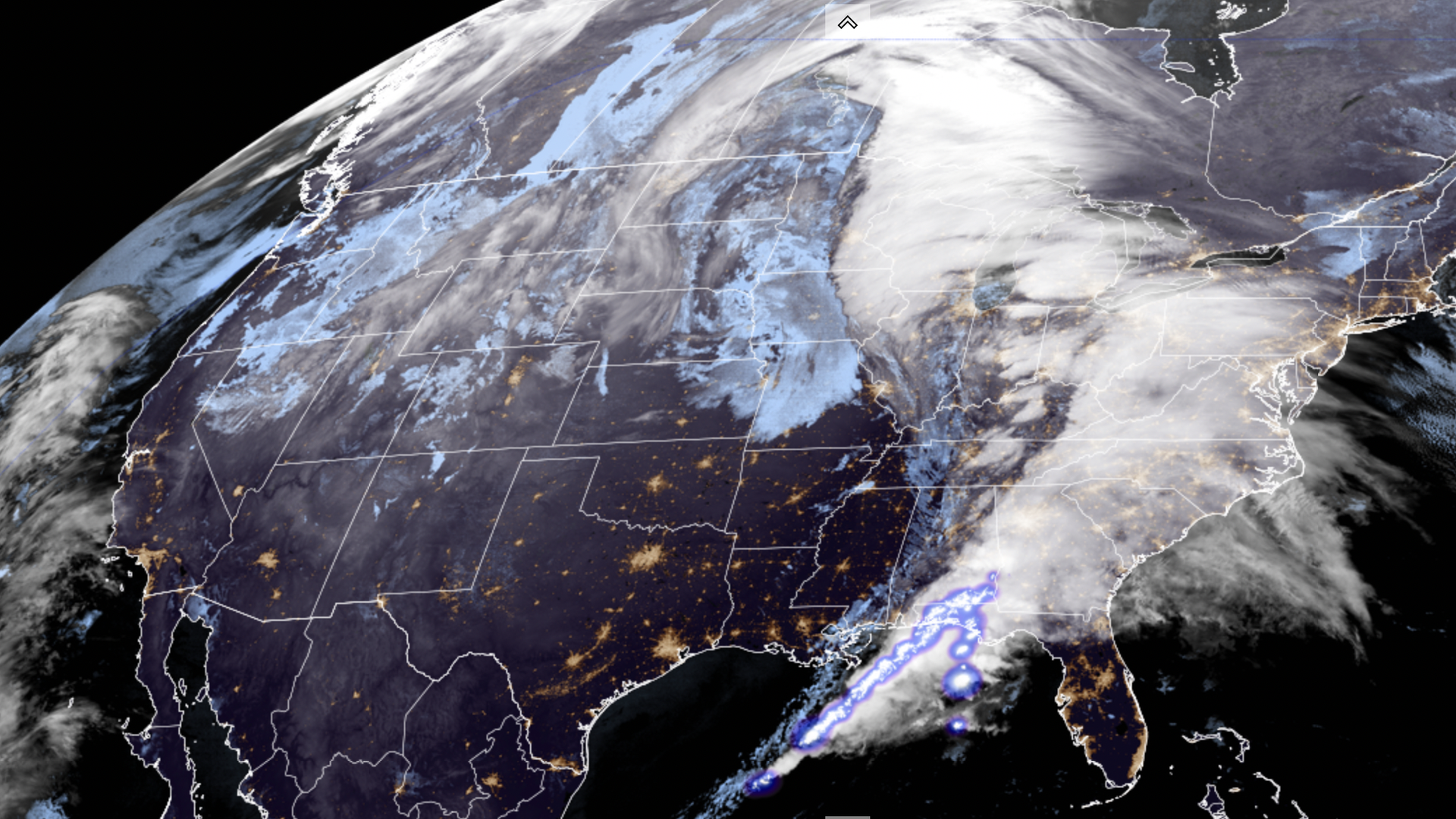 A severe winter storm is closing in on the East Coast as it finishes sweeping through the Midwest and the Plains with blizzard conditions and freezing rain while spawning tornadoes in the southeast.
State of play: More than 40 million people across the U.S. were under winter storm warnings or advisories on Thursday morning.
The National Weather Service warned that heavy rain and severe weather are possible in the Southeast and Florida on Thursday. Significant ice accumulation and heavy snow are expected in parts of the Northeast and New England Thursday into Friday.
The National Weather Service received 32 preliminary reports of tornadoes on Wednesday concentrated around the Gulf Coast in Mississippi, Alabama, Florida and Louisiana, where at least three people have been confirmed dead. There was one report of a tornado in Georgia.
Among the tornadoes to strike was one that touched down in Arabi and New Orleans' Lower 9th Ward, causing widespread destruction on Wednesday — nine months after a similar tornado plowed through homes in the area.
Meanwhile, 180 flights were canceled and another 2,641 were delayed around the U.S. on Thursday as blizzard conditions, severe thunderstorms and high winds disrupted travel, according to FlightAware.
Power outages hit more than 200,000 customers across Minnesota, Wisconsin, Michigan, Pennsylvania, West Virginia, Louisiana and Florida, according to poweroutage.us.
The big picture: After dumping multiple feet of snow on the Sierra Nevada and lashing Southern California with heavy rains last weekend, the storm rolled through the Central Plains.
The National Weather Service said blizzard conditions will continue Thursday in the northern tier of the Central U.S.
"Heavy rain near the coast, significant freezing rain in the central/northern Appalachians, and heavy snow for the northern Appalachians and northern Mid-Atlantic are expected through Thursday," the National Weather Service said.
"Heavy snow totals between 6-12 inches are forecast from central Pennsylvania north into interior Upstate New York. Higher totals between 18-24 inches will be possible for the Catskills and Adirondacks."
The NWS forecasts the system will move into New England on Friday, with snow totals of 6-12 inches expected in most areas and up to 24 inches possible at higher elevations.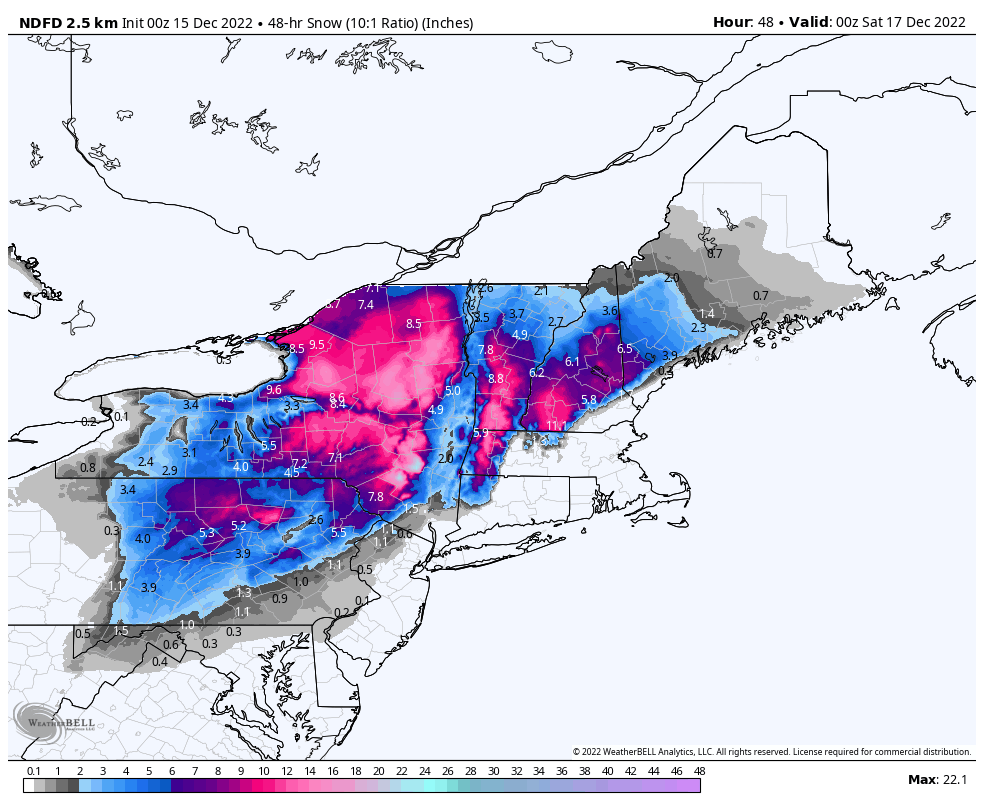 By the numbers: National Weather Service preliminary data shows that from Tuesday morning through Wednesday evening, the sprawling storm dumped 36 inches of snow on Deadwood, South Dakota, and 26 inches on Hulett, Wyoming.
Chadron, Nebraska, saw 24 inches of snowfall and both Hurdsfield, North Dakota, and Finland, Minnesota, recorded snowfall totals of 15.5 inches.
Thought bubble: There are increasing signs that after this storm passes, a reordering of the weather pattern will take shape. Record cold air is poised to enter the U.S. from Canada during Christmas week, potentially accompanied by major winter storms.
What's next: In the wake of this storm, widespread colder-than-average conditions are set to sweep coast to coast later this month and last through to Christmas.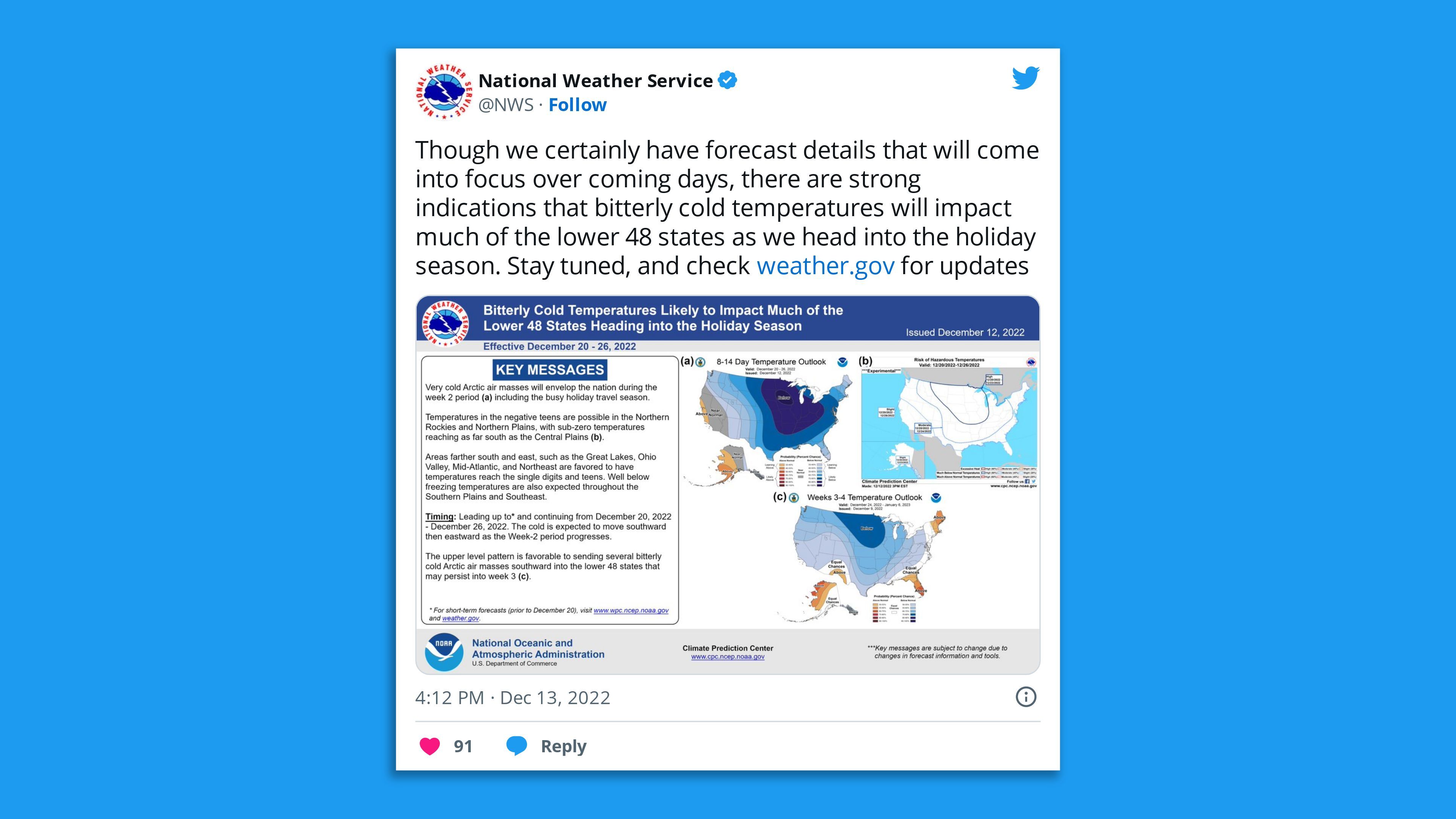 Go deeper: Powerful "Greenland Block" may yield extreme weather through December
Editor's note: This article has been updated with additional details throughout.
Go deeper