Clyburn elected assistant Dem leader after challenger drops out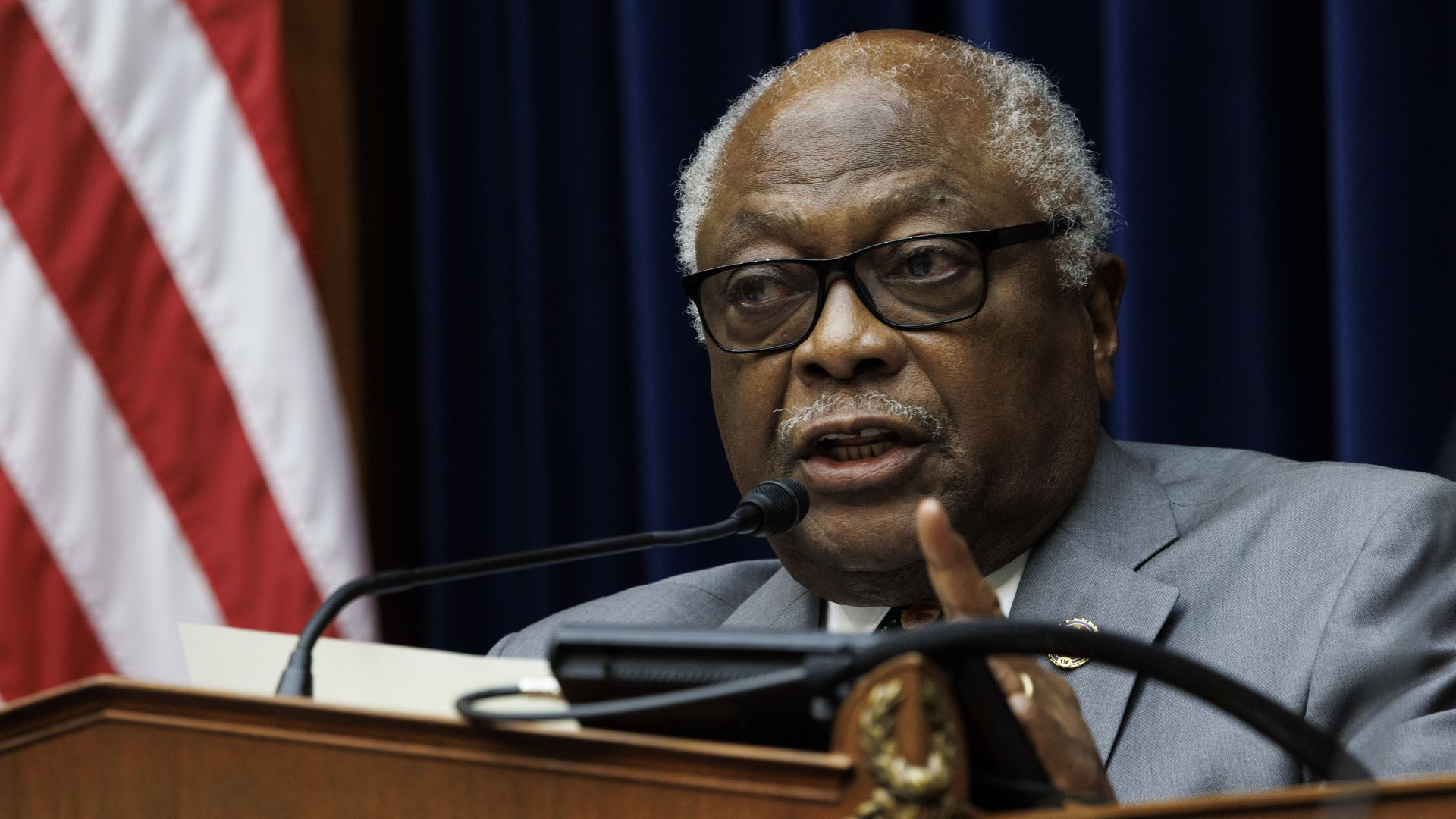 Rep. Jim Clyburn (D-S.C.) was elected assistant minority leader on Thursday, the No. 4 position in House Democratic leadership, after Rep. David Cicilline (D-R.I.) dropped his unexpected challenge.
Why it matters: Cicilline's surprise announcement on Wednesday that he was taking on Clyburn came amid grumbling from some younger members about the 82-year-old Democratic whip's decision to stay in leadership.
Cicilline, the chair of the LGBTQ+ Equality Caucus, argued for LGBTQ+ representation in leadership, citing a recent shooting at a gay nightclub in Colorado Springs.
What we're hearing: Cicilline, in a speech to the caucus on Thursday, laid out what he would have run on before endorsing Clyburn to applause from his colleagues, according to members in the room.
Cicilline also said he got to sit down with Democratic leadership and was assured there will be LGBTQ+ representation in leadership – though it's not yet clear what form that will take.
What they're saying: "I'm pleased and honored to continue serving," Clyburn told reporters. Asked about Cicilline's challenge, he said: "I don't think anything of it. He told the caucus his issues, raising the issue of the LGBTQ+ community."
Rep. Jamaal Bowman (D-N.Y.) said Cicilline's speech was "an incredible speech" that spurred him to reach out to Cicilline to collaborate on "whatever he wants to work on" related to LGBTQ+ issues.
Yes, but: "I think everyone has tremendous respect for Mr. Clyburn," said Rep. Annie Kuster (D-N.H.), "And there was a feeling in the room that Mr. Clyburn has led our country in civil rights and we want him to continue in leadership ... the writing was on the wall."
Rep. Jimmy Gomez (D-Calif.) said people were "sympathetic" to Cicilline's case for LGBTQ+ representation in leadership, but "at the same time, were probably taken a little bit back with him just floating his name."
Rep. Ro Khanna (D-Calif.), who gave one of the nominating speeches for Clyburn, said there was "unanimous support" for him.
The bottom line: "I think it's, again, part of the Democratic party being in array," Kuster said.
The backdrop: Clyburn's decision to remain in leadership came despite Speaker Nancy Pelosi (D-Calif.) and Majority Leader Steny Hoyer (D-Md.) both stepping down from their roles.
Clyburn's decision prompted a reshuffling of lower-down leadership positions and the creation of a new position for 38-year-old Rep. Joe Neguse (D-Colo.), who had been expected to step into the No. 4 role.
Neguse was instead elected to the newly created Democratic Policy and Communications Committee chairmanship by acclamation on Thursday. He ran unopposed.
Reps. Veronica Escobar (D-Texas), Lauren Underwood (D-Ill.) and Dean Phillips (D-Minn.) were elected the DPCC co-chairs from a field of seven candidates.
The intrigue: Underwood is the first Black woman elected to House leadership since New York Rep. Shirley Chisolm became secretary of the Democratic Caucus.
Editor's note: This story was updated with new reporting and details throughout.
Go deeper