Congressional leaders vow to consider bill to avoid rail strike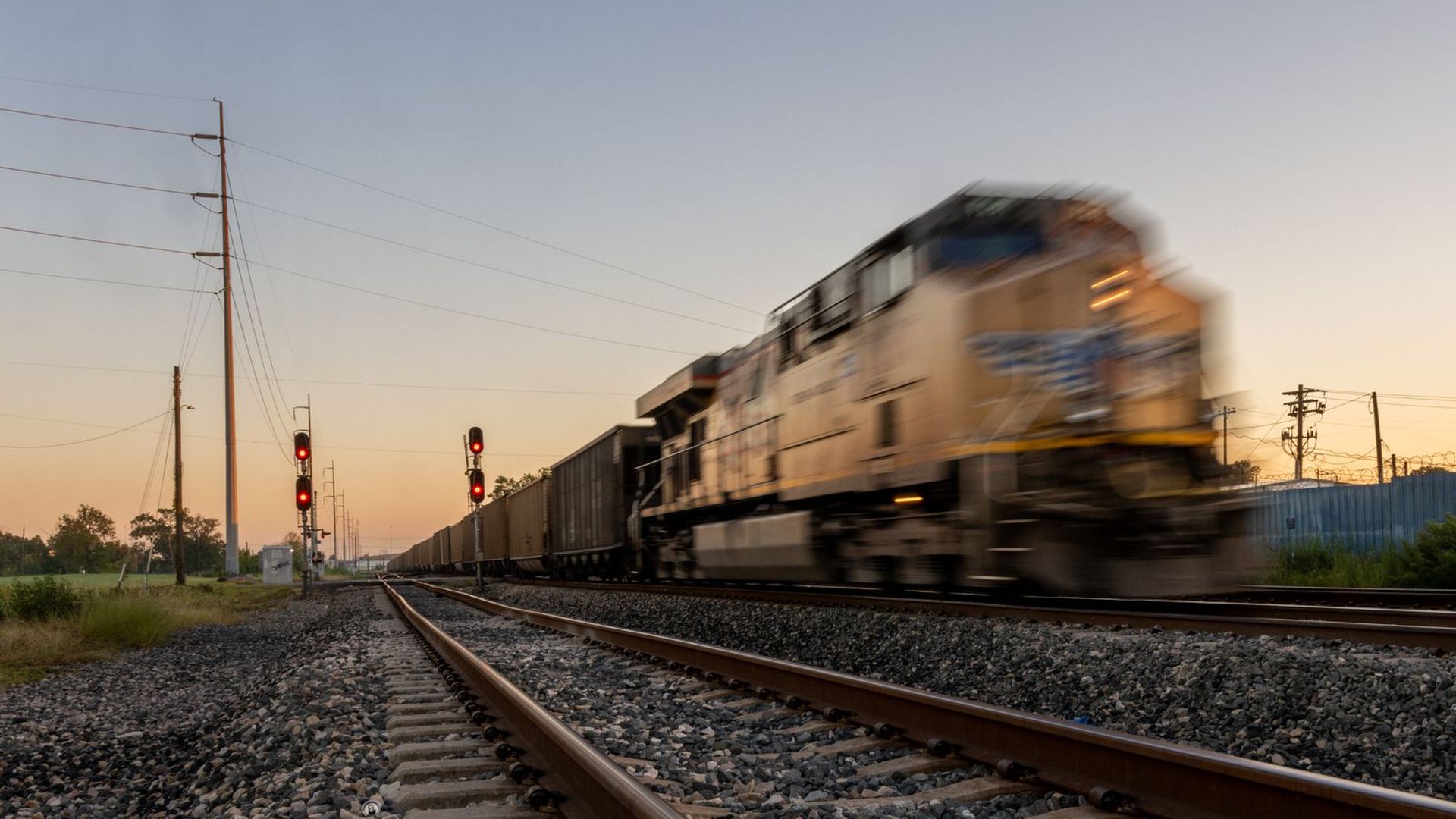 Congress this week is poised to consider a bill to avert a national rail shutdown, Democratic and Republican lawmakers said Tuesday after a meeting at the White House.
Driving the news: "All four of us agreed we've got to resolve this rail shutdown as quickly as possible and that we would work together on doing it," Senate Majority Leader Chuck Schumer (D-N.Y.) said after the meeting.
"Tomorrow morning, we will have a bill on the floor," House Speaker Nancy Pelosi said after the meeting, which also included GOP House Minority Leader Kevin McCarthy and Senate Minority Leader Mitch McConnell.
"I don't like going against the ability of unions to strike, but weighing the equities, we must avoid a strike," Pelosi said.
"Leader McConnell and I agreed we'd try to get it done ASAP," Schumer added.
The big picture: President Biden on Monday called on Congress to pass legislation forcing railroad workers to accept the labor contract that the White House brokered in September "to avert a potentially crippling national rail shutdown."
"As a proud pro-labor President, I am reluctant to override the ratification procedures and the views of those who voted against the agreement," the president said in a statement.
"But in this case — where the economic impact of a shutdown would hurt millions of other working people and families — I believe Congress must use its powers to adopt this deal."
Between the lines: It increasingly seemed negotiations between the freight rail companies and their unions weren't moving. And if both sides don't reach a deal by Dec. 9, rail workers could strike — an economically devastating move that could cost an estimated $2 billion a day.
Previously, White House spokesperson Karine Jean-Pierre said they would prefer both sides to work this out themselves, as the Washington Post reported.
Congressional Democrats had been waiting on White House guidance before acting, WaPo also reported.
Some rail workers had been lobbying members of Congress for a few days of paid sick leave, which isn't included in the Biden-brokered deal. The president shut down any ideas about that addition in his statement.
"Some in Congress want to modify the deal to either improve it for labor or for management. However well-intentioned, any changes would risk delay and a debilitating shutdown, " Biden said. "The agreement was reached in good faith by both sides."
The other side: Some progressive lawmakers signaled their opposition to the bill after the White House meeting on Tuesday, including Reps. Cori Bush (D-Mo.), Jamaal Bowman (D-N.Y.) and Rashida Tlaib (D-Mich.).
"Every worker deserves paid sick leave," Bush wrote in a tweet.
"I will not support a deal that does not provide our rail workers with the paid sick leave they need and deserve," she said.
"Listen, I can't in good conscience vote for a bill that doesn't give rail workers the paid leave they deserve," Bowman also wrote on Twitter.
The intrigue: In his statement, Biden noted that he's been pushing for a federal paid leave policy for the past two years. "Every other developed country in the world has such protections for its workers," he said.
Flashback: Congress last stepped in to avoid a rail strike in 1992. Six senators voted against the move, including then-Delaware Sen. Joe Biden, a reporter at the White House briefing on Monday noted, because the dynamic favored workers.
Go deeper: Railroad strike looms over the holidays
Editor's note: This story and headline been updated with additional developments.
Go deeper