The GOP's double-trouble Trump trap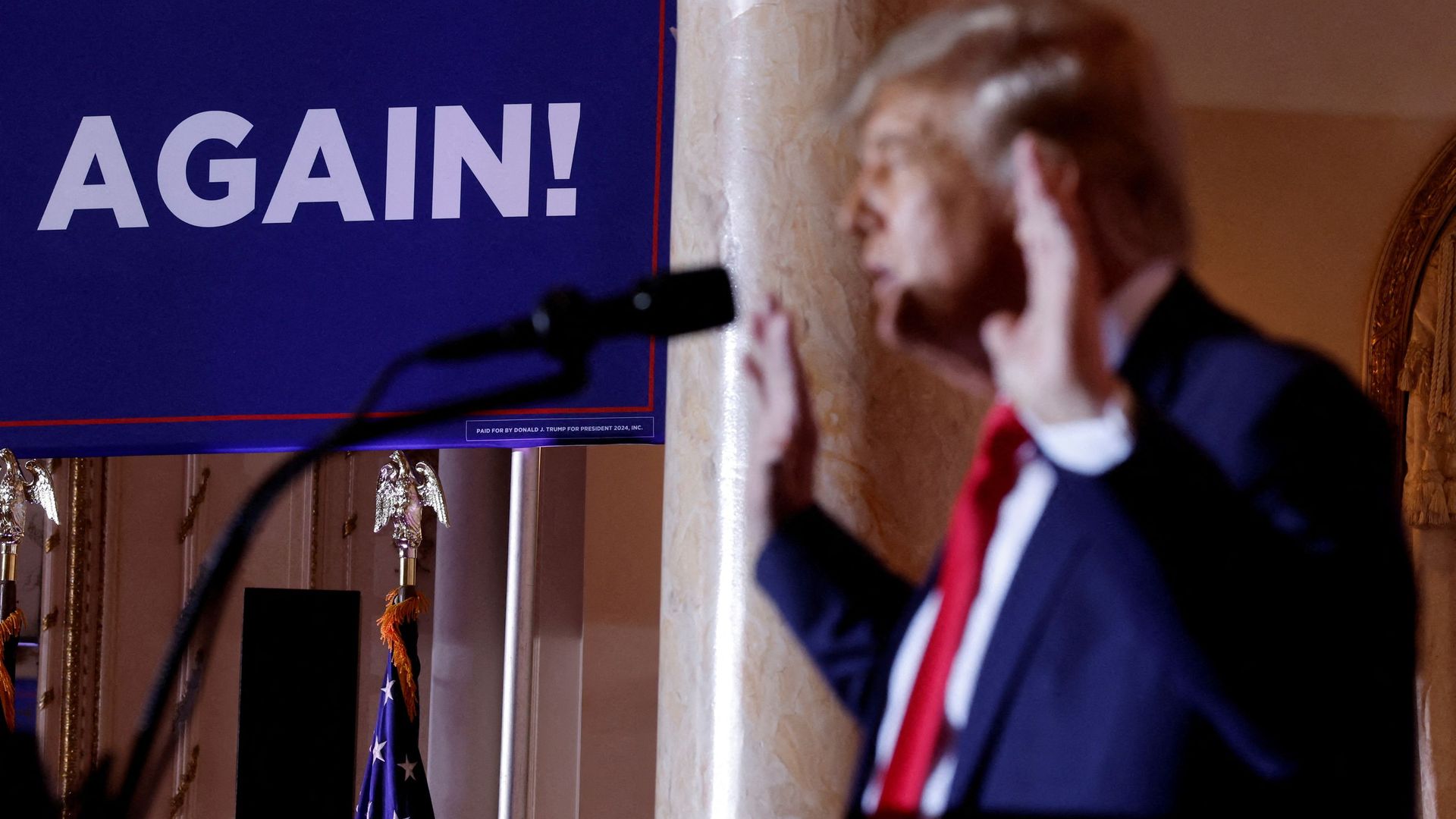 Former President Trump's candidacy could instantly jeopardize both the presidential race and control of Congress for Republicans, based on exit polls and midterm results.
Why it matters: Republicans will face continuing pressure to nominate fringe candidates in primaries which keeps costing the GOP the Senate
What's happening: Trump is a double-edged sword, Axios' Josh Kraushaar writes.
Trump juices turnout massively on the GOP side — but is an epic Democratic voter turnout machine.
And he's a turnoff for independent voters, who backed Democrats in this year's midterms against all expectations.
Look at the electoral map in 2024.
Republicans have a great opening to win back the Senate — Dems hold 23 of the 33 Senate seats in 2024. But the GOP needs electable nominees in the swing states.
This election showed that Trump and Trump-like candidates turn off independent voters in eminently winnable places. 
What we're watching: With Trump running, the pressure to back him in primaries — or face consequences — will be intense and omnipresent.
Given the dominance of activists in primaries, there's a good chance of more Dr. Oz-type candidates.
What we're hearing: Republican operatives fear Trump is so damaged with the general-election electorate that he could lose to a Democrat — even during a recession.
Another fear GOP operatives have: If Trump loses in the primary, he could sabotage the winner either by running as a third-party candidate — or trashing the winning nominee relentlessly and turning off his voters.
Zoom in: In '24, Democrats will be defending 23 of the 33 Senate seats in play. Holding those Democratic seats will mean winning in a raft of red and purple states:
Arizona, Maine, Michigan, Minnesota, Montana, Nevada, Ohio, Pennsylvania, Virginia, West Virginia and Wisconsin.
What's next: Waiting in the wings are a bunch of MAGA-aligned candidates who could struggle with independent voters.
Rep. Alex Mooney, a hardline conservative, is challenging Sen. Joe Manchin. West Virginia Attorney General Patrick Morrisey is also expected to run, after losing to Manchin in his last election.
In Arizona, Freedom Caucus leader Rep. Andy Biggs is often touted as a potential candidate. His far-right posture is reminiscent of the two losing Arizona GOP nominees in 2022 — Kari Lake and Blake Masters.
Go deeper