Senate's Electoral Count Act reform heads for broad bipartisan vote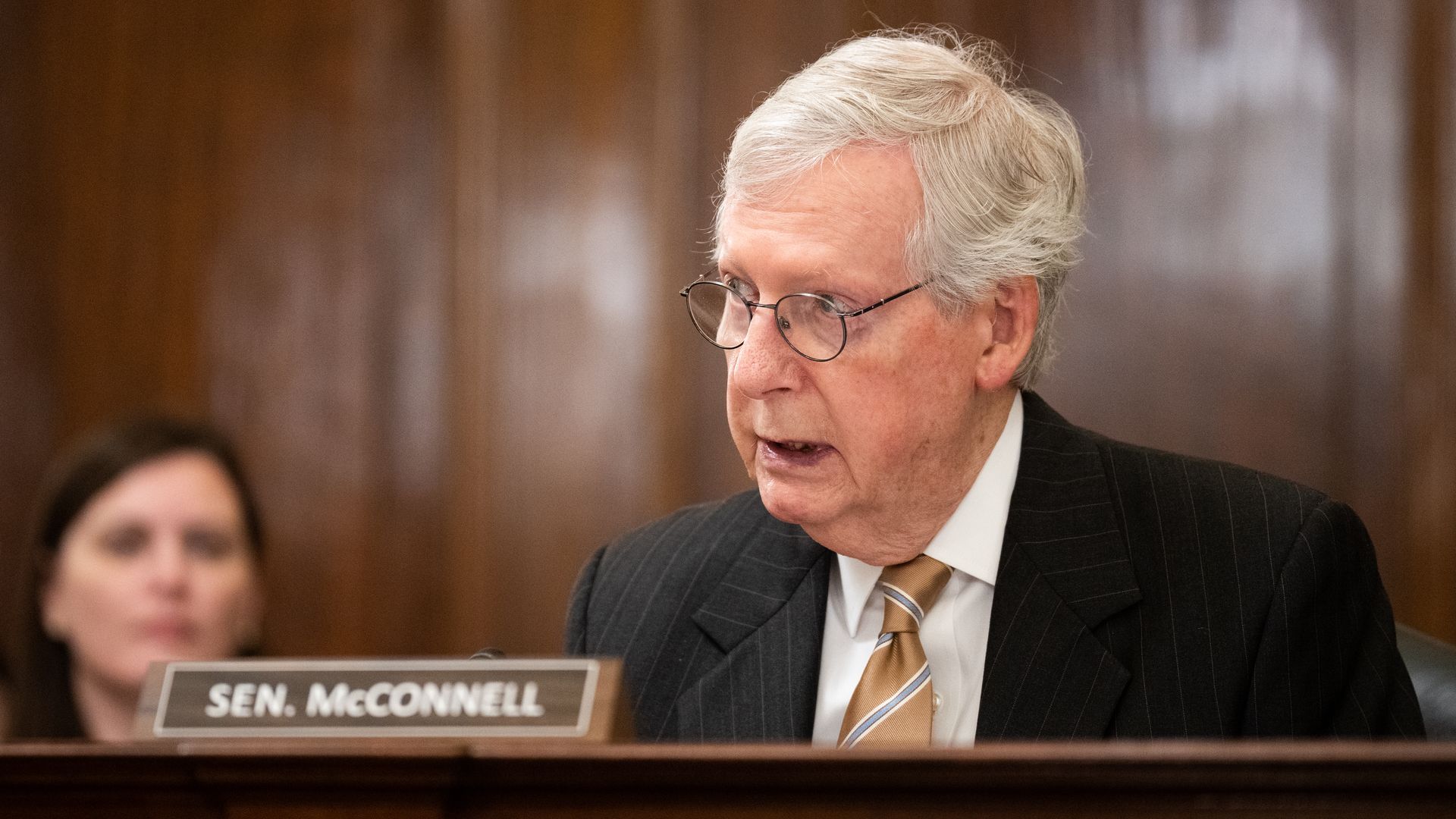 The Senate's bill to reform how Congress certifies presidential elections is on track to pass the chamber by a comfortable margin after advancing out of committee on Tuesday.
Why it matters: The bill would significantly raise the threshold for members of Congress to object to Electoral College votes and clarify the vice president's role in the process as purely ceremonial as a remedy for the events of Jan. 6, 2021.
Driving the news: Senate Minority Leader Mitch McConnell (R-Ky.) announced his support for the legislation on Tuesday, saying in a floor speech that the "chaos" of Jan. 6 "underscored the need for an update."
Soon after, the bill passed out of the Senate Rules Committee by 14-1, with just Sen. Ted Cruz (R-Texas) voting against it because it "decreases the ability of Congress to address instances of fraud."
Sen. Cindy Hyde-Smith (R-Miss.), who voted to decertify Pennsylvania's and Arizona's electors on Jan. 6, was among the seven Republicans who voted for the bill.
A senior GOP aide told Axios that McConnell's support, as well as Hyde-Smith's, is a good sign for the bill and that support is only likely to grow — adding that it's tough to make a case against it.
What they're saying: Other Republicans who voted to decertify electors didn't rule out voting for the bill in interviews with Axios.
Sen. Rick Scott (R-Fla.) said he is "reviewing" the bill, adding: "I'm open to having a conversation to make sure that we always improve things."
Sen. Roger Marshall (R-Kan.) said, "I want to look at the details of it."
Yes, but: Sen. Josh Hawley (R-Mo.), who filed the objection to Pennsylvania's electors, said he will "probably vote no" on the bill: "Fiddling with that law, which has governed out presidential elections for 150 years, I just don't see a need to do it."
Other conservatives also said they're weighing voting for the bill.
"I'm open to reforms," said Sen. Rand Paul (R-Ky.), adding that the Senate legislation is "more reasonable" than a competing bill passed by the House last week.
Sen. Kevin Cramer (R-N.D.) said he's "never been nuts" about reform, but added: "I'm going to look at it really carefully. It's certainly a noble effort, and I think the people working on it are really good people who want to be helpful."
By the numbers: The bill, the product of a bipartisan group that formed at the start of the year, already has 11 GOP co-sponsors — one more than is needed to break a filibuster if all Democrats vote for it.
What we're watching: How the Senate bill and the House bill are reconciled.
The House bill, introduced by Jan. 6 committee members Zoe Lofgren (D-Calif.) and Liz Cheney (R-Wyo.), passed the House with just nine GOP votes.
"I had a discussion with Rep. Cheney last week. It's clear to me that our bill has broader bipartisan support, but I'm sure we can work with them," said Sen. Susan Collins (R-Maine), who helped lead the bipartisan Senate group.
Sen. Roy Blunt (R-Mo.), the top Republican on the Rules Committee, said he and Chair Amy Klobuchar (D-Minn.) have "talked to Zoe Lofgren," and that the panel's markup made changes that make the Senate bill "a little closer to the House bill."
What's next: With the Senate planning to skip town at the end of the week, the legislation is likely to be punted until after the November election, senators said.
"I don't see us getting into it this week," said Blunt. "My belief is we're not back in October, but that's just a guess ... so that means it all has to come up" in the lame-duck session.
Collins said her goal is to have the bill passed before the end of the year — and, in particular, "before the presidential campaign startup next year."
Go deeper