Jackson residents file class action lawsuit against city over water crisis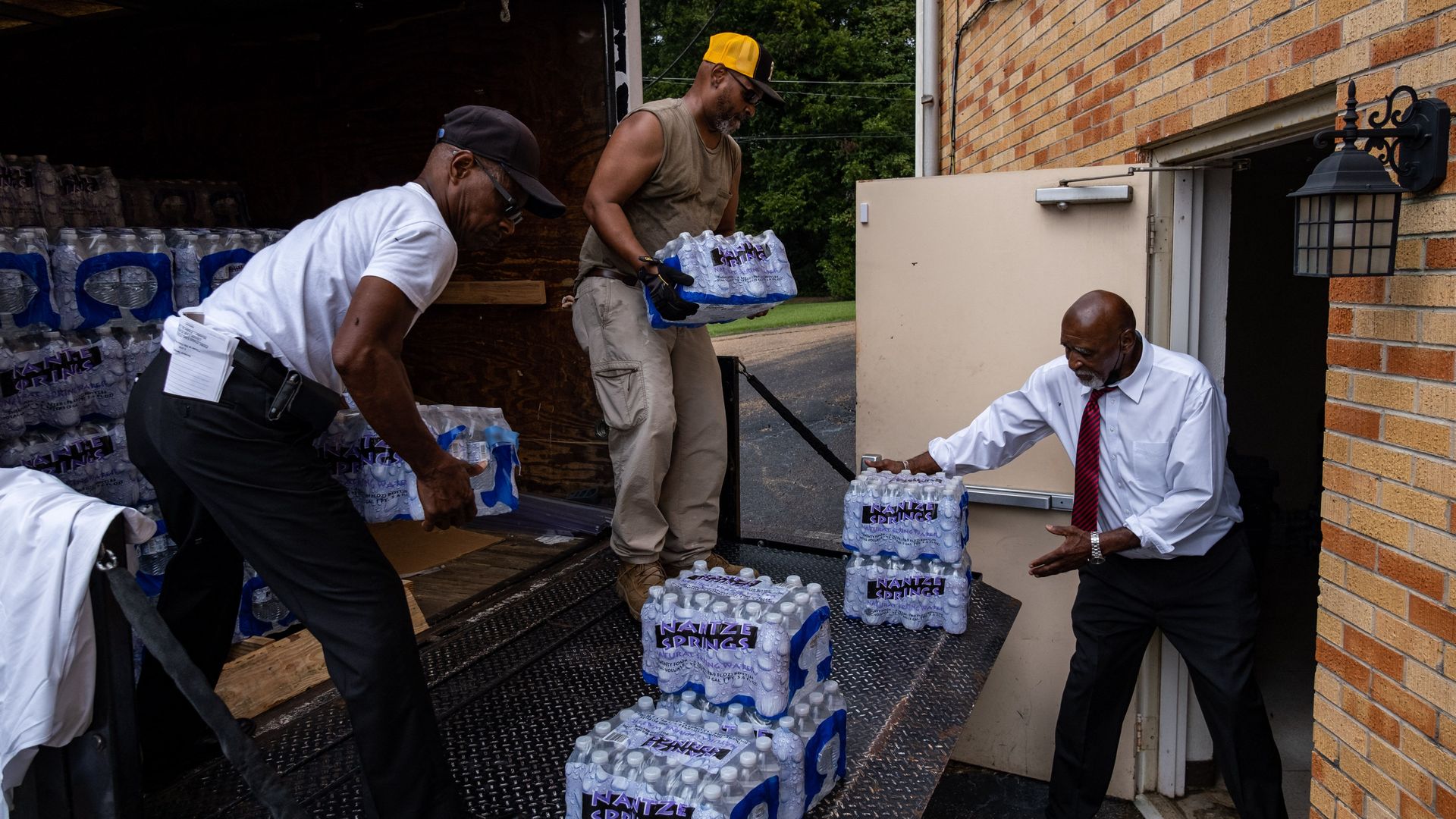 Residents of Jackson, Mississippi, filed a class action lawsuit against the city, its current and former mayors, city officials and engineering companies, alleging that years of neglect culminated in a recent water crisis for more than 150,000 people.
Why it matters: The residents asked the court in the lawsuit to force the city to repair the water system and to cancel any bills or debts held by residents for unsafe water or water that was not delivered.
They also asked for community health centers to care for people who may have been injured by contaminated water and for an unspecified amount of money for damages.
The majority-Black city last week finally had clean water restored following a boil water advisory from July when tests showed water quality was "cloudy."
Flooding of the Pearl River exacerbated the water crisis by causing water pressure issues in the city's already-damaged system, forcing schools to shut down in-person learning.
What they're saying: "These residents lack more than just drinking water, or water for making powdered baby formula, cooking, showering, or laundry," the lawsuit reads.
"During the long period where the city pipes had no water pressure — and were unable to facilitate the flow of water — residents of Jackson could not flush their toilets for days at a time," it continues.
"This public health crisis, decades in the making, was wholly foreseeable by Defendants' actions and has left Jackson residents in an untenable position — without access to clean, safe water in 2022 in a major United States city."
The plaintiffs also allege that they were poisoned by lead and other contaminants released in Jackson's drinking water before the water supply failed in August.
The other side: The defendants include Mayor Chokwe Antar Lumumba, who has pushed back against allegations that mismanagement by the city government caused the crisis.
It also includes as defendants engineering companies Siemens Industry and Trilogy Engineering Services, which were previously contracted to work on the city's water system in the past.
Lumumba's office declined to comment on the lawsuit.
The big picture: Jackson also faces a federal lawsuit filed last year by attorneys representing around 1,800 kids that alleged that the city government and state health department failed to prevent lead from contaminating the city's water supply and poisoning children, WLBT reports.
Go deeper: Mississippi Gov. Tate Reeves says it's a "great day to not be in Jackson" amid water crisis
Go deeper