Apple debuts iPhone 14, updates Apple Watch, AirPods Pro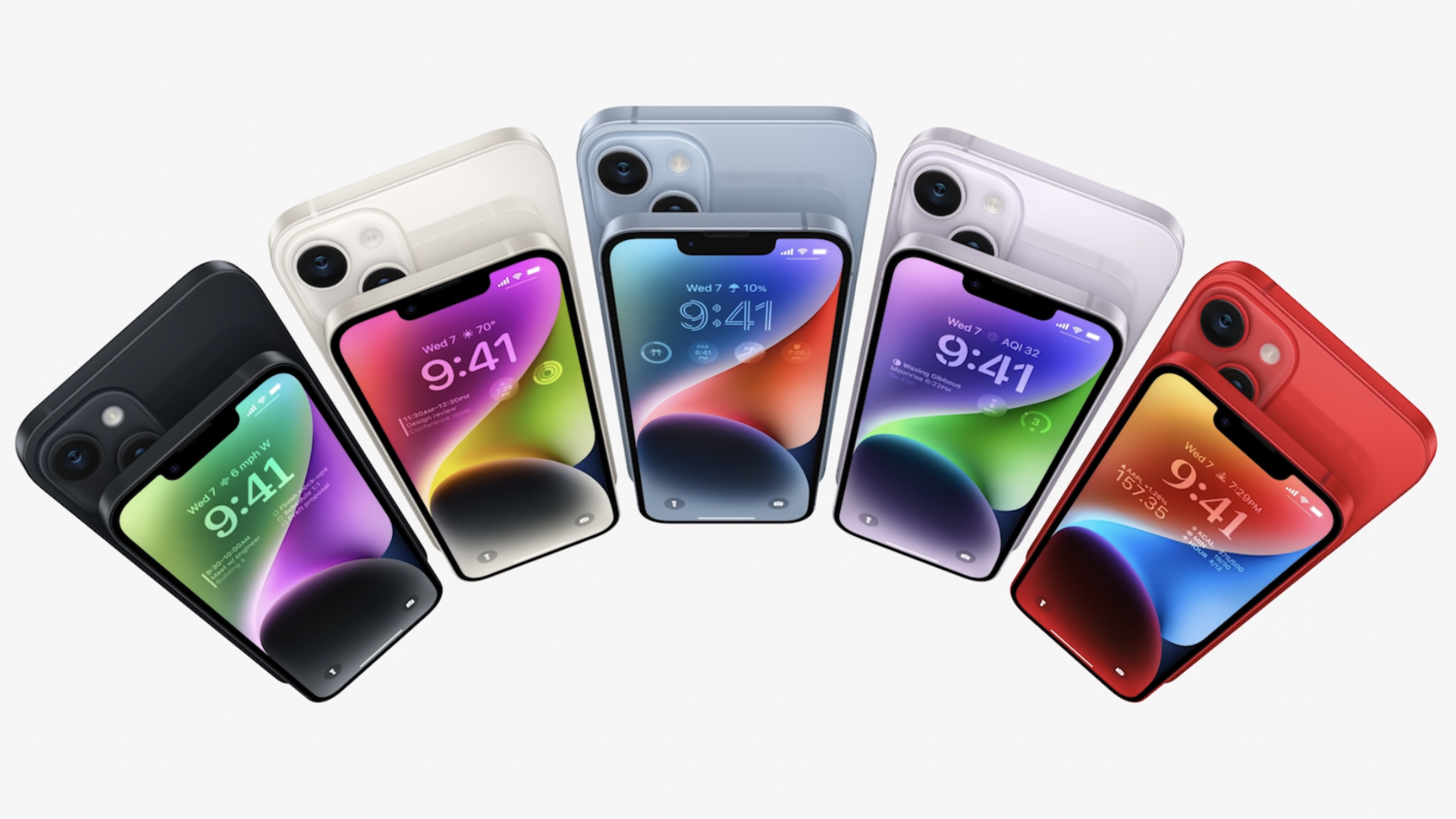 Apple on Wednesday introduced the iPhone 14 and iPhone 14 Pro smartphone families alongside its latest wearables — the Apple Watch Series 8, a new higher-end Apple Watch Ultra and updated AirPods Pro headphones.
Why it matters: The success of the iPhone is not only key to Apple's business, but vital for a variety of firms that supply components and for U.S. wireless providers such as AT&T, T-Mobile and Verizon.
Here's what Apple announced:
iPhone 14 Pro
The iPhone 14 Pro, unlike the standard model, is powered by a new A16 Bionic processor. (In the past Apple has included its latest chip in the standard models.)
The iPhone 14 Pro includes a larger image sensor capable of capturing 48-megapixel photos. In most cases, though, it will produce 12-megapixel images, combining pixels to capture more light. The ultrawide camera also gains a larger sensor.
As rumored, the iPhone 14 Pro has an always-on display to show time and other alerts while preserving battery life using lower refresh rates and dimmed background screen.
Apple is narrowing the notch on the front of the iPhone 14 and is using some of that space to show alerts, a feature Apple has dubbed the "dynamic island."
In addition to standard cellular technology, the iPhone 14 Pro (and iPhone 14) will also be able to summon help via satellite. People can also share their location via satellite even in non-emergency situations. The satellite service will be free for two years with iPhone 14, starting in November in the U.S. and Canada. (Users have to be outside with phone pointed toward a satellite to summon help.)
The 6.1-inch iPhone 14 Pro will start at $999, while the 6.7-inch 14 Pro Max starts at $1,099. Pre-orders will start Sept. 9 and the 14 Pro and Pro Max will be available Sept. 16.
iPhone 14
The iPhone 14 (and larger-screen iPhone 14 Plus) features a bigger rear camera sensor for better low-light shots, along with an improved front-facing camera with autofocus.
A new "action mode" provides improved stabilization in videos, and the 14 Plus is billed as having the best battery life of any iPhone to date.
In the U.S., the iPhone 14 will dispense with the usual SIM card, supporting only digital eSIM technology.
The iPhone 14 will start at $799, while the Plus model will start at $899. Preorders will start Sept. 9, with the iPhone 14 shipping Sept. 16 and the iPhone 14 Plus on Oct. 7.
New AirPods Pro
The updated AirPods Pro headphones feature longer battery life, an improved H2 processor and audio improvements, including personalized spatial audio.
Noise cancelling is also improved, Apple says, while transparency mode can now adapt to minimize loud outside noises.
A new touch sensor lets you raise or lower the volume directly from the headphones.
The new AirPods Pro models will sell for $249, with orders starting Sept. 9 and will be available Sept. 23.
Apple Watch
Apple Watch Series 8 has more advanced cycle tracking for periods and ovulation, thanks in part to a new body temperature sensor. The information is encrypted on the device and protected by a password or biometrics.
The latest watch can also detect a serious car crash and automatically connect to emergency contacts and first responders, powered by an improved gyroscope and accelerometer, along with other sensors.
Battery life remains all-day (18 hours), but Apple is adding a low-power mode that it says can provide twice that battery life, while disabling certain functions. That feature should also work on Apple Watch Series 4 and later.
Apple Watch Series 8 will start at $399 (and $499 for the cellular-equipped version). Apple is also offering a faster, second generation of its lower-cost Apple Watch SE starting at $249 ($299 for cellular version).
Orders start today and the new watches will be available Sept. 16.
Apple Watch Ultra
The new model, designed for "exploration and endurance," has a sapphire front crystal, larger display and titanium case, along with a new "action" button.
A bigger battery offers 36 hours on a single charge in standard mode, with all models including cellular connectivity. It also has a built-in 86-decibel siren to summon help in an emergency and can be used as a dive computer for scuba enthusiasts (via a third-party app).
Apple Watch Ultra will sell for $799 and be available on Sept. 23.
iOS 16 release date
Apple will roll out its software update days before the new iPhones arrive.
iOS 16 will be available as a free software update on Monday, Apple said in a news release.
The iOS update is an annual fall tradition that brings new features to Apple's smartphones.
What's next
Apple typically launches any fall iPad and Mac updates separately. Also, CEO Tim Cook will appear at Code Conference later Wednesday, speaking on a panel with Laurene Powell Jobs and longtime Apple designer Jony Ive.
Go deeper