Trump and "MAGA forces" represent extremism, Biden says in primetime speech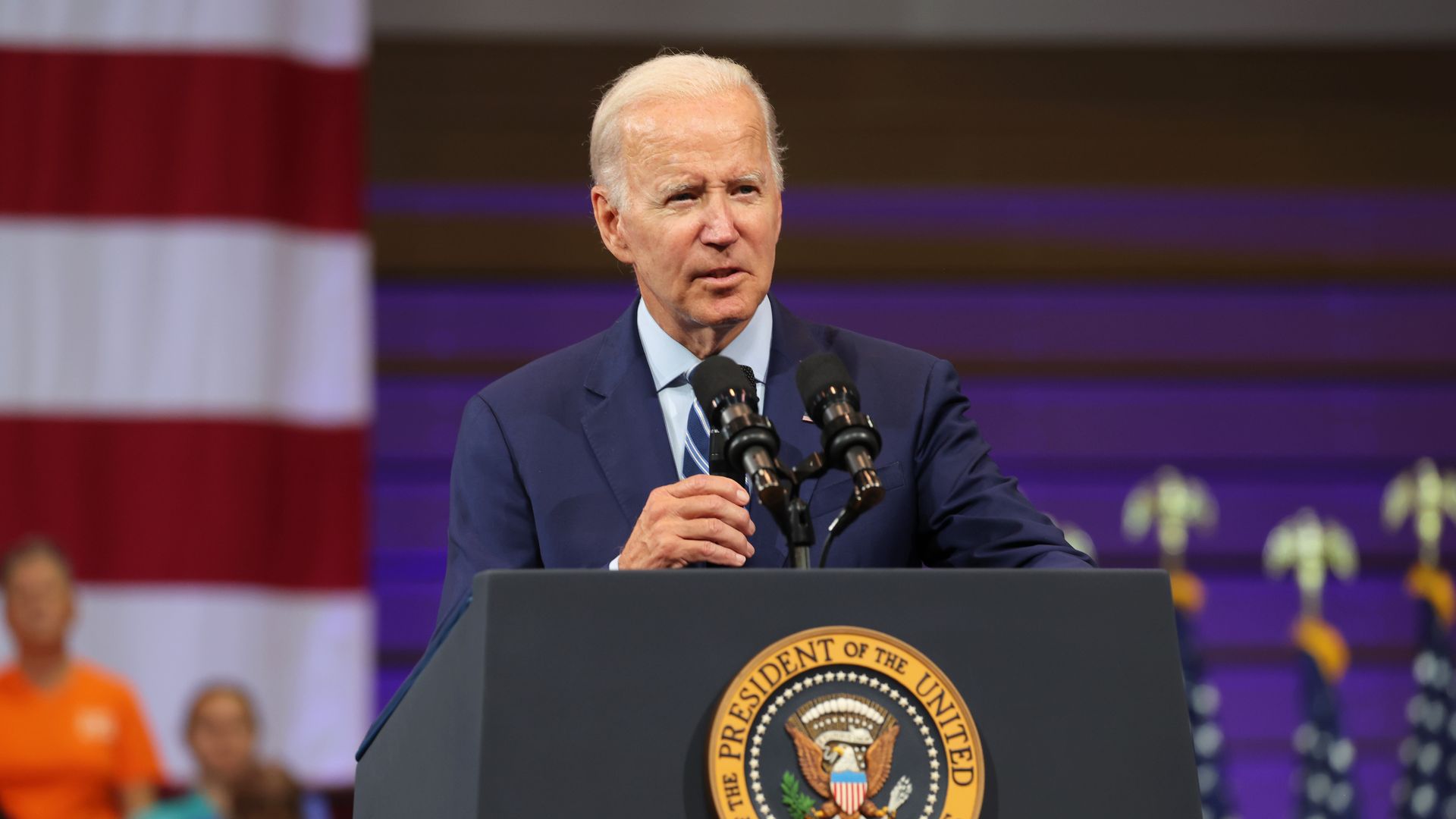 President Biden condemned former President Trump, "MAGA forces" and what he called their determination to "take this country backwards" in a rare primetime speech on Thursday.
Driving the news: Biden's remarks at Philadelphia's Independence Hall called on all Americans to defend the nation against threats to democracy, including aspects of Trumpism, during a visit to one of the biggest political battlegrounds on the midterm map.
Why it matters: Democrats are betting that making Trump a central theme of the midterms will hurt Republicans' chances of winning back control of Congress.
What he's saying: "Tonight I have come here to the place where it all began to speak plainly to the nation about the threats we face," Biden said at the event. "About the power we have in our own hands to meet those threats. And about the incredible future that lies in front of us if only we choose it," he contined.
"Not even a majority of Republicans are MAGA Republicans, but there's no question the Republican Party today is dominated, driven and intimidated by Donald Trump and the MAGA Republicans — and that is a threat to democracy," Biden added.
"MAGA forces are determined to take this country backwards. Backwards to an America where there is no right to choose, no right to privacy, no right to contraception, no right to marry who you love."
The bottom line: Trump and MAGA Republicans "represent an extremism that threatens the very foundations of our republic," Biden said. They "do not respect the Constitution."
"For a long time, we've reassured ourselves that American democracy is guaranteed," he noted. "But it is not. We have to defend it. Protect it. Stand up for it. Each and every one of us."
"I will not stand by and let elections be stolen by people who simply refuse to believe that they lost."
— Excerpt from President Biden's speech
The other side: "Joe Biden's wretched attacks on millions of Americans have fueled attacks on pregnancy centers, Republican offices, and an assassination attempt on a Supreme Court Justice," RNC chairwoman Ronna McDaniel said in a statement after the speech.
"His agenda has pitted neighbors against each other, rewarded the wealthy while punishing working families, and trampled on the rights and freedoms of Americans. Joe Biden is the divider-in-chief and epitomizes the current state of the Democrat Party: one of divisiveness, disgust, and hostility towards half the country."
House Minority Leader Kevin McCarthy (R-Calif.) also accused Biden of choosing to "divide, demean and disparage his fellow Americans" in a speech Thursday prior to Biden's primetime event. "Why? Simply because they disagree with his policies," he said. "That is not leadership."
"When the president speaks tonight at Independence Hall, the first lines out of his mouth [should] be to apologize for slandering tens of millions of Americans as fascists."
Flashback: Biden slammed Trump-allied Republicans last week and likened the MAGA movement to "semi-fascism" in his first political rally speech in the leadup to November's midterm elections.
The big picture: Trump will headline an event with three of his endorsed candidates in Pennsylvania this week.
Editor's note: This article has been updated with more details from President Biden's speech, comment from House Minority Leader Kevin McCarthy and further context.
Go deeper