U.S. announces $3B in aid as Ukraine marks 6 months of war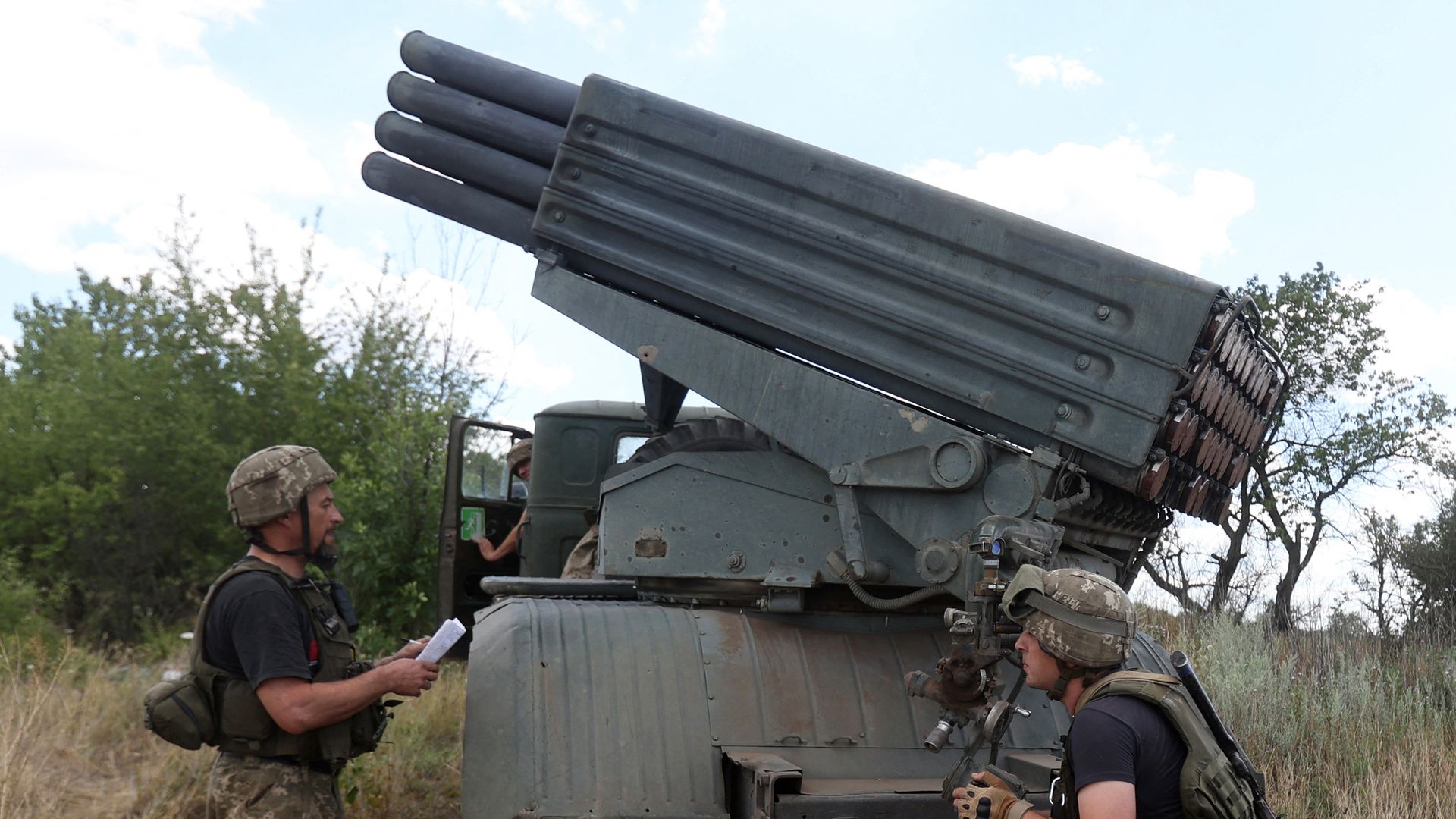 The Biden administration on Wednesday announced that the U.S. will provide Ukraine with nearly $3 billion in additional military aid as Ukraine marked six months since the start of Russia's unprovoked invasion as well as its independence day.
Why it matters: Although earlier aid packages focused on fulfilling Ukraine's immediate needs for weapons and ammunition, this package is intended to ensure Ukraine's medium- to long-term defense capabilities, funding contracts for weapons and equipment that may not be used for one to two years, AP reported.
State of play: The roughly $2.98 billion security assistance package — the largest provided by the U.S. thus far — will supply weapons and equipment via the Ukraine Security Assistance Initiative, President Biden said in a statement.
"This will allow Ukraine to acquire air defense systems, artillery systems and munitions, counter-unmanned aerial systems, and radars to ensure it can continue to defend itself over the long term," Biden said.
Unlike previous packages, the weapons won't come from the Pentagon's existing supplies but will be commissioned directly from defense contractors, National Security Council spokesperson John Kirby said.
That means it could be months or even years before some systems are on the battlefield, though Kirby noted that some supplies — particularly ammunition — would likely be available almost immediately.
What they're saying: "I know this independence day is bittersweet for many Ukrainians as thousands have been killed or wounded, millions have been displaced from their homes, and so many others have fallen victim to Russian atrocities and attacks," Biden said.
"Today and every day, we stand with the Ukrainian people to proclaim that the darkness that drives autocracy is no match for the flame of liberty that lights the souls of free people everywhere," he added.
Zelensky tweeted his thanks Wednesday for the "unprecedented package," adding that "The people of Ukraine, all our defenders highly appreciate America's unwavering support. Together we will win!"
The big picture: The new aid package comes on top of other packages of $550 million, $1 billion and $775 million earlier this month.
Fighting continues in Ukraine's eastern Donbas region. Having claimed control of the Luhansk region last month, Russia is still fighting for control of the Donetsk region.
The U.K. Ministry of Defense said in an intelligence update on Aug. 20 that Russian troops had made only small advances in the Donbas since the start of the month and that neither Russian nor Ukrainian forces have made advances along the Kherson frontline.
Russia suffered materiel losses in Crimea this month after multiple military installations were hit with explosions, including Saki Air Base in southwest Crimea.
What's next: The White House says Russian President Vladimir Putin has plans to annex four Ukrainian regions — Kherson, Zaporizhzhia, Donetsk and Luhansk. Kirby said the first "fraudulent" referendum could be announced this week.
Kirby also said Biden will call Zelensky Thursday to update him on the arms shipments.
Editor's note: This story has ben updated with additional details from Kirby.
Go deeper