Blinken to speak to Russia's Lavrov for first time since Ukraine invasion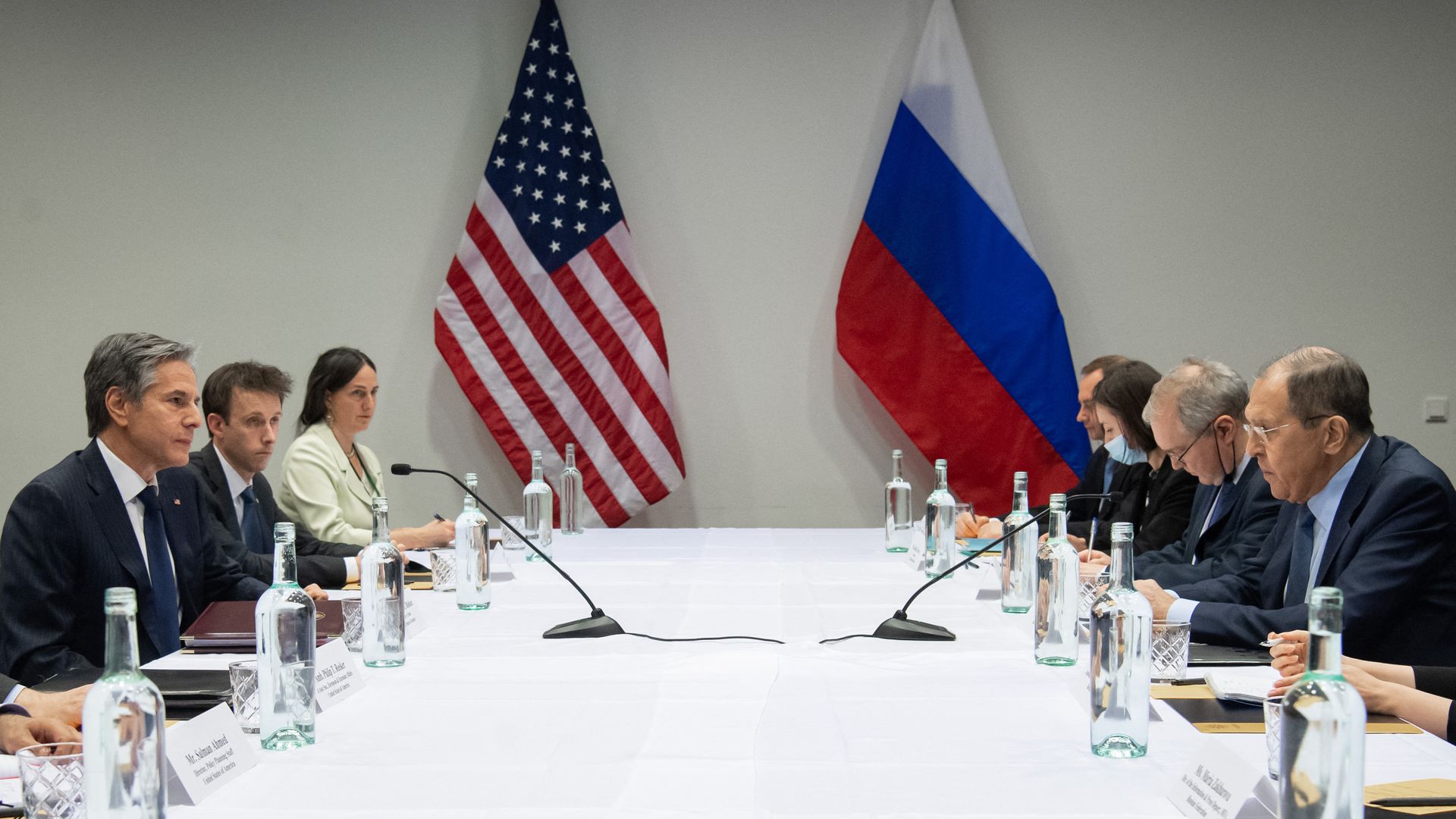 Secretary of State Tony Blinken said Wednesday that he plans to speak with Russian Foreign Minister Sergei Lavrov "in the coming days" to raise several issues, including the detentions of WNBA star Brittney Griner and other Americans in Russia as well as the recent deal to resume Ukrainian grain exports.
Why it matters: It will be the first such call since Russia's invasion of Ukraine began on Feb. 24, though Blinken insisted it "will not be a negotiation about Ukraine." He also said he would warn Lavrov that the U.S. and international community would not accept Russian annexations of Ukrainian territory.
Behind the scenes: Blinken said the U.S. had made a proposal to the Russians for the release of Griner, who was charged with bringing cannabis into Russia, and former Marine Paul Whelan, who faces espionage charges, which he denies.
Blinken would not offer details, but CNN reports, citing unnamed sources, that the U.S. is offering to swap convicted arms trafficker Viktor Bout for the detained Americans. Russia has long sought the release of Bout, a former Soviet Army officer later nicknamed the "Merchant of Death" for his arms trading activity. Axios has not confirmed those reports.
Blinken said President Biden was intimately involved in the U.S. proposal.
Blinken also emphasized that this call was about more than a potential prisoner swap.
He said the U.S. would push Russia to "make good on the commitments they made" to relax a Black Sea blockade and facilitate Ukrainian grain exports. Russia conducted missile strikes on Ukraine's largest port, Odessa, a day after signing the long-sought agreement.
Blinken also made note of Lavrov's recent remarks that Russia's territorial ambitions stretched beyond the Donbas region of eastern Ukraine, and his promise to help Ukrainians remove their "unacceptable regime."
"What this is about, and it's always been about, is President Putin's conviction that Ukraine is not an independent state and belongs to Russia," Blinken said, while promising to continue to assist Ukraine's efforts to fight back.
Lavrov is on a tour of Africa this week, making the case that Moscow is not the aggressor in Ukraine nor the cause of the resulting food crisis, which has hit the continent hard.
Between the lines: Such trips help Moscow make the case that it is not as isolated internationally as Washington claims — as, arguably, does the call with Blinken, who had previously refused to speak with Lavrov for five months.
What to watch: Blinken detailed what he said were Russia's plans to hold "sham referendums" in Russian-held areas of Ukraine to absorb them into Russia. The White House believes that Russia could put that plan into action in mid-September.
This is a developing story. Please check back for updates.
Go deeper