Rishi Sunak joins race to replace Boris Johnson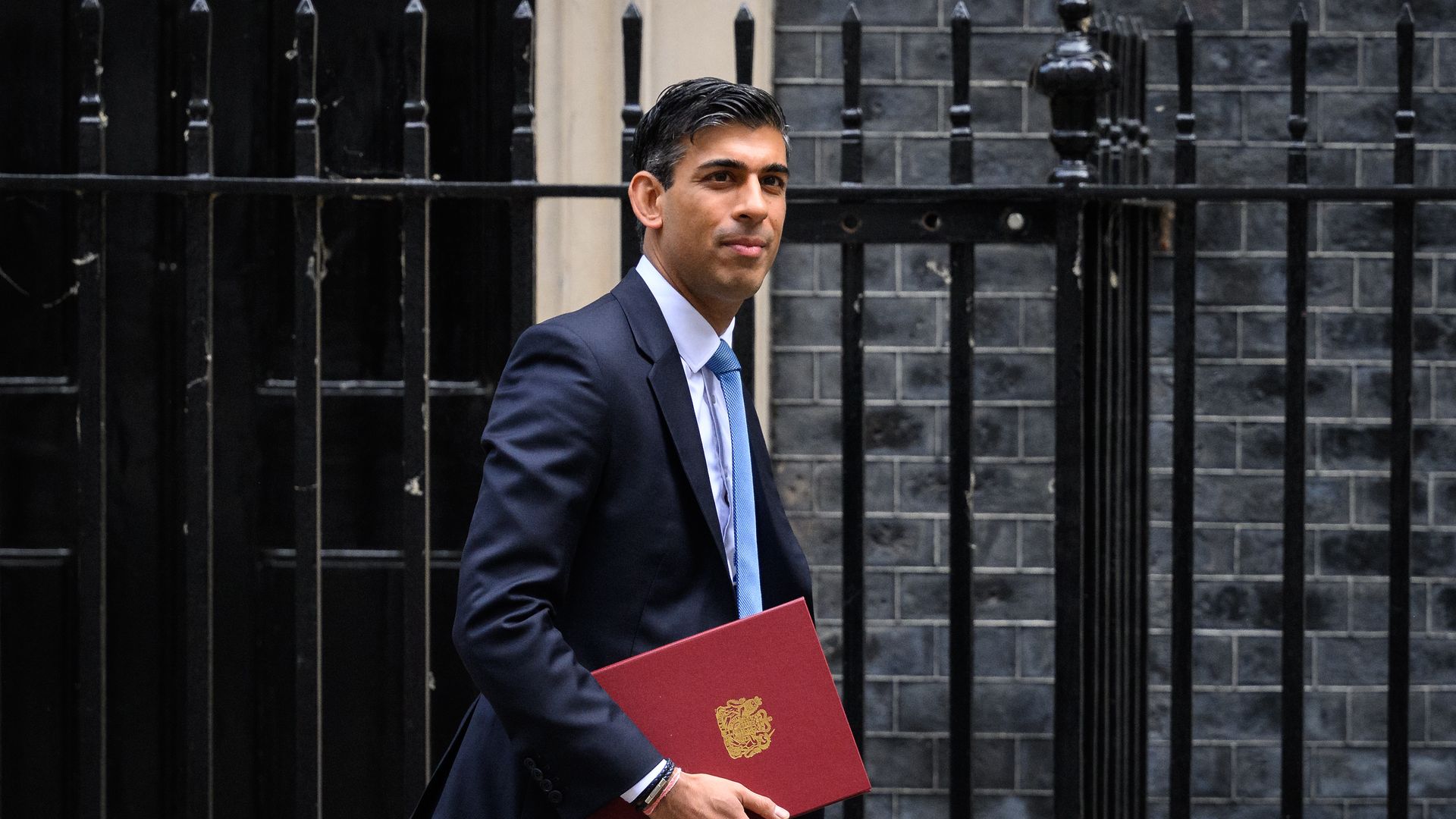 Rishi Sunak, the former chancellor of the exchequer — or finance minister — launched his campaign Friday to replace Boris Johnson as leader of the Conservative Party and U.K. prime minister.
Why it matters: Sunak's shock resignation Tuesday from the second-most powerful position in the British Cabinet helped trigger Johnson's ouster. The son of Indian-origin immigrants, Sunak would be the U.K.'s first prime minister of Asian descent.
Background: The 42-year-old Sunak became a member of Parliament in 2015 after working for Goldman Sachs and a pair of hedge funds. He's a practicing Hindu and one of the wealthiest people ever to serve in the British government, in large part due to his marriage to Akshata Murthy, the daughter of an Indian billionaire.
Sunak was promoted to chancellor in February 2020 and quickly became one of the most popular politicians in Britain as he launched unprecedented emergency spending programs to keep the economy afloat during COVID-19.
Sunak had long been seen as a likely successor to the embattled Johnson, but his reputation was damaged earlier this year as his family's finances came under scrutiny and he was fined for breaking lockdown rules during the "partygate" scandal.
Tensions between Johnson and Sunak also rose as the two diverged on how fast to cut taxes during the U.K.'s cost-of-living crisis, with Sunak favoring a more "fiscally responsible" approach.
Driving the news: Sunak shared his family's immigrant origins in a campaign video released Friday, saying "it was Britain, our country, that gave them and millions like them the chance of a better future."
He touted his credentials running the "toughest department in government" during the COVID crisis, and vowed to confront the U.K's challenges with "honesty, seriousness and determination" instead of "comforting fairy tales."
Sunak is viewed as a top contender to replace Johnson, and immediately received endorsements from a number of senior Conservative lawmakers. But he's joining a crowded field in what appears to be one of the most wide-open party leadership races in recent memory
Defense Secretary Ben Wallace polls as the top choice among Conservative Party members, but has yet to declare his candidacy. Foreign Secretary Liz Truss and junior trade minister Penny Mordaunt are also among the oddsmakers' favorites should they elect to run.
Attorney General Suella Braverman and Foreign Affairs Committee Chairman Tom Tugendhat were first to enter the race.
Former Health Secretary Jeremy Hunt, who lost to Johnson in the final round of the 2019 Conservative election, is expected to announce his bid in the coming days.
What's next: Johnson has said the timeline for the leadership contest will be laid out next week.
Go deeper:
Go deeper