Government report: Agents on horseback used force, did not strike Haitians with reins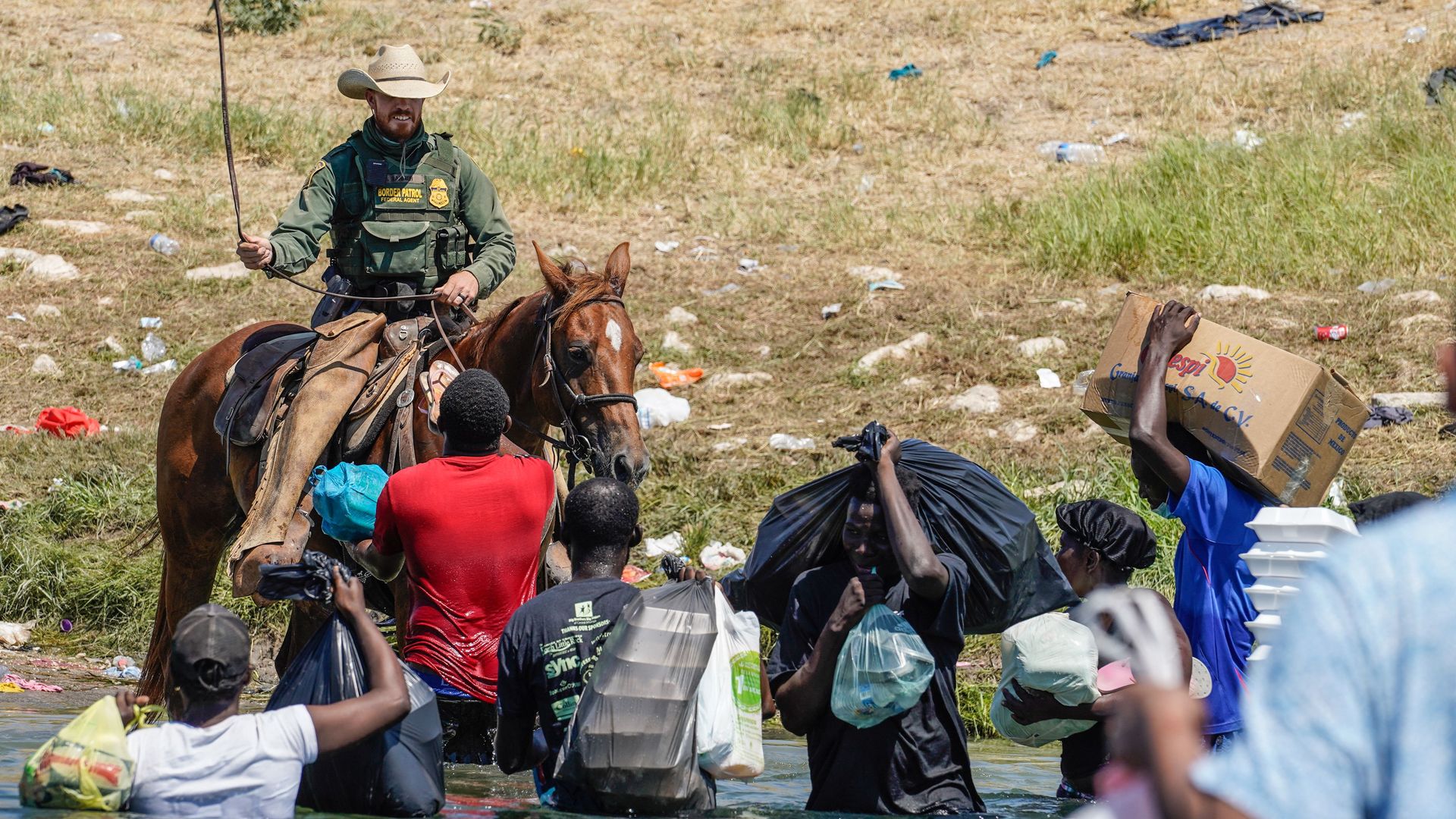 Border Patrol agents on horseback acted unprofessionally, unsafely and used unnecessary force toward Haitian migrants last September, but did not strike them with horse reins, according to a 500-page report released by the Department of Homeland Security and Customs and Border Protection on Friday.
Why it matters: Images and videos of border agents on horses chasing and grabbing Haitian migrants near the Rio Grande River went viral and sparked national outrage.
Multiple outlets, including Axios, initially published stories based on images and reporting that suggested agents had used reins to whip at migrants.
President Biden at a Sept. 24 news conference said that "it was horrible what — to see, as you saw — to see people treated like they did: horses nearly running them over and people being strapped. It's outrageous."
The investigation took months longer than initially anticipated. It included more than 30 interviews with eyewitnesses, including a journalist who took photos of the event.
Zoom in: The report found one border agent on horseback yelled offensive comments at migrants — including using profanity — and narrowly missed a migrant child while chasing someone across a boat ramp. It also found:
An agent shouted, "You use your women? This is why your country's shit, you use your women for this," as was captured in videos posted online.
Agents used force or the threat of force multiple times to drive back migrants into the water, despite the fact they were already in the U.S., had not threatened the agents and many were bringing food for their families at the camp.
But the report found no evidence agents struck migrants with split reins used for horses. It also found no evidence any of the migrants were ultimately forced back to Mexico.
What they're saying: "Failures to maintain command and control over Horse Patrol Units, lack of appropriate policies and training, and the overall chaotic nature of the situation at Del Rio at the time contributed to the incident," CBP Commissioner Chris Magnus said in a statement.
"We have already begun making changes to address agency shortcomings identified in the report," he continued.
The big picture: The investigation determined that the Texas Department of Public Safety — not CBP — asked for horse patrol units to help them disperse a crowd of migrants in and near the water and block migrants from crossing on Sept. 19.
CBP said the Border Patrol actually had decided to allow migrants to cross to get water, food and other necessities to take back with them and at no point in the day made a decision to stop migrants from freely crossing the river there.
But due to miscommunication and poor coordination, that's what happened for the roughly 15 minutes widely documented in videos and photographs.
A senior CBP official emphasized to reporters the vast logistical and humanitarian challenges the situation presented at the time, as roughly 15,000 migrants — mostly Haitians — had gathered under a bridge in Del Rio to form a makeshift camp.
What's next: Four agents have been placed on administrative duties since the incident, and the process for deciding further disciplinary measures is ongoing, according to a senior official who declined to provide more details.
The DHS' Inspector General and U.S. Attorney's Office for the Western District of Texas declined to take up the investigation, leaving it to the Office of Professional Responsibility.
Go deeper