Dems weigh jamming McConnell on China bill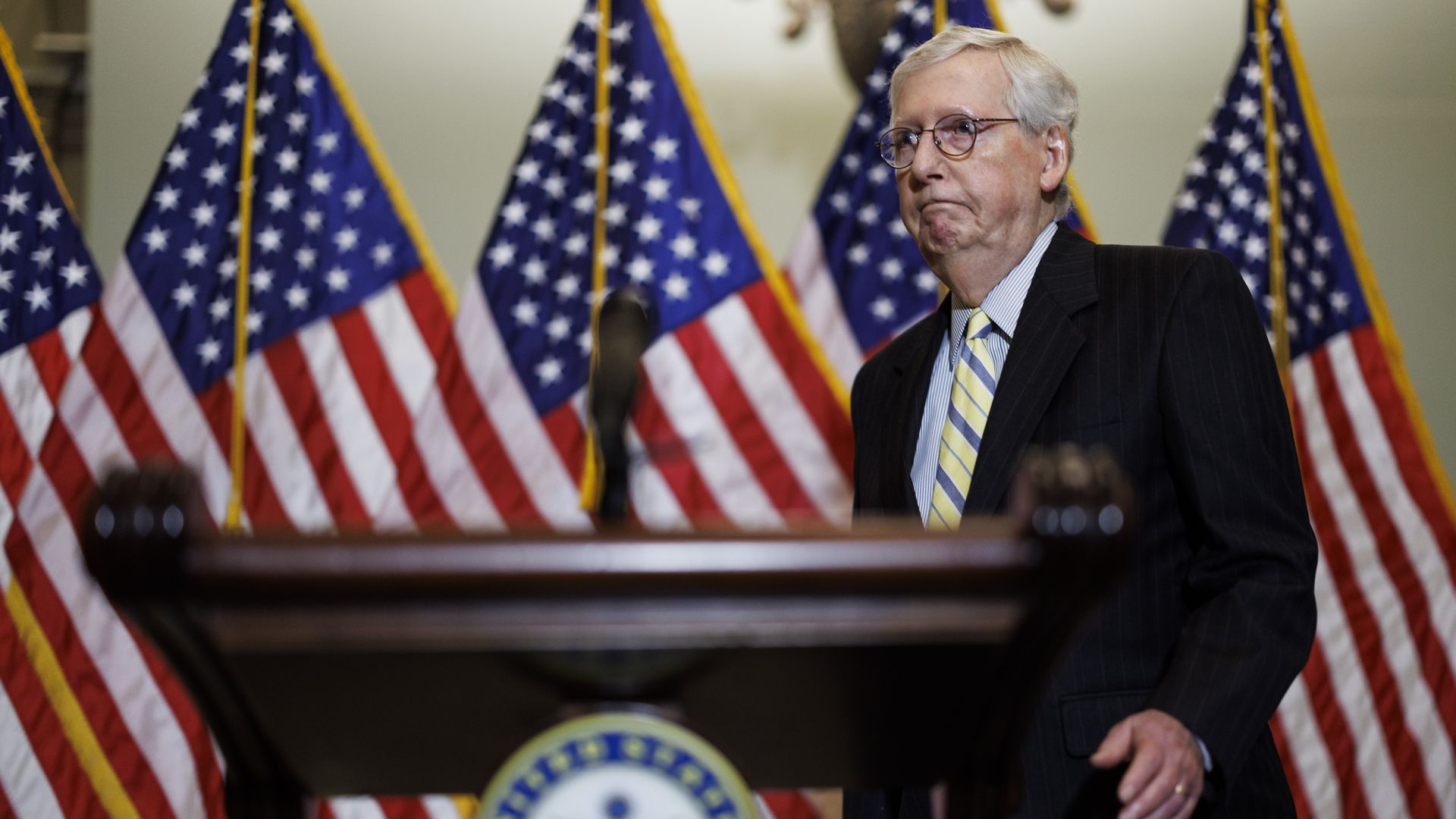 Some key House Democrats think they've found a clever way to break Senate Republican Leader Mitch McConnell's stranglehold on a popular bill to massively fund the U.S. chip industry at the expense of China.
What's happening: McConnell is trying to force Democrats to choose between bipartisan legislation on the stalled China competition bill and a Democrat-only reconciliation package they might reach with Sen. Joe Manchin (D-W.Va.).
The potential countermove is to bring the Senate-passed China bill to the House floor for an up-or-down vote and deprive McConnell of his hostage.
The downside is the Senate would get its own legislation to the president's desk without the provisions House Democrats are fighting for.
Between the lines: The risky gambit would require buy-in from almost every House Democrat, including Speaker Nancy Pelosi, who fiercely protects the House's priorities.
By even considering the plan, Democrats are tacitly acknowledging that McConnell has effectively killed negotiations between the House and Senate on their separate bills, according to people familiar with the matter.
But not all have embraced the strategy: "The original Senate USICA bill simply has too many fundamental problems to get to 218 votes in the House," a House Democratic leadership aide told Axios.
Zoom in: The bill — which has been known at various points as the Endless Frontiers Act, the COMPETES Act and USICA — is a top priority for the Biden administration and hundreds of American businesses, which are counting on the funding to jump-start critical industries.
It would provide some $50 billion for the domestic semiconductor industry and more than $100 billion for the National Science Foundation for research and development.
Some Senate Democrats are eager to just pass the $50 billion in semiconductor funding and punt on all the other differences between the two chambers.
What they're saying: "I hope Leader McConnell will put aside politics and continue to support negotiations on a bill he already voted for," House Majority Leader Steny Hoyer (D-Md.) told Axios. "There's no reason not to move ahead on legislation where we have bipartisan agreement — the American people expect us to get this done."
Driving the news: After issuing his ultimatum last week, McConnell has followed up with a clear "pencils down" directive to Senate Republican negotiators, freezing the talks between the House and Senate on ironing out differences between their two bills.
Those formal negotiations were making slow — but tangible — progress, until McConnell decided to take the China competition bill hostage by vowing to kill it if Democrats kept chasing a climate, energy and prescription drug reform bill with Manchin.
McConnell's threat officially turned into action on Wednesday, when Senate negotiators began to cancel meetings with their House counterparts, National Journal first reported and Axios confirmed.
What we're watching: Senate Majority Leader Chuck Schumer (D-N.Y.) is summoning all senators for a classified administration briefing on the bill next Wednesday, calling it "vital for America's long-term national security."
The big picture: Biden is still optimistic that Congress can send him two more marquee bills this fall, before voters render their verdict on how Democrats have used control of both chambers in Congress and the White House for the last two years.
Talks continue on a dramatically scaled-back version of Biden's Build Back Better agenda, with Schumer and Manchin making incremental progress on a bill that would provide approximately $300 billion in energy and climate spending, raise corporate taxes and allow Medicare to negotiate the price of prescription drugs directly with the pharmaceutical industry.
Go deeper: Biden has seized on McConnell's move to accuse him of blocking the bipartisan China bill at the behest of Big Pharma, which would see its profits evaporate under some of the current reconciliation proposals.
"He's going to block the passage of the legislation that will provide for another $100 billion invested in this state," Biden said in Cleveland Wednesday, referring to an Intel factory that could be built in Ohio. "That's why this election is going to be so darn important."
"It's now or never to do this," White House press secretary Karine Jean-Pierre said Thursday. "Other countries are not waiting."
Go deeper