Highland Park shooting suspect charged with 7 counts of first-degree murder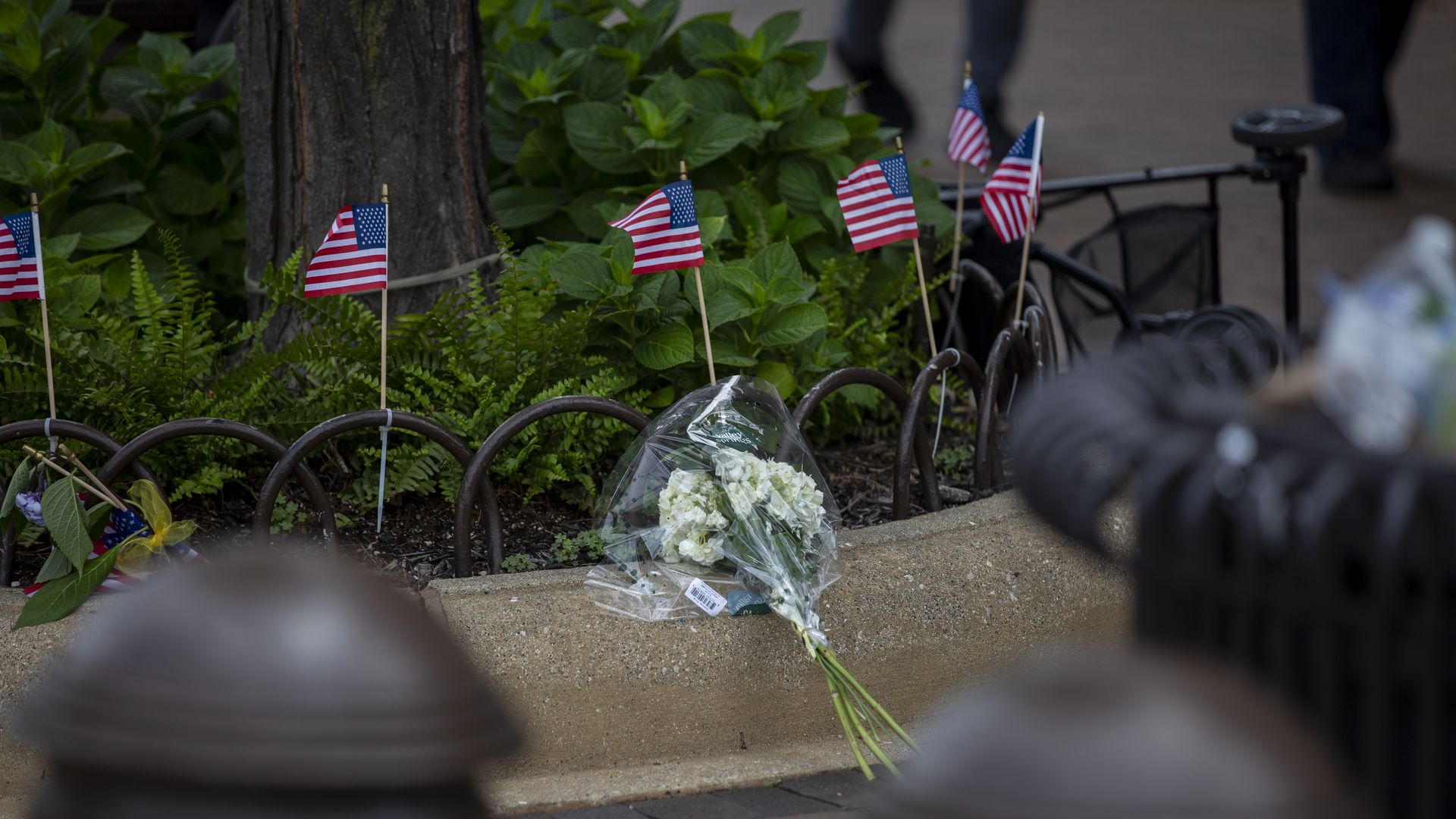 Robert "Bobby" Eugene Crimo III, 21, has been charged with seven counts of first-degree murder for the shooting at a Highland Park, Illinois, Fourth of July celebration that killed seven and injured at least two dozen others.
Driving the news: The seven charges were just the first for Crimo, Eric Rinehart, Lake County's state's attorney, said at a press conference Tuesday. He said he expects Crimo to face dozens more charges for each of the victims.
Rinehart said the first-degree murder charges will "lead to a mandatory life sentence" without the possibility of parole if Crimo is convicted.
Flashback: Police took Crimo into custody on Monday as a "person of interest" after a police officer in North Chicago spotted his silver 2010 Honda Fit.
Earlier in the evening, the FBI raided a residence in Highwood, where Crimo reportedly lives with his dad and uncle.
The big picture: Police believe Crimo had been planning the attack for several weeks and brought a rifle that was "similar to an AR-15" to the parade, Lake County Major Crime Task Force Spokesperson Chris Covelli said Tuesday at a press briefing.
The weapon Crimo used was purchased legally in Illinois by Crimo himself, Covelli said.
He accessed the roof of a building via a fire escape ladder and then proceeded to fire more than 70 rounds into the crowd.
During the attack, he was dressed in women's clothing, which investigators believe he did to conceal his identity and facial tattoos. After the attack, he dropped his weapon and escaped by blending into the fleeing crowd.
Crimo then walked to his mother's house in the area and borrowed her car.
Once apprehended, police found a second rifle inside the vehicle which authorities believe Crimo also purchased. Police also discovered other firearms in his residence in Highwood, Illinois.
No motive is known at this time.
Flashback: Covelli said Tuesday afternoon that Highland Park police had two incidents with Crimo in 2019.
In April 2019, an individual contacted Highland Park police a week after learning that Crimo attempted suicide.
Police responded to the home despite the delayed report, Covelli said. Mental health professionals handled the incident, he said.
In September of that year, Crimo's family told police that Crimo said he was going to "kill everyone" in the home. Police responded to the house and removed a dagger, sword and 16 knives, Covelli said.
Police had no probable cause to arrest, Covelli said, but Illinois state police were notified of the incident.
Context: Crimo is a local musician who goes by the name Awake the Rapper.
In one video, he raps in a classroom dressed in a vest and helmet while touching the American flag.
He has more than 2 million plays on his Spotify channel.
NBC reports that videos now removed from Crimo's YouTube channel featured depictions of mass murder and Crimo cheering on a Donald Trump motorcade.
Backstory: Robert Crimo's father, Bob Crimo, is a former convenience store owner in Highland Park. He placed second in the 2019 race for mayor against current mayor Nancy Rotering, a vocal opponent of assault weapons.
Editor's note: This article has been updated with new details throughout.
Go deeper