7 dead in mass shooting at Highland Park July 4 parade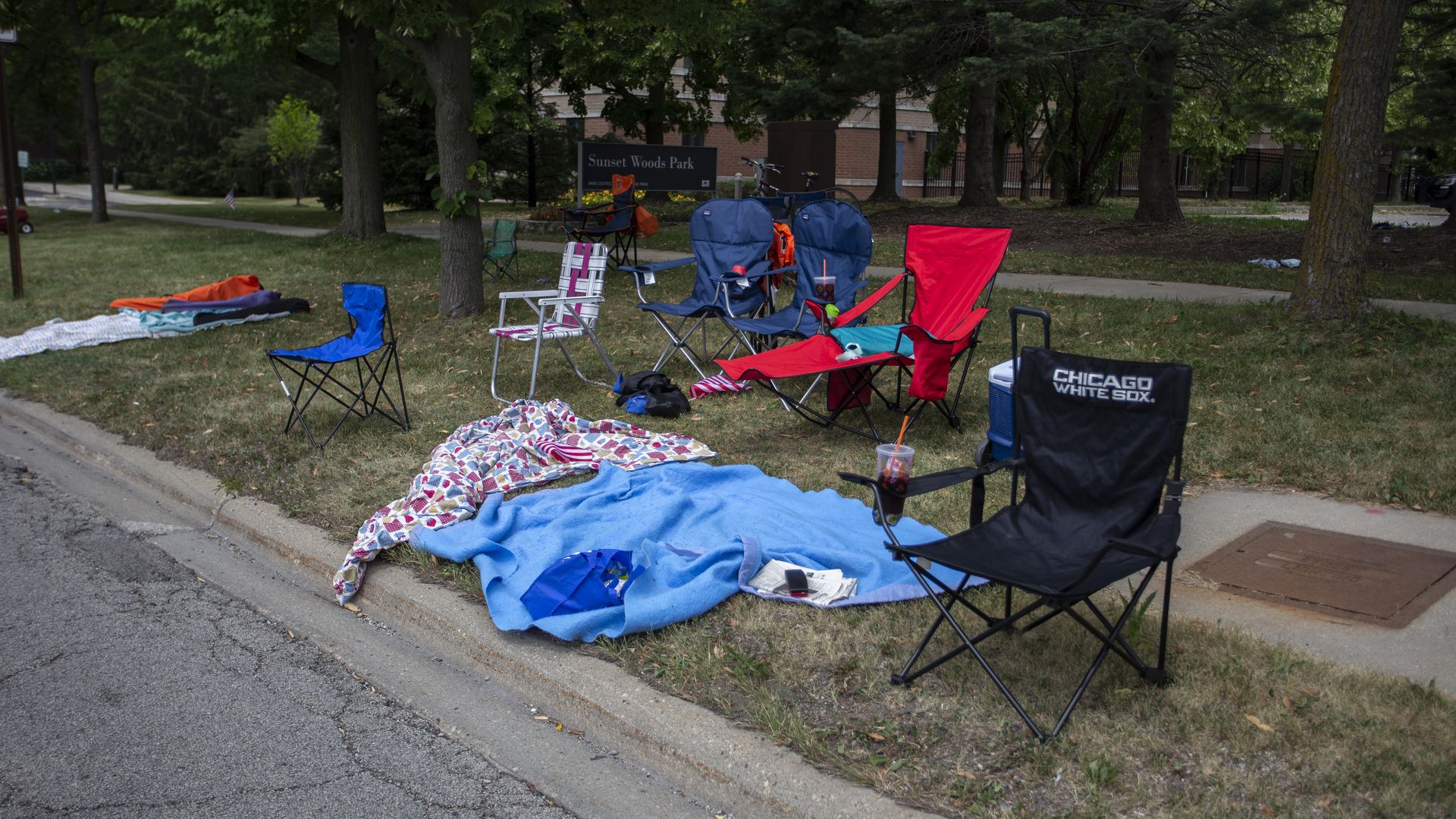 The death toll from the shooting at a Fourth of July parade in Highland Park, Illinois has risen to seven, Deputy Chief Christopher Covelli of the Lake County Sheriff's Office said Tuesday, the New York Times reports.
The latest: Authorities announced at a press conference Tuesday that Robert "Bobby" Crimo III had been charged with seven counts of first-degree murder.
Eric Rinehart, Lake County's state's attorney, said at the press conference that he expects Crimo will face "dozens" of charges for each of the victims.
Crimo had been identified as a person of interest in the shooting, at around 6:30pm CT on Monday.
The shooting appeared to be "completely" random, according to Covelli in a press conference earlier on Monday.
Officials recovered a "high-powered rifle" at the scene, said Covelli, who did not specify if the weapon had a high-capacity magazine.
Hospitalized victims were in "serious" and "critical" condition by midday Monday, Covelli said. Information about the victims' ages was not released.
What they're saying: President Biden said he was "shocked by the senseless gun violence that has yet again brought grief to an American community on this Independence Day."
He offered federal support for the Highland Park community and he would continue to monitor the situation.
Vice President Kamala Harris renewed calls for an assault weapon ban on Tuesday. "The whole nation should understand and have a level of empathy and understand that this could happen anywhere — in any peace-loving community," she said in remarks in Highland Park, per Bloomberg. "And we should stand together and speak out about why it's got to stop."
Illinois Gov. J.B. Pritzker said he was "closely monitoring the situation."
Several witnesses said they heard multiple shots fired at the parade. Attendees fled the scene, leaving behind chairs, baby strollers and blankets, the Chicago Sun-Times reports.
Multiple cities in Illinois canceled their Fourth of July celebrations in response to reports of a shooting.
The city of Evanston said it canceled its July 4 parade and celebrations due to the "tragic mass shooting" in Highland Park, which is located about 30 miles outside of Chicago.
The Glenview police said the July 4 parade and fireworks have been canceled.
Glencoe officials said the Fourth of July parade had been canceled "out of an abundance of caution."
Illinois Rep. Brad Schneider tweeted he and his team were gathered at the start of the parade route when the shooting began.
"Hearing of loss of life and others injured," Schneider tweeted. "My condolences to the family and loved ones; my prayers for the injured and for my community; and my commitment to do everything I can to make our children, our towns, our nation safer. Enough is enough!"
Details: Highland Park police said it responded to an incident in downtown Highland Park on Monday, asking people to avoid the area.
What they're saying: Miles Zaremski, a Highland Park resident, told the Sun-Times there were 20–25 shots "in rapid succession. So it couldn't have been just a handgun or a shotgun."
The big picture: Prior to this incident, Chicago police said at least 54 people had been shot over July 4 weekend with at least seven deaths in the city, per WLS-TV.
Last year, 19 people died and over 100 others were shot over the July Fourth weekend.
Editor's note: This story has been updated with new details throughout.
Go deeper