2 charged with weapons possession after deaths of 53 migrants in San Antonio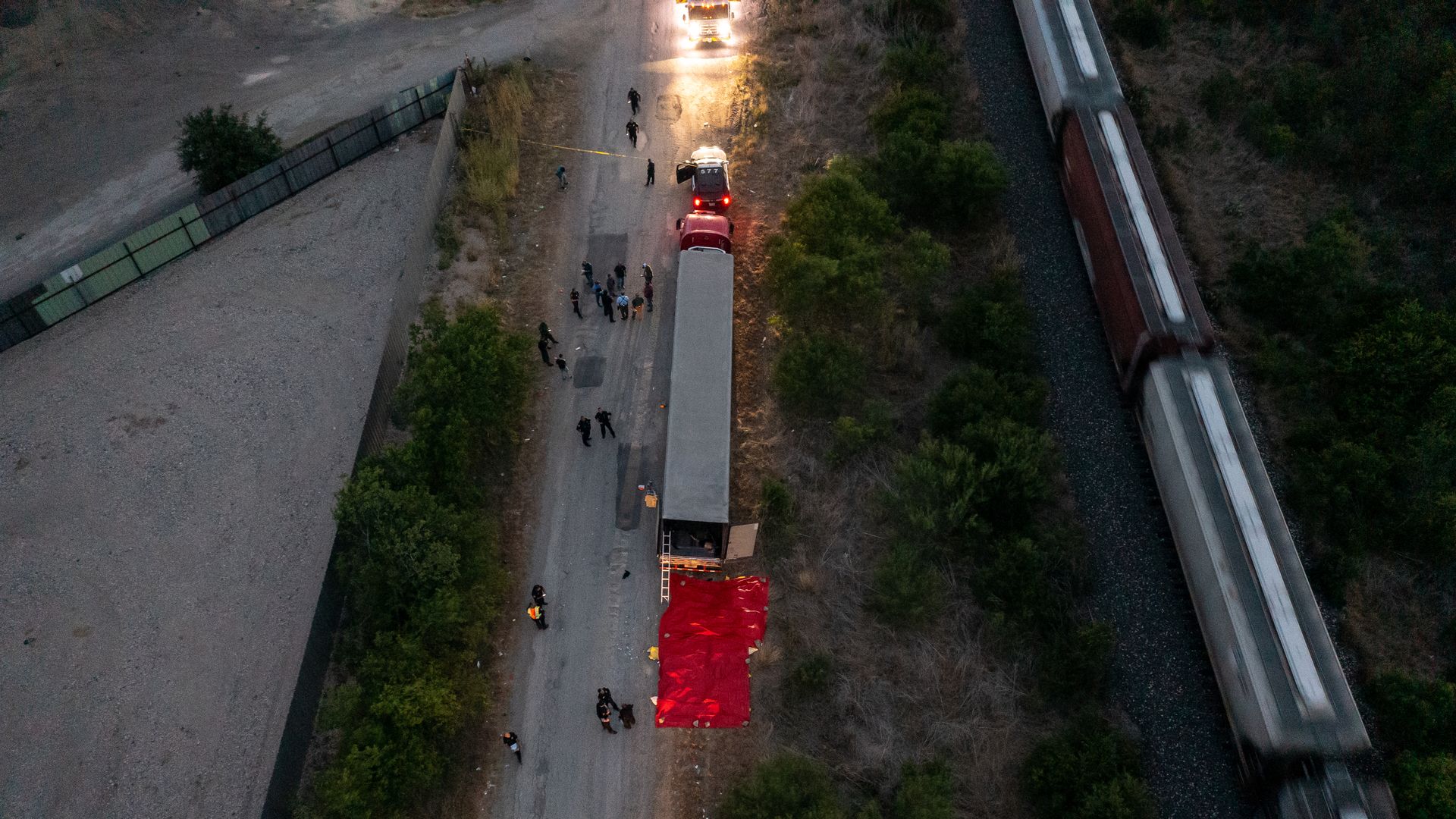 Two people have been charged following the deaths of at least 53 people who were found inside a tractor-trailer in San Antonio, Texas, on Monday after a presumed migrant smuggling attempt.
The latest: At least 11 people are still hospitalized as of Wednesday, per U.S. Immigration and Customs Enforcement.
The victims identified are from Mexico, Guatemala and Honduras. A Mexican government official tweeted that at least 22 of the dead were from Mexico, seven from Guatemala and two were Honduran.
Officials said three people were detained following the deaths, including Juan Francisco D'Luna-Bilbao and Juan Claudio D'Luna-Mendez, both Mexican citizens accused of overstaying their visas, the New York Times reports.
They're both charged with illegal possession of firearms following search of a San Antonio residence, per criminal complaints filed in San Antonio federal court Tuesday.
Driving the news: An ICE spokesperson said in a statement to media on Monday that Homeland Security Investigations (HSI) officials responded to a call from San Antonio police about "an alleged human smuggling event" in the area and confirmed the deaths of more than 40 people at the scene.
Officials allege the three people in custody were "part of the smuggling conspiracy, an Immigration and Customs Enforcement spokesperson said Tuesday.
Zoom in: San Antonio Fire Chief Charles Hood said at the news conference near the scene of the tragedy, not far from Lackland Air Force Base, that the patients were "hot to the touch."
"They were suffering from heat stroke, heat exhaustion. There were no signs of water in the vehicle," Hood said.
"It was a refrigerated tractor-trailer, but there was no visible air conditioning unit on that rig," he added.
"We're not supposed to open up a truck and see stacks of bodies in there. None of us come to work imagining that."
— San Antonio Fire Chief Charles Hood
The big picture: Hundreds of migrants have died at the southern border, with 557 deaths recorded by the U.S. Border Patrol in the 2021 fiscal year. But this is one of the deadliest border incidents involving migrants to occur en masse in modern history, per AP.
In 2017, 10 migrants died in a hot tractor-trailer in a San Antonio Walmart. In 2003, the bodies of 19 migrants were found in another heat-related incident southeast of the city.
What they're saying: President Biden said in a statement Tuesday, "[I]nitial reports are that this tragedy was caused by smugglers or human traffickers who have no regard for the lives they endanger and exploit to make a profit."
Exploiting vulnerable people for profit "is shameful, as is political grandstanding around tragedy, and my administration will continue to do everything possible to stop human smugglers and traffickers from taking advantage of people who are seeking to enter the United States between ports of entry," Biden added.
Meanwhile, Texas Gov. Greg Abbott (R), who's made immigration a focal point of his re-election campaign, tweeted Monday that the deaths were a result of Biden's "deadly open border policies."
Abbott's Democratic gubernatorial challenger, Beto O'Rourke, tweeted on Monday: "We need urgent action — dismantle human smuggling rings and replace them with expanded avenues for legal migration that reflect our values and meet our country's needs."
Worth noting: National Weather Service meteorologists have said this has been San Antonio's warmest June on record despite days to go in the month, the Texas Tribune reports.
Editor's note: This article has been updated with new details throughout.
Go deeper