Pence "never budged" on view that he could not overturn election, aide testifies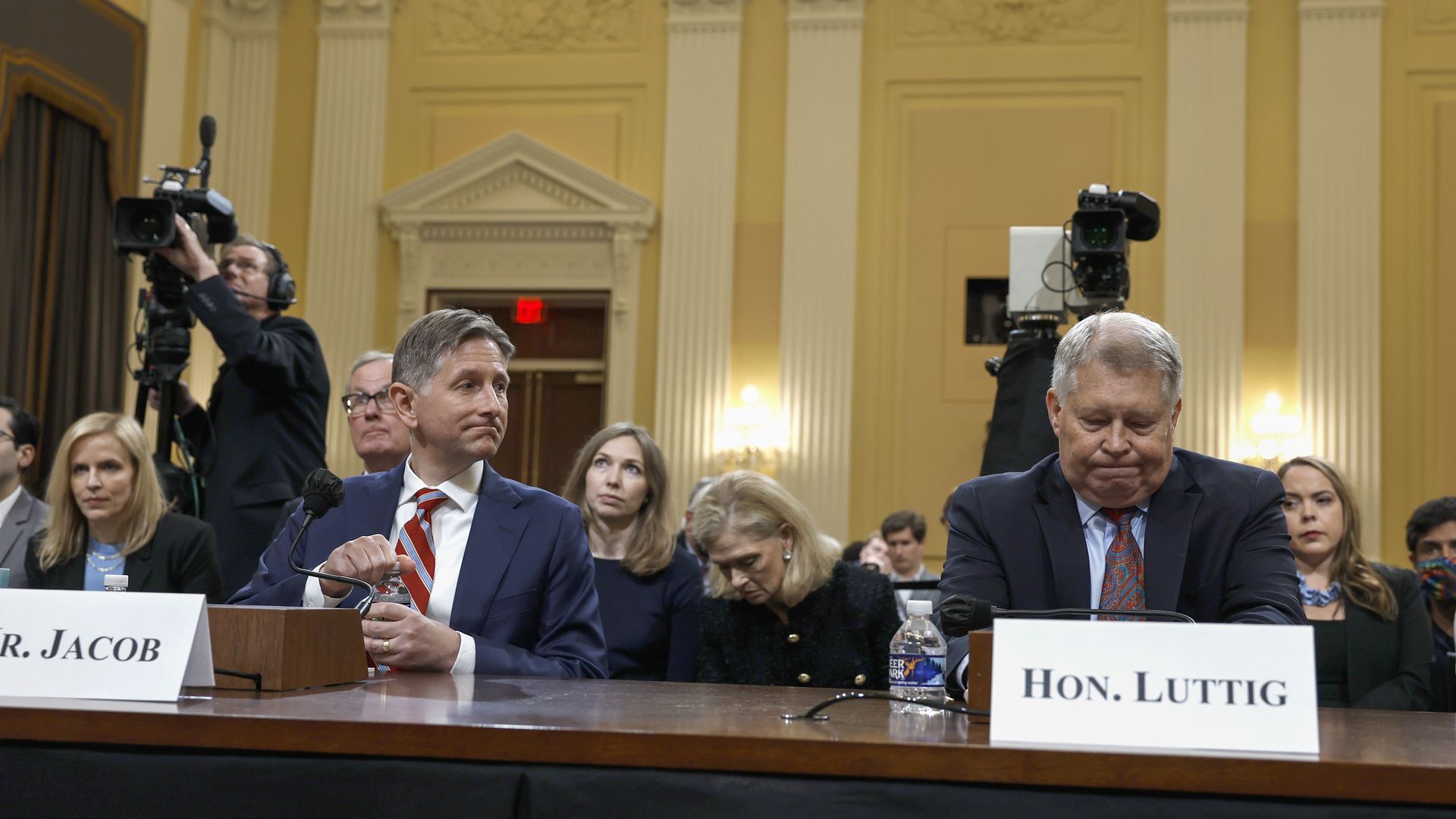 Two of former Vice President Mike Pence's legal aides testified Thursday that the former vice president repeatedly resisted former President Trump's pressure to reject electoral votes during the third public Jan. 6 committee hearing.
Why it matters: The witnesses' testimonies underscored the "pressure campaign" against Pence by Trump to reject election results — and how Pence "never budged from the position" that he did not have the power to unilaterally overturn the election.
Driving the news: Pence's legal aides testified that they repeatedly told Trump and his team that his scheme to get the then-vice president to block the election results was unconstitutional.
"There was no way that our framers … would ever have put one person, particularly not a person who had a direct interest in the outcome … in a role to have decisive impact on the outcome of the election," Greg Jacob, Pence's former counsel, testified.
Former federal judge J. Michael Luttig also said: "There was no support whatsoever in either the Constitution of the United States, nor the laws of the United States for the vice president, frankly, ever to count alternative electoral slates from the states that had not been officially certified."
"I would have laid my body across the road before I would have let the vice president overturn the 2020 election on the basis of that historical precedent," Luttig said.
The committee also played closed-door testimony of Marc Short, Pence's chief of staff at the time of the insurrection, saying that Pence told Trump "many times" that he did not have the authority to overturn election results.
Short warned Secret Service on Jan. 5 of a security threat to Pence, the New York Times previously reported.
Zoom in: John Eastman, Trump's former campaign attorney, emerged at the center of Thursday's hearing. Eastman conceived the theory along with Trump that the vice president could unilaterally reject electors.
Jacob testified that Eastman acknowledged before the Jan. 6 riot that although former Vice President Al Gore should not have been able to overturn the 2000 election and Kamala Harris should not be able to overturn the 2024 election, then-Vice President Mike Pence "should do it today."
The big picture: Luttig, a retired conservative federal judge, also offered a sharp condemnation of Trump's efforts to overturn the 2020 election and the danger it posed to America's democracy.
"The declaration of Donald Trump as the next president would have plunged America into what I believe, would have been tantamount to a revolution within a constitutional crisis in America," Luttig testified.
"Which in my view … would have been the first constitutional crisis since the founding of the republic," he added.
Go deeper... Jan. 6 committee releases new photos of Pence during Capitol riot
Go deeper