FDA commissioner: Formula supply could improve "within days"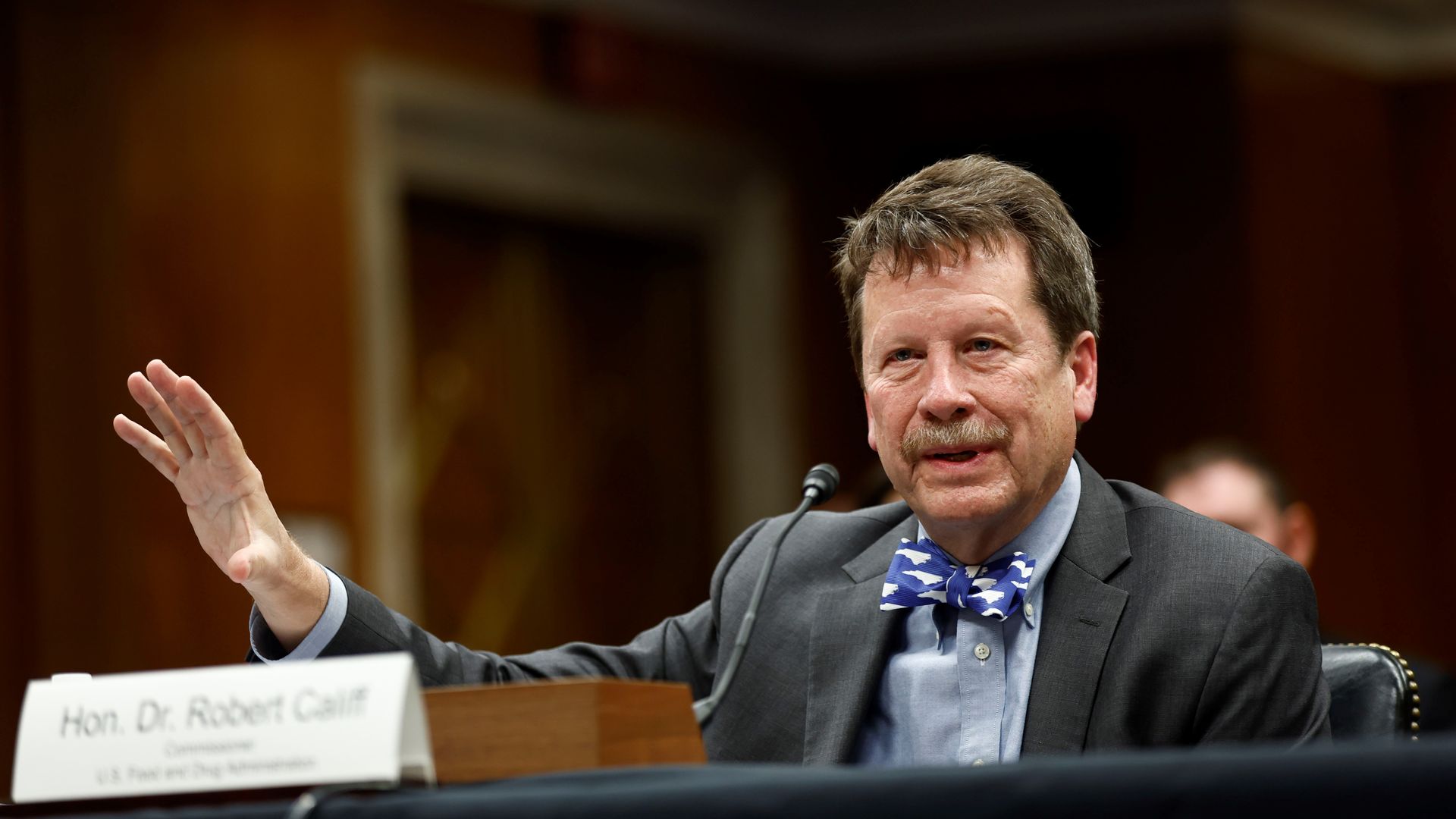 Parents and caregivers struggling to find infant formula should notice improvement in the availability of the product on shelves "within days," FDA commissioner Robert Califf told a House subcommittee on Thursday.
Driving the news: The relief should come thanks to higher production from manufacturers and an uptick in imports, Califf said. President Biden on Wednesday invoked the Defense Production Act requiring "suppliers to direct needed resources to infant formula manufacturers before any other customer who may have ordered that good."
"Within days it will get better, but it will be a few weeks until we're back to normal," Califf said.
Catch up fast: The U.S. has wrestled with a nationwide baby formula shortage due to pandemic-induced supply chain issues and a recent product recall.
Retailers across the country have reported roughly 40% of baby formula is missing from store shelves.
The House voted Wednesday to pass an emergency spending bill to give the FDA $28 million to help address the shortage and hire more inspectors to move formula into stores faster. The Senate still must take up the measure.
Background: While supply chain issues stymied formula production, the problem worsened earlier this year when Abbott Nutrition shuttered a Michigan plant that is crucial to providing the country's formula supply.
A suspected link to the deaths of two infants from bacterial infections prompted the closure. The company has said that it found "no evidence" linking its formula to the illnesses.
The FDA is still investigating, Califf told lawmakers Thursday, noting the agency's inspection of the facility in late January found "significant operational deficiencies."
The FDA and Abbott reached a deal earlier this week to reopen the plant, but it will still be several more weeks before production can put formula in stores.
"I think we are on track to get it open within the next week to two weeks," Califf said of the factory.
Zoom out: In his testimony, Califf declined to answer questions from committee members about why the agency did not follow up sooner on a whistleblower's complaint outlining issues at the factory last fall.
Go deeper... Biden invokes Defense Production Act to address baby formula shortage
Go deeper