Abortion battleground states brace for midterm brawl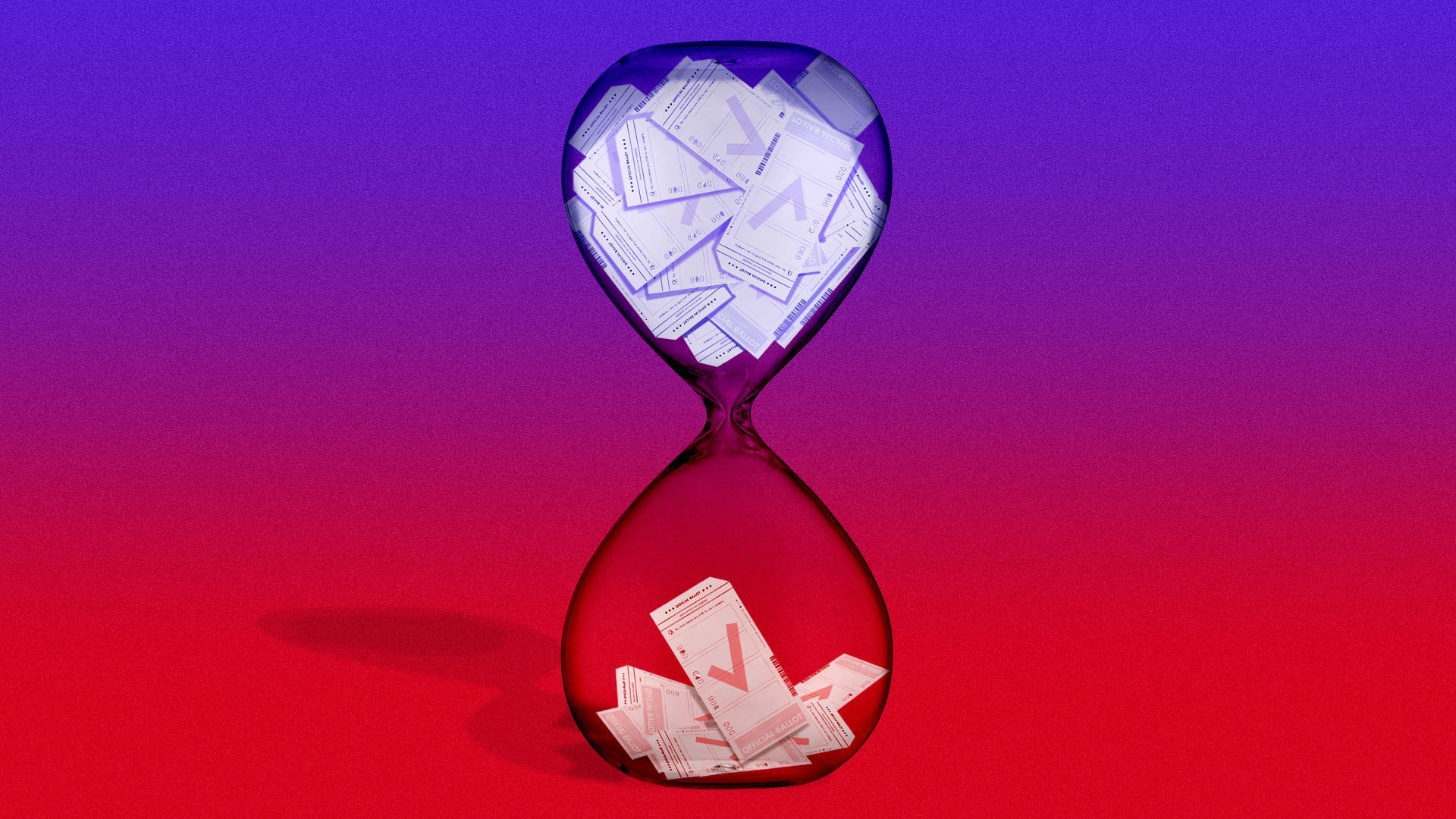 A leaked draft Supreme Court opinion showing the justices are poised to overturn Roe v. Wade has injected new urgency into midterm races across the country.
Why it matters: Removing federal protection for abortion rights is likely to jumpstart voters of both parties, and bring heightened scrutiny to some previously sleepy races.
State of play: Purple states, especially those currently with divided control between their governor's mansion and legislature, now have added attention on their statewide races.
Pennsylvania's governor's race — which had taken a backseat to the battle for its Senate seat — could now decide the fate of abortion rights in the state. Democratic Gov. Tom Wolf, long antagonized by a Republican legislature, is term-limited, and his replacement will decide what's next.
In North Carolina, Democratic Gov. Roy Cooper's term isn't up until 2024, but he's now trying to avoid a GOP supermajority in the state legislature that could veto his attempts to preserve abortion rights.
"That's where the battles will move to — the state capitals — and where these fundamental freedoms will be won and lost. And it will matter who [the] governors are," Cooper told Axios.
Zoom in: The stakes also got higher for Democrats to try to flip their own gubernatorial races, especially in Georgia, where the party managed to lock down two Senate seats in the 2020 cycle.
The state saw an emotional, polarized battle over a six-week abortion ban in 2019, which has been frozen in federal court pending the Supreme Court decision.
Incumbent Gov. Brian Kemp, the leading Republican candidate, championed Georgia's 2019 anti-abortion law.
On Tuesday, he vowed to continue defending the "strongest pro-life law in the country," but did not go as far as his primary opponent David Perdue, who said he would call a special legislative session to "ban abortion," if elected. 
Presumptive Democratic nominee Stacey Abrams said she is "enraged" and "appalled" by the implications of the leaked decision.
Even in states where big races aren't expected to flip, like Florida's gubernatorial contest, the news energized Democrats in the race — especially coupled with the state's new 15-week abortion ban taking effect July 1.
"This is just Step 1 of this radical-right agenda across our country," Florida Agriculture Commissioner Nikki Fried said at a well-attended, impromptu rally in Miami. "And if you're not angry today, what are you waiting for?"
"I just wish this weren't happening to America. It's heartbreaking," former governor and U.S. Rep. Charlie Crist told reporters.
Of note: Republican Gov. Ron DeSantis has been silent on Twitter since the leaked ruling was published Monday night.
The bottom line: Even if Roe is indeed ultimately overturned by the Supreme Court, the true effects of that decision won't be known in some key states until after the midterms.
Axios' Taylor Allen, Emma Hurt, Ben Montgomery, Selene San Felice and Lucille Sherman contributed to this report.
Sign up for Axios Local, now publishing daily newsletters in 16 cities across the U.S., with nine more coming later this year.
Go deeper