Updated Apr 17, 2022 -

World
Zelensky calls scene in Mariupol "inhuman" as Russian forces bear down on city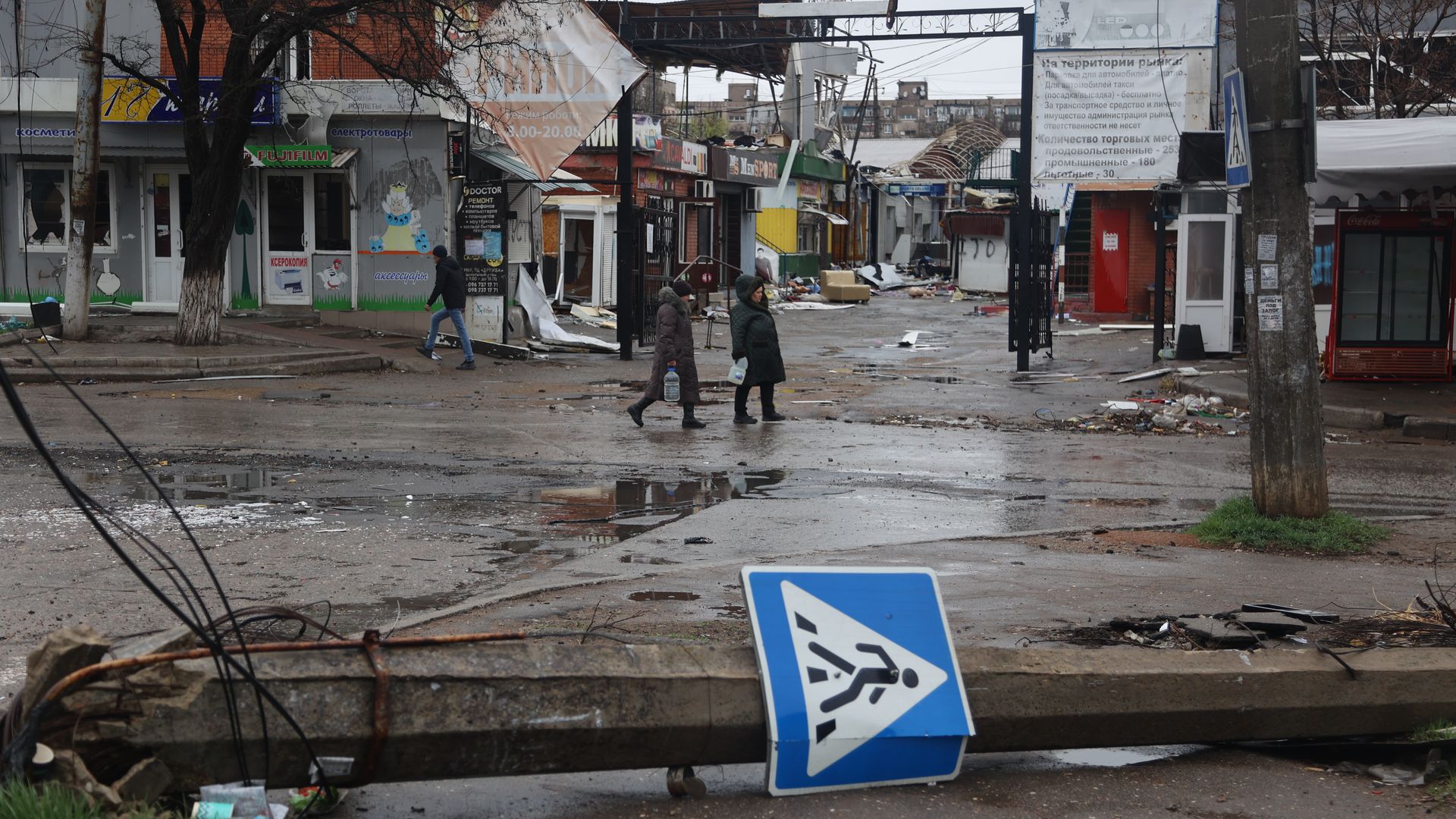 Mariupol officials rejected Russia's demands to surrender the besieged port city on Sunday, as Ukrainian President Volodymyr Zelensky warned the invading forces were "trying to destroy everyone" in the besieged port city.
What to watch: Zelensky said Saturday that negotiations with Russian officials would end if the Ukrainians defending Mariupol were killed, the Washington Post reports.
"I believe this is a big mistake if they definitely want to end the war as they say," Zelensky said of Russia.
"This is a dead end because … we aren't bartering using our territories and people. And we understand that the talks are needed to defend our country and end the war," he added.
Worth noting: Ceasefire and peace negotiations ended after airstrikes in cities such as Bucha and Borodyanka, an area northwest of Kyiv, earlier this month.
Ukrainian Foreign Minister Dmytro Kuleba told CBS' "Face the Nation" on Sunday called the situation in Mariupol "dire" and "heartbreaking," adding that it could have significant implications on peace negotiations with Russia.
"After Bucha, it became particularly difficult to continue talking with the Russians," he said. "But as my president mentioned, Mariupol may be a red line."
Meanwhile, Russia's defense ministry claimed Saturday that its forces had cleared the entire urban area of Mariupol of Ukrainian forces, with a few fighters remaining in the Azovstal steel factory, Reuters reports.
The ministry called on Ukraine's forces to "lay down their arms and surrender" the city by Sunday morning, but Mariupol officials vowed that Ukrainian troops would "continue to hold the defense" and the deadline subsequently passed, per CNN.
State of play: "The situation in Mariupol remains as severe as possible," Zelensky said in a virtual address Saturday night, according to a transcript posted to the Ukrainian presidential website in English.
"Just inhuman. This is what the Russian Federation did. Deliberately did. And deliberately continues to destroy cities. Russia is deliberately trying to destroy everyone who is there in Mariupol," Zelensky continued.
"I want to be heard right now: there has not been a single day since the blockade of Mariupol that we have not sought a solution. Military or diplomatic — anything to save people," he added.
"But finding this solution is extremely difficult. So far, there is no one 100% valid option. This applies to both military options and the negotiation process."
Of note: Zelensky appealed for more military support from allied countries — "all the necessary heavy weapons, planes and, without exaggeration, immediately" in order to "reduce the pressure of the occupiers on Mariupol" and end the blockade.
The big picture: Russian forces also increased attacks across Ukraine overnight into Sunday, intensifying strikes on Kyiv and the country's west in particular while they escalating their offensive in the east, per AP.
Go deeper ... Dashboard: Russian invasion of Ukraine
Editor's note: This article has been updated with additional details throughout.
Go deeper