Updated Apr 14, 2022 -

World
Russia: Moskva, flagship of Black Sea fleet, damaged in blast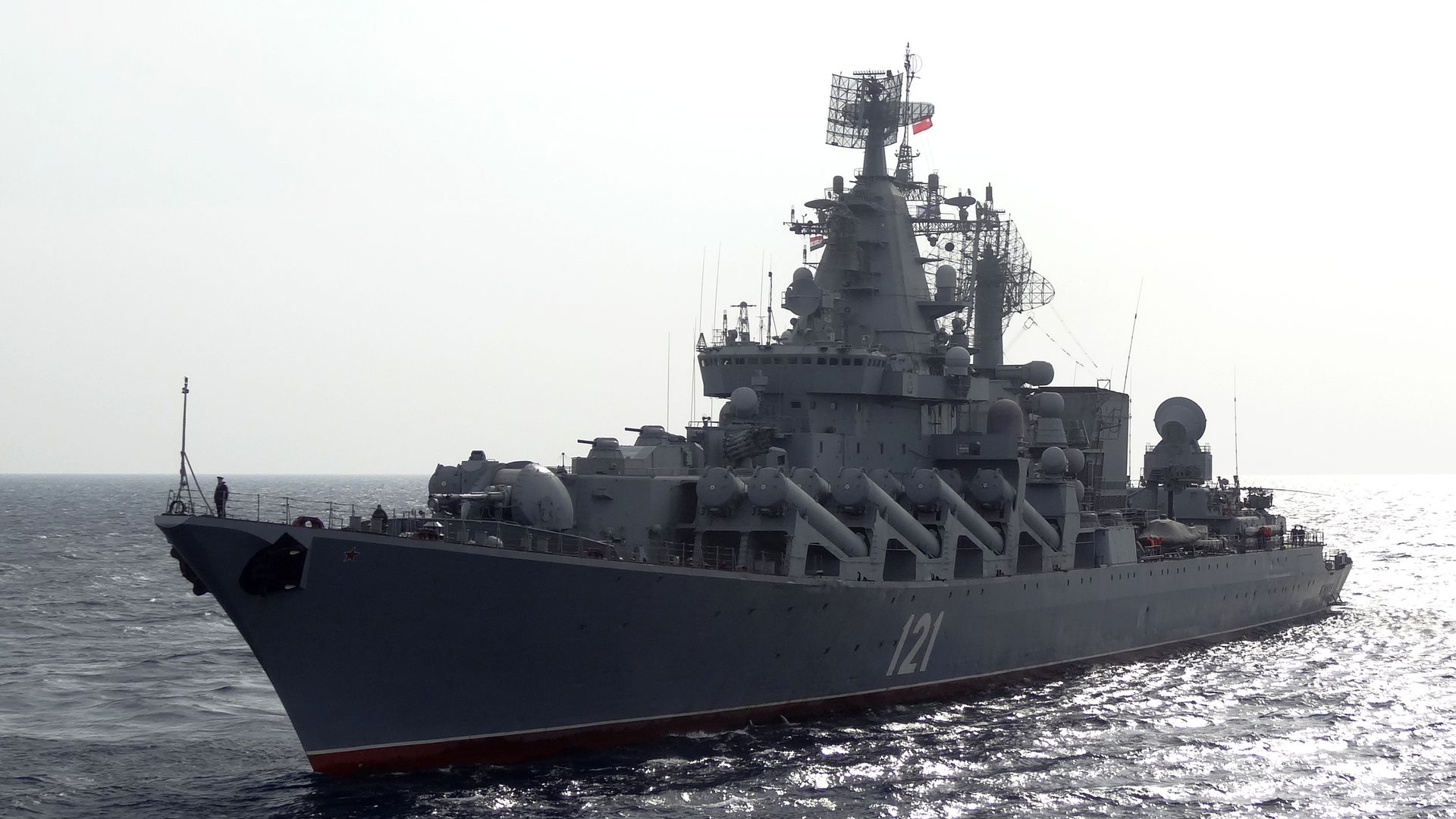 Russia's Defense Ministry confirmed Wednesday that its Moskva missile cruiser was badly damaged in a fire — hours after Ukrainian forces claimed they'd struck the vessel in the Black Sea.
Why it matters: The Moskva is the most essential ship in the Russian Black Sea fleet, with cruise missiles that have a range of at least 440 miles, per Reuters.
The Russian navy's actions in the Black Sea, from where it's has been launching missiles into Ukraine, are regarded as a key part of the military's battle plans to fully seize the besieged southeastern port city of Mariupol.
Driving the news: Odessa Gov. Maksym Marchenko claimed in a Telegram post hours earlier that Ukrainian missiles "guarding the Black Sea caused very serious damage to the Russian ship."
What they're saying: Russia's Defense Ministry said in a brief statement that "ammunition detonated as a result of a fire on the Moskva missile cruiser."
The ministry told state media that the ship's crew evacuated following the explosion.
A senior U.S. defense official told reporters Thursday that while they could not confirm what had caused the damage to the Moskva, "we do believe that she has experienced significant damage."
"Our assessment is that she still appears to be battling a fire on board. But we do not know the extent of the damage, we don't know anything about casualties to her crew, and we cannot definitively say at this point what caused that damage," they added.
"Our assumption is that she'll be heading to Sevastopol for repairs."
"Other Black Sea ships that were operating in the vicinity of her, or in the northern Black Sea, have all moved further south in the wake of the damage that the Moskva experienced."
Meanwhile, Ukrainian President Volodymyr Zelensky said in his nightly address Wednesday that "Russian troops are stepping up activity in the eastern and southern directions," according to a transcript published in English.
Flashback: The Moskva was the warship that reportedly told Ukrainian border guards to surrender Snake Island, off Ukraine's coast in the Black Sea.
Audio emerged of the sailors telling Russian forces to "go f--k yourself" in response, which the Ukrainian Interior Ministry said was authentic.
It was initially feared the 10 sailors had been killed, but they were later freed as part of a prisoner swap with Russia.
Editor's note: This article has been updated with more comment from the Russian Defense Ministry, Zelensky's remarks, comments from a senior U.S. defense official and further context.
Go deeper