Updated Mar 12, 2022 -

World
Russian forces besiege Mariupol on 17th day of invasion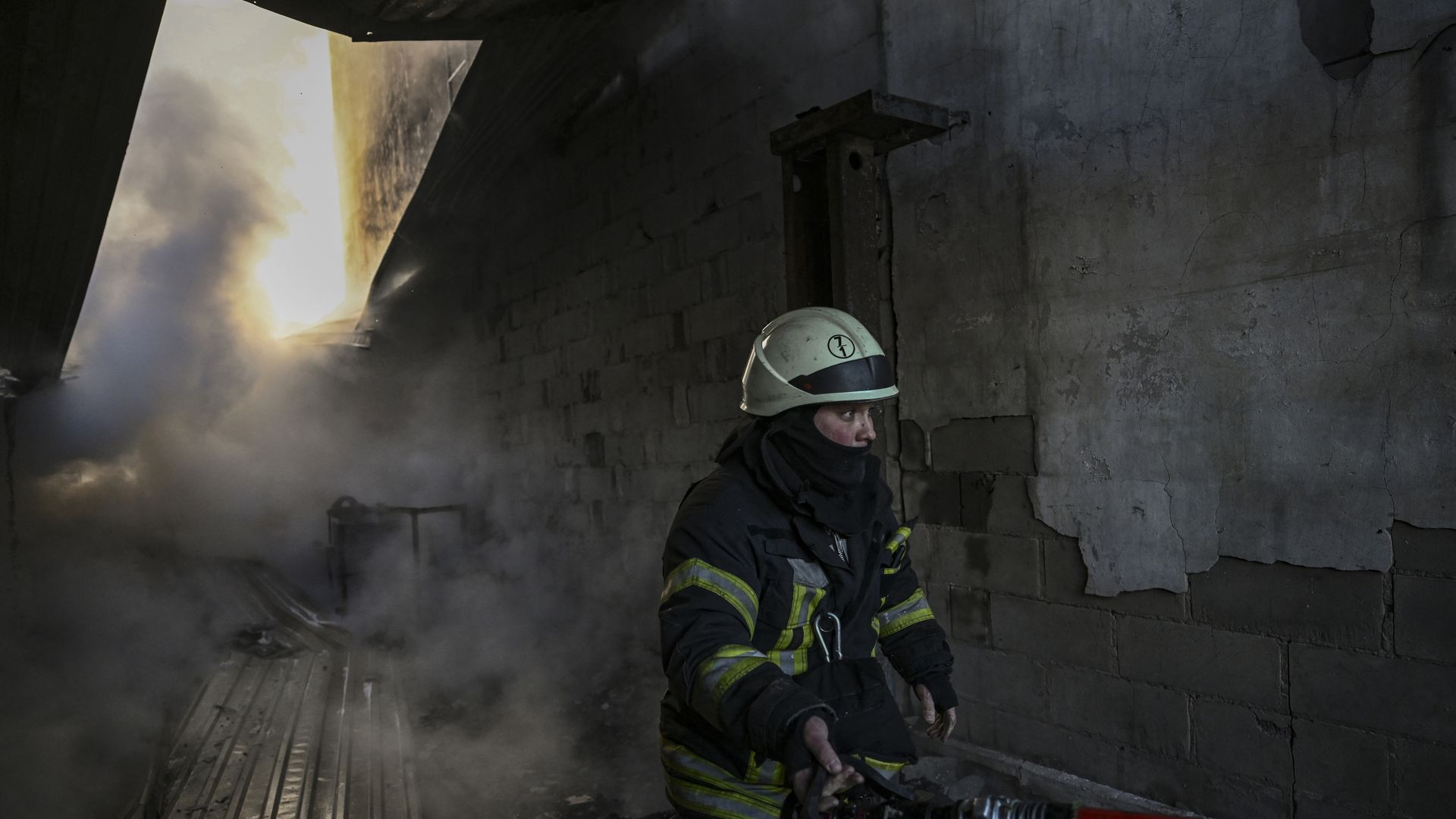 The 17th day in what Ukrainian President Volodymyr Zelensky is calling a "war of annihilation" saw rising casualties, Russian forces coming within roughly 15 miles of the capital and the continued battering of the strategically important Southern port city of Mariupol.
Driving the news: Newly released satellite imagery showed the fires and significant damage to residential buildings in Mariupol where, earlier on Saturday, Russian forces shelled a mosque that was sheltering more than 80 people, including children, the Ukrainian government said.
The big picture: The United Kingdom's Defense Ministry also said earlier on Saturday that the "bulk" of ground forces are now about 15 miles from the center of Kyiv.
Zelensky said that Russian forces will have to destroy Kyiv to take control of the capital city.
"How Ukrainian people have resisted these invaders has already gone down in history," Zelensky said in a recent address. "But we have no right to reduce the intensity of defense, no matter how difficult it may be for us."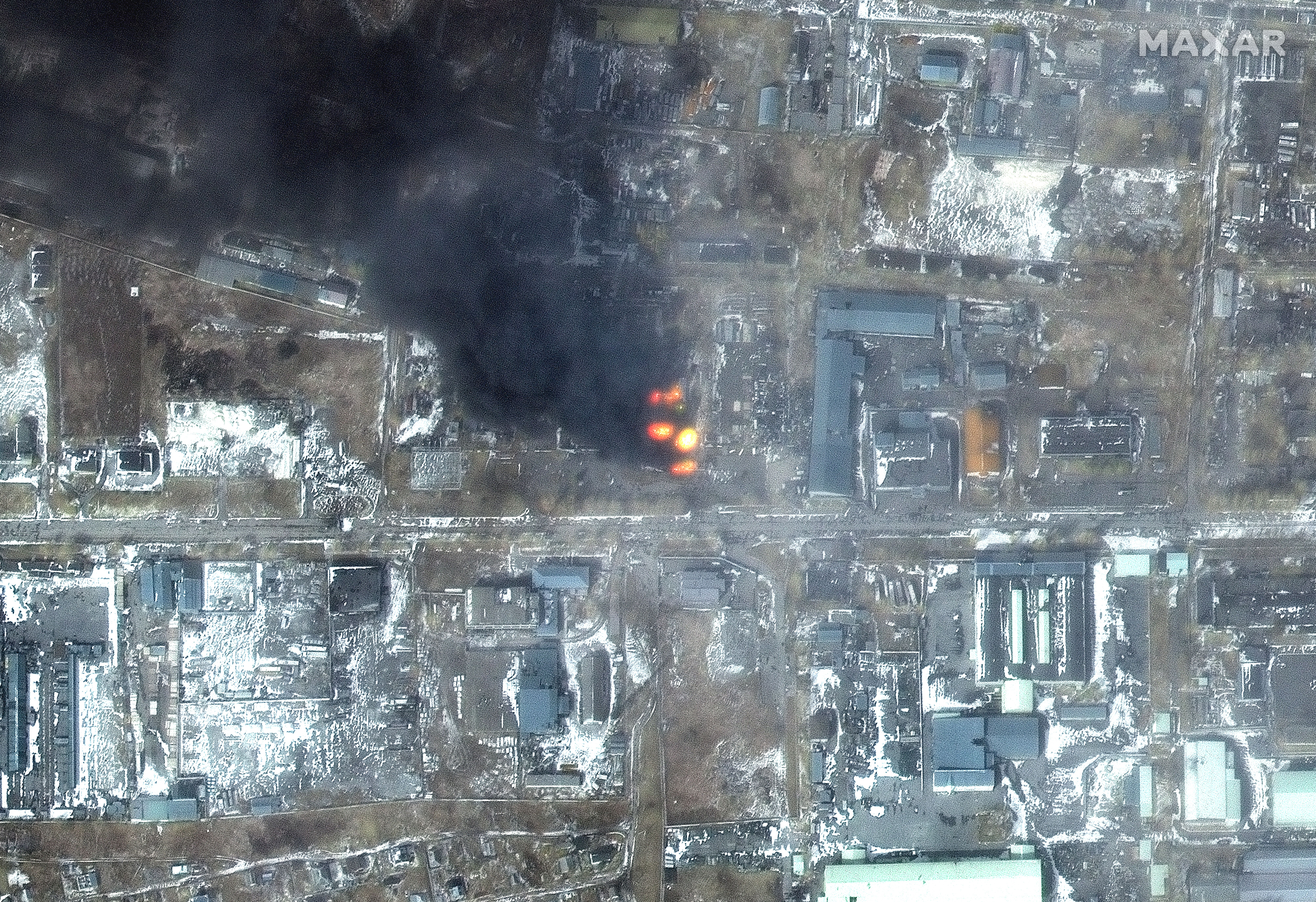 Rising casualties: The United Nations on Saturday said that since the invasion began on Feb. 24, there have been 1,581 civilian casualties — 579 killed and 1,002 injured. Forty-two of the dead have been children. Fifty-four children have been injured.
Zelensky said Saturday that approximately 1,300 Ukrainian soldiers have been killed by Russian forces in what he is calling a "war of annihilation," according to the New York Times.
U.S. sends more defense aid: President Biden on Saturday authorized $200 million in additional defense assistance for Ukraine.
Protesting kidnapping: Hundreds of protesters in Melitopol in southern Ukraine took to the streets on Saturday to protest the detention of the city's mayor on Friday by Russian forces, CNN reports.
Zelensky warned of "a new stage of terror" on Friday, referencing the abduction of the mayor of Melitopol by Russian forces.
Diplomatic affairs: Zelensky proposed meeting with Russian President Vladimir Putin in Israel, adding that Israeli Prime Minister Naftali Bennett can act as an intermediary.
German Chancellor Olaf Scholz and French President Emmanuel Macron on Saturday urged Putin to call an immediate ceasefire in Ukraine during a 75-minute call with the Russian leader, CNN reports.
Lawmakers arrive in Poland: A bipartisan delegation of senators arrived in Warsaw on Saturday. Republicans Rob Portman of Ohio and Roger Wicker of Mississippi and Democrats Amy Klobuchar of Minnesota and Richard Blumenthal of Connecticut met with U.S. Ambassador to Poland Mark Brzezinski and with U.S. troops from the 82nd Airborne Division in Rzeszow.
The senators intend to also "meet with senior government officials and visit refugee sites to affirm the United States' commitment to Poland, Ukraine, and other allies," Wicker's office said in a press release on Saturday.
Go deeper:
Editor's note: This is a developing story. Please check back for updates.  
Go deeper