Moscow's Ukraine invasion further frays U.S.-Russia space relations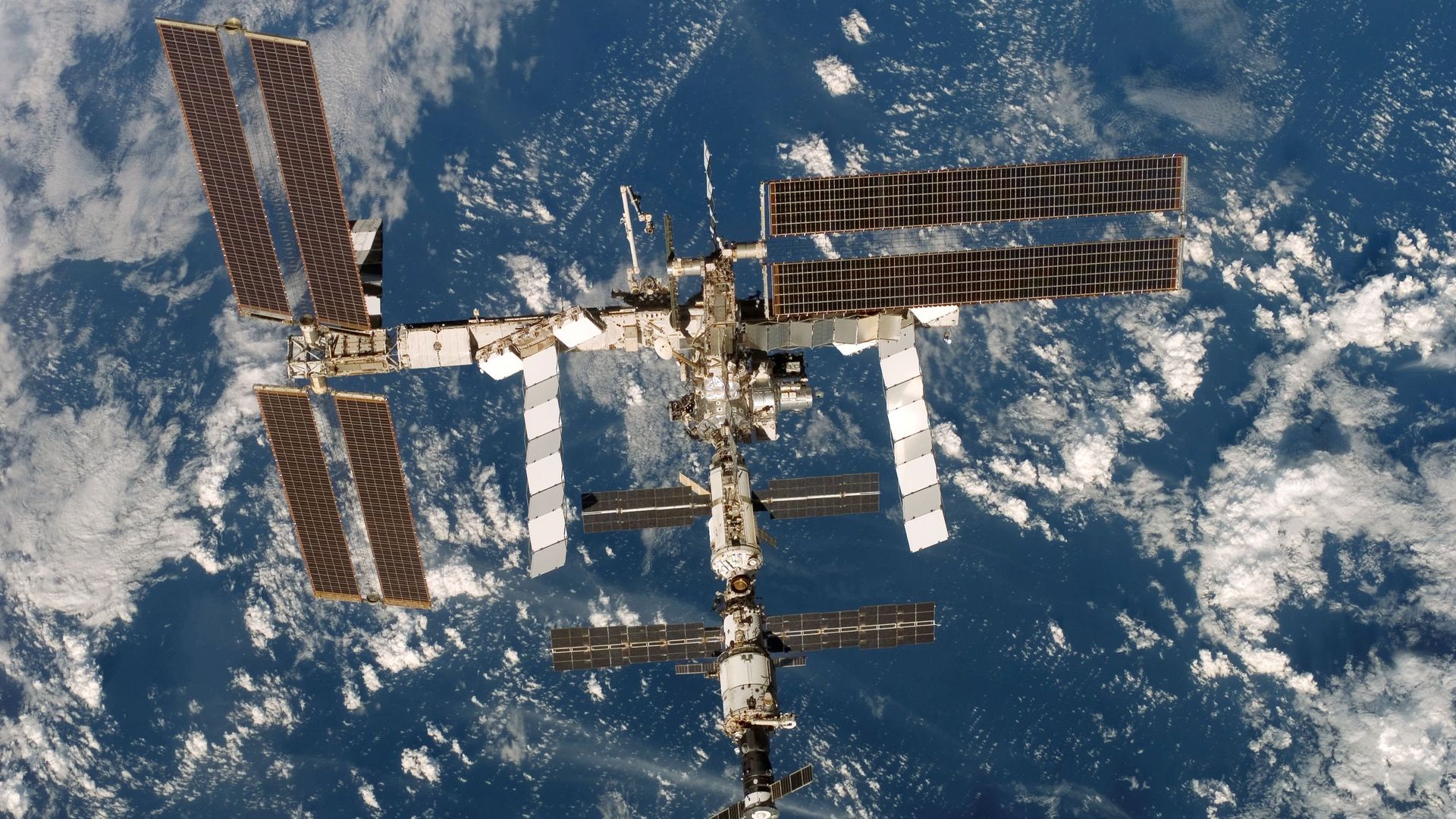 Moscow's unprovoked invasion of Ukraine has further inflamed Russia's already damaged relationship with the United States in space and could "destroy" their cooperation on the International Space Station, the director general of Russia's state-run space agency threatened Thursday.
Why it matters: The U.S. and Russia have collaborated in space through the ISS for decades, and it has been one of the relatively stable areas of the two countries' relations.
U.S. and Russia's relationship in space was already significantly frayed after Moscow's test of an anti-satellite missile in November. NASA said debris from the test threatened the ISS's crew and could go on to damage other satellites.
After the U.S. and several other countries sanctioned Russia over its invasion of Ukraine, Roscosmos director general Dmitry Rogozin said on Twitter that those actions could "destroy" coordination with the ISS.
Certain sanctions announced by President Biden and other world leaders specifically targeted electrical components, and Rogozin said they would directly affect Russia's aerospace industry.
There are currently four NASA astronauts, two Russian cosmonauts and one European astronaut aboard the station.
What they're saying: Rogozin further threatened that because the station's orbit and location in space are controlled by Russian engines, the end of the ISS partnership could lead to the destruction of the station.
"If you block cooperation with us, who will save the International Space Station from an uncontrolled deorbit and fall into the United States or Europe?" he tweeted.
"There is also the possibility of a 500-ton structure falling on India and China. Do you want to threaten them with such a prospect? The ISS does not fly over Russia, therefore all the risks are yours. Are you ready for them?"
NASA said in a statement that it "continues working with all our international partners, including the State Space Corporation Roscosmos, for the ongoing safe operations of the International Space Station."
"The new export control measures will continue to allow U.S.-Russia civil space cooperation. No changes are planned to the agency's support for ongoing in orbit and ground station operations. The new export control measures will continue to allow U.S.-Russia civil space cooperation," it added.
The big picture: With the ISS retiring within the next decade, NASA risks losing a foothold in space at a time when Earth's orbit is predicted to become more congested and the space industry more competitive as more countries and companies gain access to space.
NASA has asked private companies to develop new commercial stations that NASA astronauts could visit and perform experiments on, and multiple companies are now vying for the chance to build such spacecraft, Axios' Miriam Kramer reports.
Go deeper:
Go deeper