Updated Jan 18, 2022 -

World
Ukraine crisis: Blinken to visit Kyiv, then meet Russian foreign minister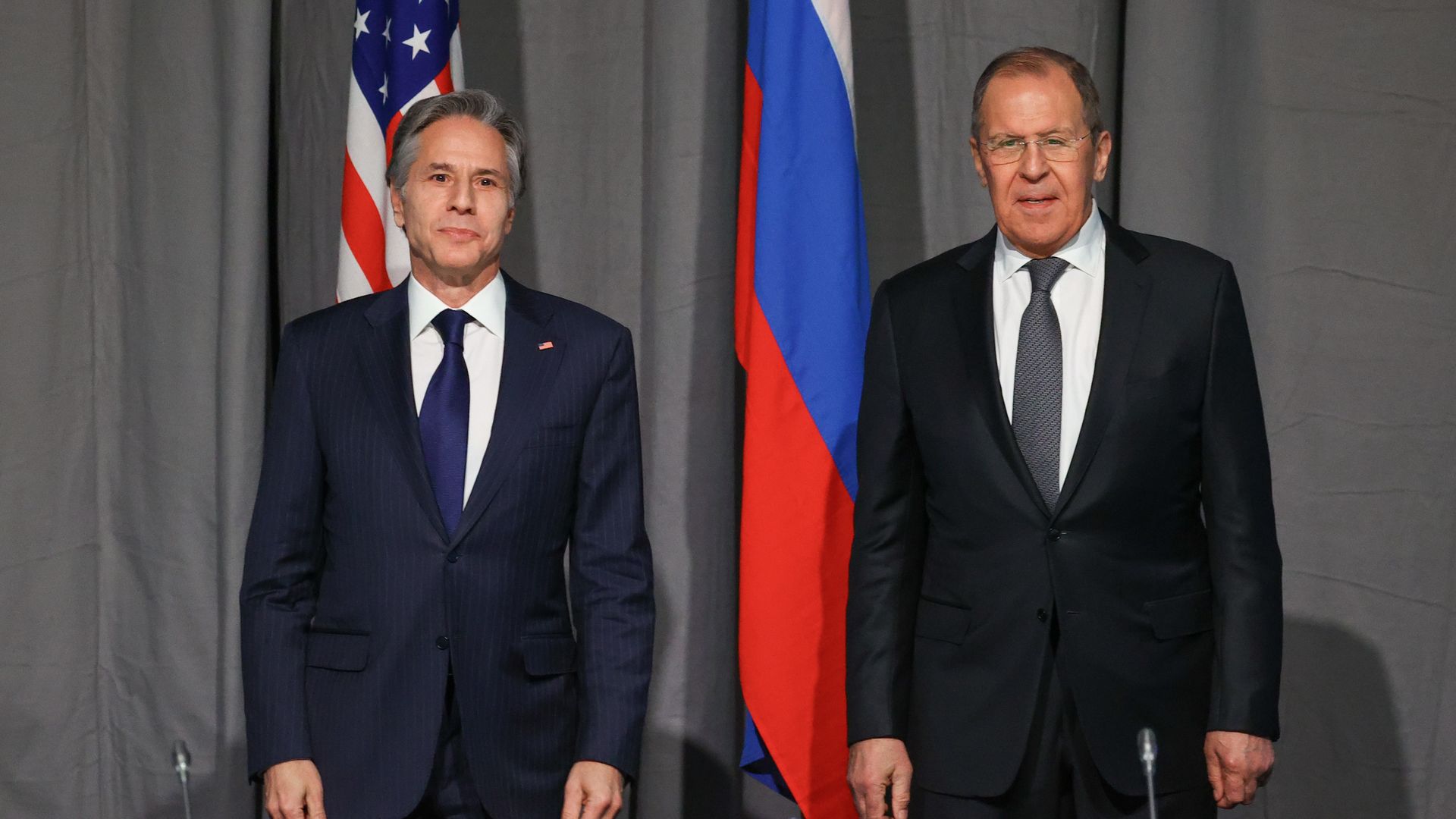 Secretary of State Antony Blinken will meet with Russian Foreign Minister Sergey Lavrov in Geneva on Friday, following a trip to Kyiv to reinforce U.S. support for Ukraine in the face of a possible Russian invasion, according to a senior U.S. official.
Why it matters: The meeting with Lavrov suggests a diplomatic resolution to the crisis may still be on the table, despite the collapse of security talks between Russia and the West last week.
"The fact that Foreign Minister Lavrov and the Secretary are meeting on Friday says to me that diplomacy is not dead," as the Russians suggested last week, a senior State Department official told reporters on Tuesday.
NATO Secretary-General Jens Stoltenberg has also invited Russia and all NATO members to a new set of meetings, stressing on Tuesday: "When tensions are high, dialogue is even more important."
Driving the news: Blinken will meet on Wednesday with Ukrainian President Volodymyr Zelensky and Foreign Minister Dmytro Kuleba, as well as officials at the U.S. embassy to discuss contingency planning.
He'll then travel to Berlin to meet German Foreign Minister Annalena Baerbock and attend a meeting of the "Transatlantic Quad" — France, Germany, the U.K. and U.S.
The State Department said Blinken's trip is intended to reinforce the U.S. commitment to Ukraine's "sovereignty and territorial integrity," and is part of the administration's diplomatic efforts to seek de-escalation and ensure a "united approach" to Russia.
Between the lines: Germany has a key role to play in deterring Russia or responding to any invasion due to its significant economic relationship with Russia. It's unclear how far the new government in Berlin will be willing to push on sanctions, especially given the coalition's own divisions.
Baerbock, who supports a more hardline approach to Russia than many of her colleagues in government, met with Lavrov in Moscow on Tuesday.
Standing next to the wily veteran diplomat, Baerbock said it's "hard not to see" Russia's massive military buildup as a threat to Ukraine, and warned that the European Union will impose serious consequences if Moscow proceeds with an invasion.
Germany's Chancellor Olaf Scholz, who has been criticized for declining to commit to specific sanctions, said Tuesday that all options will be on the table if Russia attacks Ukraine — including halting the controversial Nord Stream 2 pipeline.
The big picture: Russia said after the "very disappointing" security talks last week that it would wait for the U.S. and NATO to provide written responses to its demands before deciding how to move forward.
Russia is seeking legal guarantees that NATO will halt its eastward expansion — including a ban on membership for Ukraine and Georgia — and roll back its forces to the alliance's 1997 borders.
The U.S. and NATO have dismissed the demands as non-starters and accused Russia of trying to manufacture a pretext to invade Ukraine, which Moscow has denied.
Go deeper: Biden boxed in on Ukraine
Editor's note: This story has been updated with news of Blinken's meeting with Lavrov.
Go deeper