Updated Dec 30, 2021 -

World
Blinken slams Hong Kong news outlet raid as police charge 2 with sedition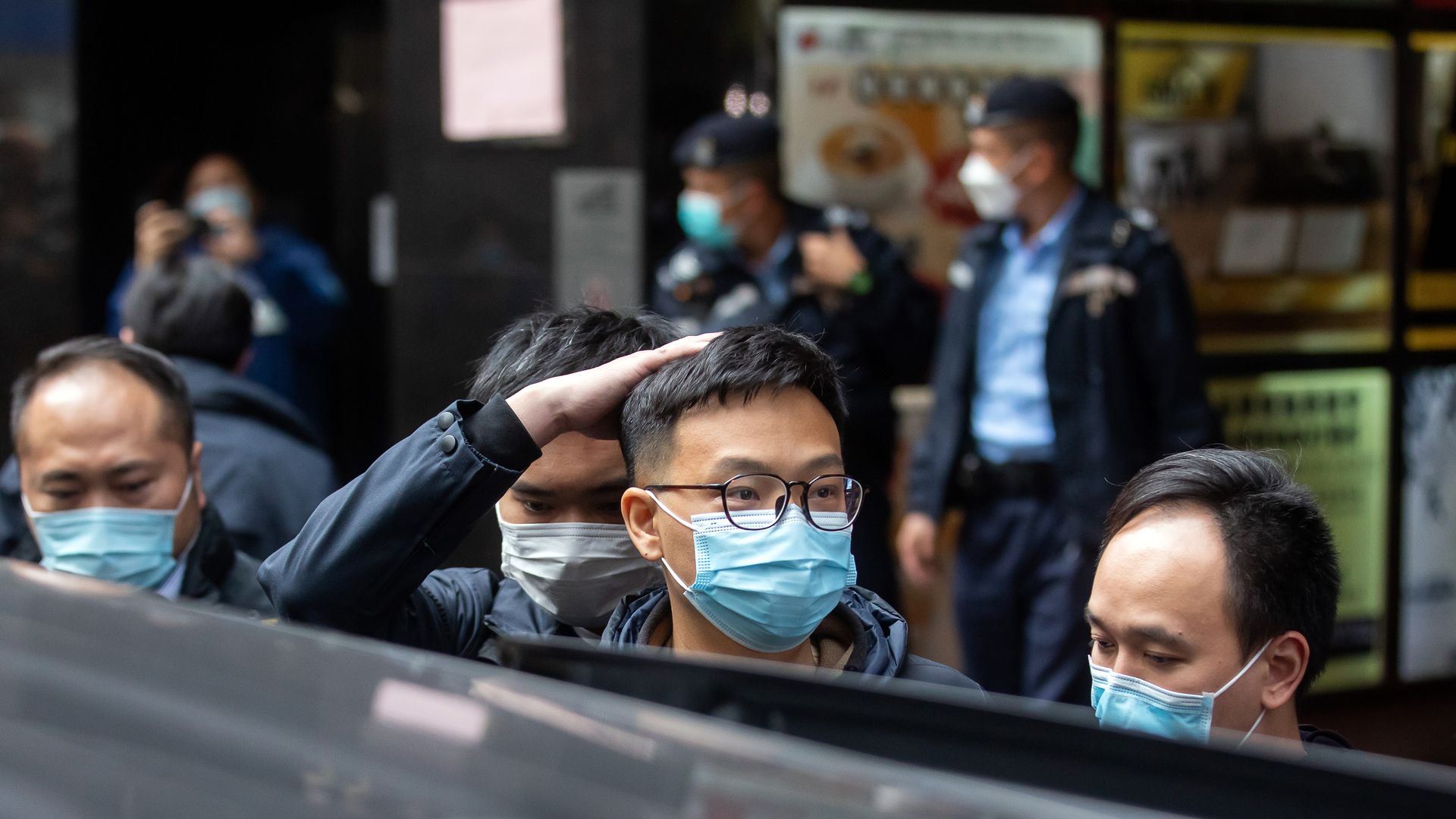 Hong Kong police announced Thursday they've formally charged two people with "conspiracy to publish seditious publications," a day after a raid on Stand News' office that's been denounced by Secretary of State Tony Blinken.
Why it matters: Hong Kong previously enjoyed freedoms that saw the city "flourish as a global center for finance, trade, education, and culture," Blinken said in a statement Wednesday evening. But these have been encroached on since China's government passed a draconian national security law last year.
Stand News announced after the raid by over 200 Hong Kong national security officers that resulted in the arrests of seven people that the pro-democracy outlet was shutting down.
The big picture: Hong Kong Police said in a statement after the raid that the officers had a warrant authorizing them to "search and seize relevant journalistic materials."
Among those arrested were Stand News acting editor-in-chief Patrick Lam and singer Denise Ho and barrister Margaret Ng, both former Stand News board members. The outlet's deputy assignment editor Ronson Chan was also taken away for questioning, the South China Morning Post notes.
The police said in their latest statement that "an online media company" was also charged with the sedition offense, without naming Stand News. "The other arrestees are being detained" for further questioning, the statement added.
What he's saying: Blinken called on China's ruling Communist Party and Hong Kong authorities to "cease targeting" the city's "free and independent media and to immediately release those journalists and media executives who have been unjustly detained and charged."
"Journalism is not sedition," Blinken said in his emailed statement.
"Freedom of expression, including media freedom, and access to information provided by an independent media are critical to prosperous and secure societies."
Between the lines: Sophie Richardson, China Director at Human Rights Watch, told Al Jazeera the arrests were "pure retribution by the Chinese government, which seeks to eradicate the free media in Hong Kong documenting Beijing's abusive conduct."
Flashback: Apple Daily, the pro-democracy news outlet owned by the now-imprisoned tycoon and activist Jimmy Lai, also closed after its assets were frozen under the national security law.
The bottom line, via Blinken: "By silencing independent media, [China's government] and local authorities undermine Hong Kong's credibility and viability.  A confident government that is unafraid of the truth embraces a free press."
Editor's note: This article has been updated with new details throughout.
Go deeper