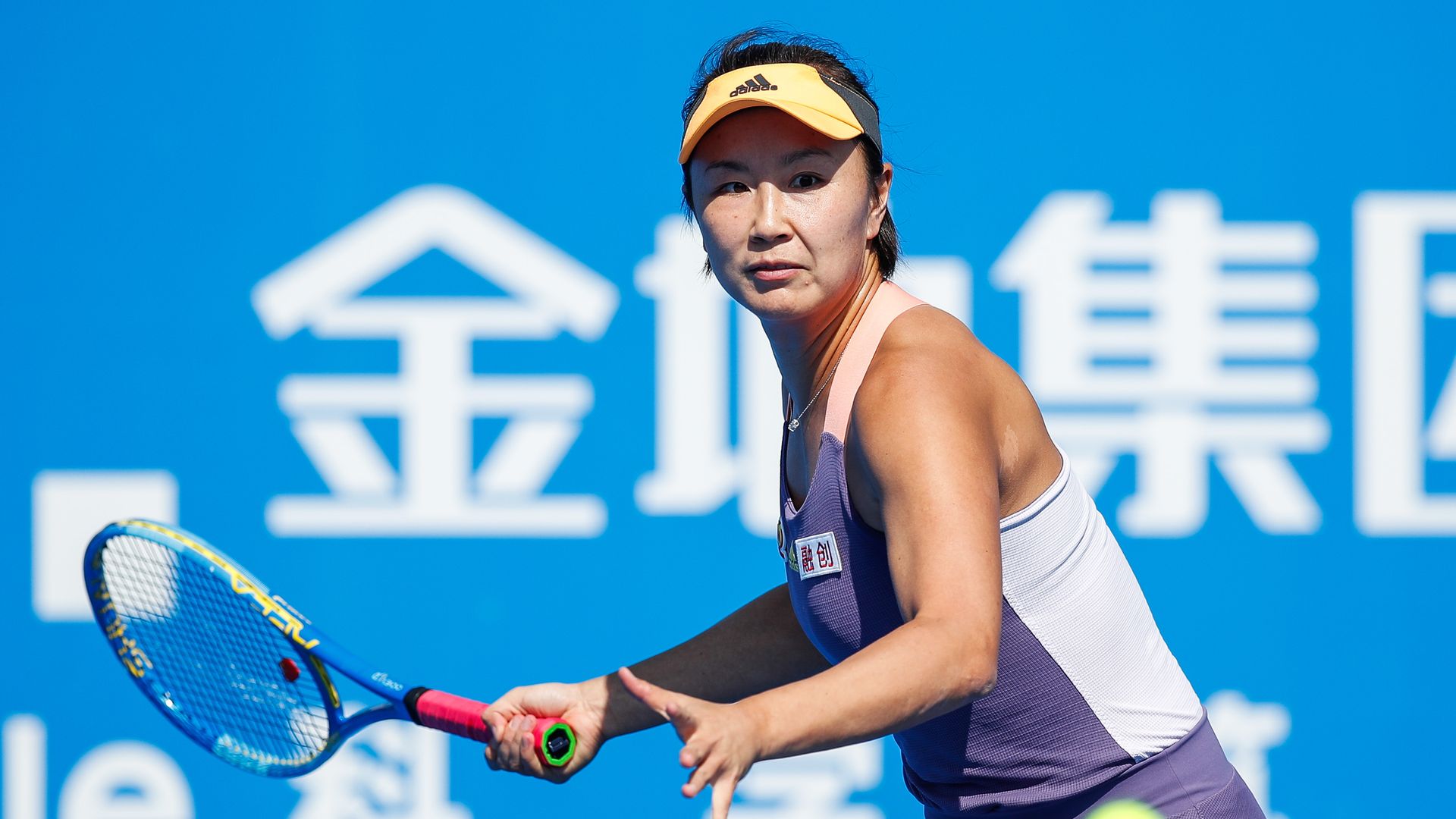 The Women's Tennis Association (WTA) has suspended all tournaments in China and Hong Kong in light of the treatment of tennis player Peng Shuai, WTA chair Steve Simon announced Wednesday.
Why it matters: The WTA has maintained that the Chinese government's failure to address her accusations of sexual assault remains an issue of concern.
Background: Peng publicly accused China's former vice premier of sexual assault on Nov. 2, and was not seen for weeks after speaking out.
What they're saying: "Chinese officials have been provided the opportunity to cease this censorship, verifiably prove that Peng is free and able to speak without interference or intimidation, and investigate the allegation of sexual assault in a full, fair and transparent manner," Simon said in a statement.
"Unfortunately, the leadership in China has not addressed this very serious issue in any credible way. While we now know where Peng is, I have serious doubts that she is free, safe and not subject to censorship, coercion and intimidation," he added.
"If powerful people can suppress the voices of women and sweep allegations of sexual assault under the rug, then the basis on which the WTA was founded — equality for women — would suffer an immense setback," he said. "I will not and cannot let that happen to the WTA and its players."
"The WTA will do everything possible to protect its players. As we do so, I hope leaders around the world will continue to speak out so justice can be done for Peng, and all women, no matter the financial ramifications."
Between the lines: The WTA's announcement is a rare stance against the Chinese government.
Sports leagues, like the NBA, have walked a tightrope with China in order to maintain a foothold in its lucrative markets.
"In many ways, it's harder for the leagues to keep their souls but also expand into China," Bill Bishop, a former media executive and China expert, told ESPN when the NBA was weathering controversy over a general manager's tweet about Hong Kong in 2019.
The big picture: The WTA's move comes amid calls to boycott the Beijing Winter Olympics over China's human rights abuses.
The IOC has faced intense backlash for holding the Games in Beijing, and was criticized for being slow to respond to Peng's disappearance, Axios' Kendall Baker notes.
Go deeper