Ukraine publicly pleads with U.S. Senate to sanction Putin's pipeline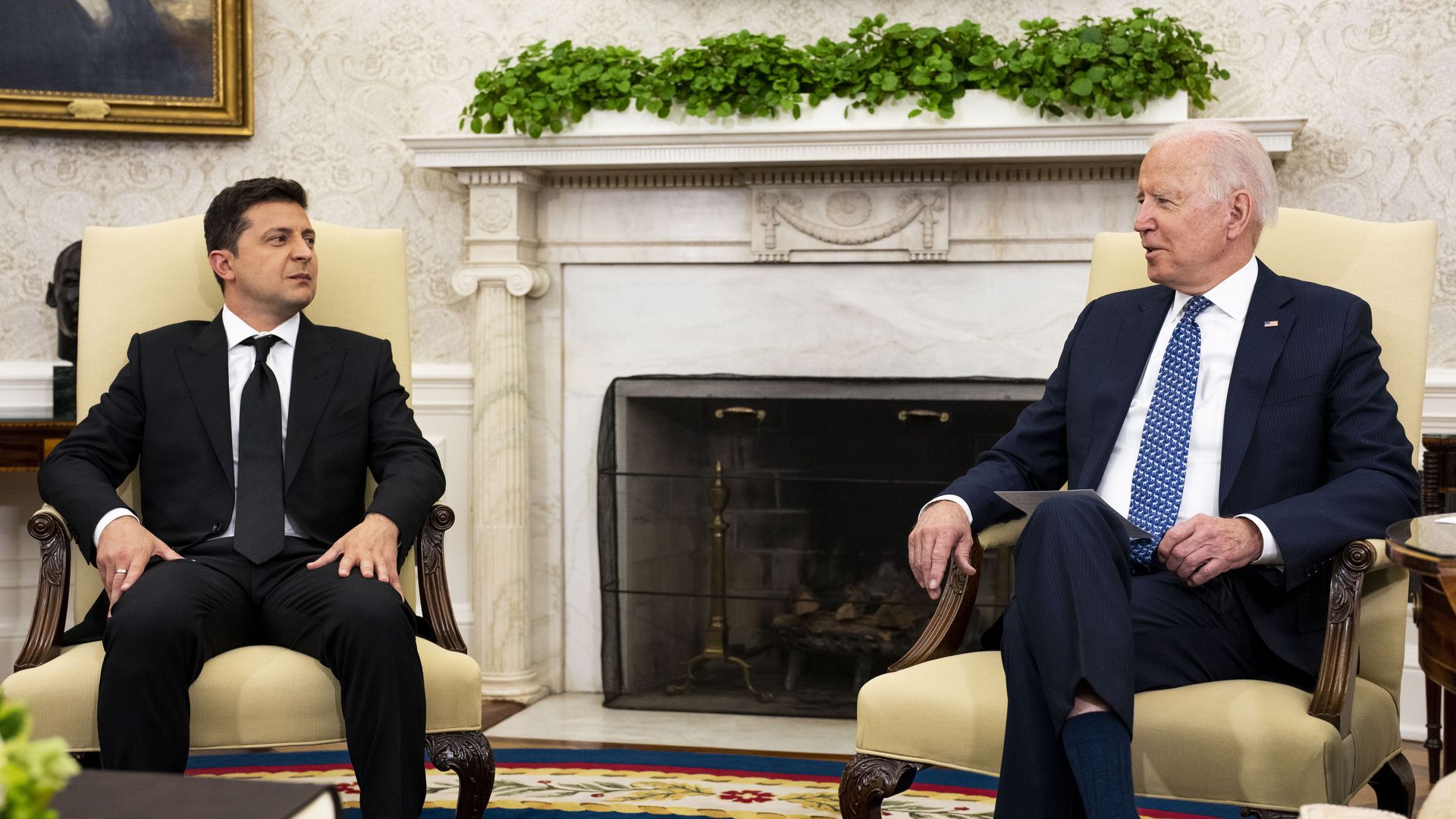 Ukraine's President Volodymyr Zelensky has launched a Twitter campaign to get the U.S. Senate to back sanctions in a last-ditch effort to block the Nord Stream 2 pipeline.
Why it matters: President Biden waived sanctions on the operator of the Kremlin-backed pipeline, which will bypass Ukraine and deliver Russian gas directly to Europe, in order to protect the U.S. relationship with Germany.
Congressional sanctions, already passed by the House of Representatives on a voice vote, would also need to be adopted by the Senate to be included in the annual National Defense Authorization Act.
The Senate version of the NDAA has advanced out of committee, but a floor vote has not yet been scheduled.
What we're watching: In recent months, Russia has been leveraging its energy exports — and exacerbating an energy crisis in Ukraine and Europe — in some of the very ways that critics of Nord Stream 2 had warned about.
As Russian President Vladimir Putin squeezes Ukraine with his energy exports, he's amassing close to 100,000 troops near Ukraine's borders along with battle tanks and self-propelled artillery.
Sources in the U.S. national security community are increasingly concerned that Russia will invade Ukraine again and seize even more territory than it did in 2014.
Driving the news: "Blackmailing Europe over gas must be stopped forever," Zelensky tweeted on Friday. "We're grateful to the House for including an #NDAA amendment that will stop Nord Stream 2. Asking all friends of and in the US Senate to now back this amendment at the Senate level."
The amendment Zelensky is referring to has been introduced by a group of Republican senators, led by Senate Foreign Relations Committee ranking member James Risch (R-Idaho).
The amendment would impose mandatory sanctions on the company in charge of the Nord Stream 2 pipeline, overriding the Biden waiver that effectively green-lit the completion of the pipeline earlier this year.
The amendment would also remove remaining waivers on sanctions against the companies involved in testing and certifying the pipeline.
Flashback: Biden reached an agreement with German Chancellor Angela Merkel in July intended to stop Russia from weaponizing energy projects like Nord Stream 2 to harm vulnerable nations such as Ukraine.
The agreement states that Germany will impose consequences on Russia if it uses energy as a weapon. The language leaves plenty of room for inaction, and on Oct. 26, the German Ministry of Economics certified that Nord Stream 2 does not pose a threat to the energy security of Germany or the European Union.
Opponents of the Nord Stream 2 pipeline, including members of Congress and senior officials from Eastern European governments, criticized the U.S.-Germany deal for being toothless and carried out over their heads.
What they're saying: Biden officials are now acknowledging that Russia is using energy in a concerning way. Amos Hochstein, the State Department's senior adviser for global energy security, told CNBC that it almost amounts to weaponization.
"They [Russia] have come very close to the line of using it as a weapon," Hochstein said, "by suggesting that if a political decision was taken in Germany … to certify the Nord Stream 2 pipeline, all of a sudden, gas would appear, and there would be plenty of gas from Russia for Europe."
But by stopping short of calling it weaponization, the Biden administration is leaving itself room to avoid imposing additional sanctions on the pipeline.
The State Department and White House did not immediately respond to a request for comment.
What to watch: Construction on Nord Stream 2 has been completed, and the pipeline is now awaiting regulatory approval from Germany. It's unclear if the sanctions would stop the gas from flowing — but there's no doubt it would make moving forward very painful for Germany.
Go deeper