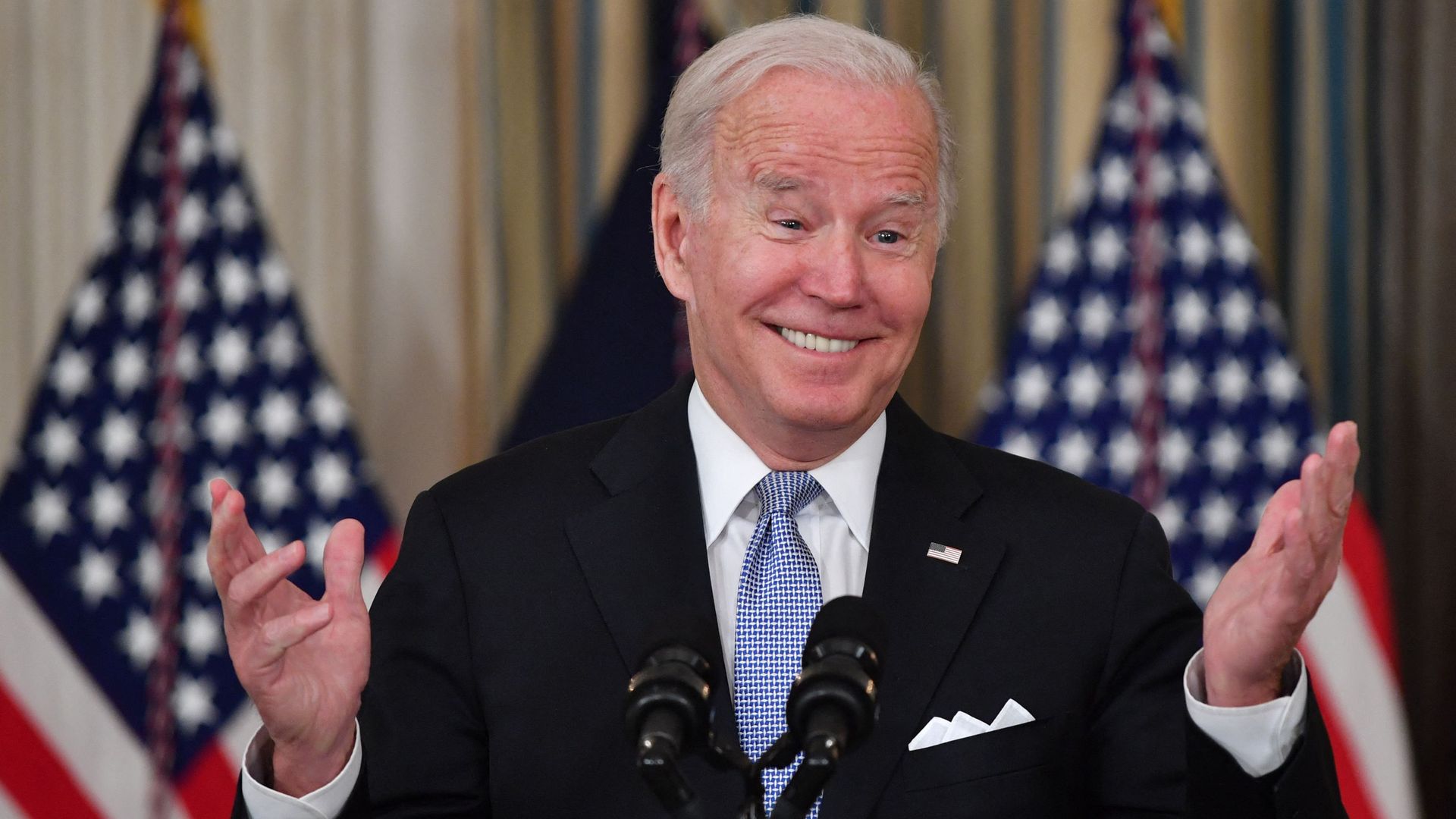 When it looked like she might be some 20 votes shy Friday afternoon, House Speaker Nancy Pelosi told reporters she had a "Speaker's secret whip count."
The big picture: "I don't tell anything that people tell me — not even you, my dear, good friends," she said. "But I have a pretty good feeling." Bluffing or not, seven suspenseful hours later — at 11:26 p.m. — Pelosi delivered a historic victory for President Biden, just as his agenda looked like it might vaporize.
"Finally: Infrastructure Week!" Biden said at the White House on Saturday morning.
House leaders didn't have the votes on the bigger half of Biden's agenda — $1.85 trillion to expand the social safety net — and punted to later this month. (The House is out for a week.)
The infrastructure bill, passed by the Senate in August, now goes to Biden for signing.
Zoom out: Infrastructure was the easier half. But congressional leaders and the White House were dying to lock in a win after Tuesday's results gave Democrats a grim prelude to next year's midterms.
Terry McAuliffe, who had been pushing fellow Democrats to pass the infrastructure bill ahead of his disastrous Election Day in Virginia, last night "liked" a 10:53 p.m. tweet from Punchbowl's Jake Sherman proclaiming: "INFRASTRUCTURE VOTE!"
Here's the deal: Progressives wanted the packages voted on together, fearing moderates would pocket the win on infrastructure — then let the social spending die. But House Progressive Caucus Chair Pramila Jayapal (D-Wash.) says she got a guarantee: "Every single one of those individuals looked us in the eyes and said they were voting for it."
Moderate holdouts, who were demanding a Congressional Budget Office price tag for the social-spending bill, agreed to sign a statement they'd vote "aye" once the analysis is released.
Go deeper: The infrastructure Republicans
Go deeper