Poll: Manchin knots Democratic lifelines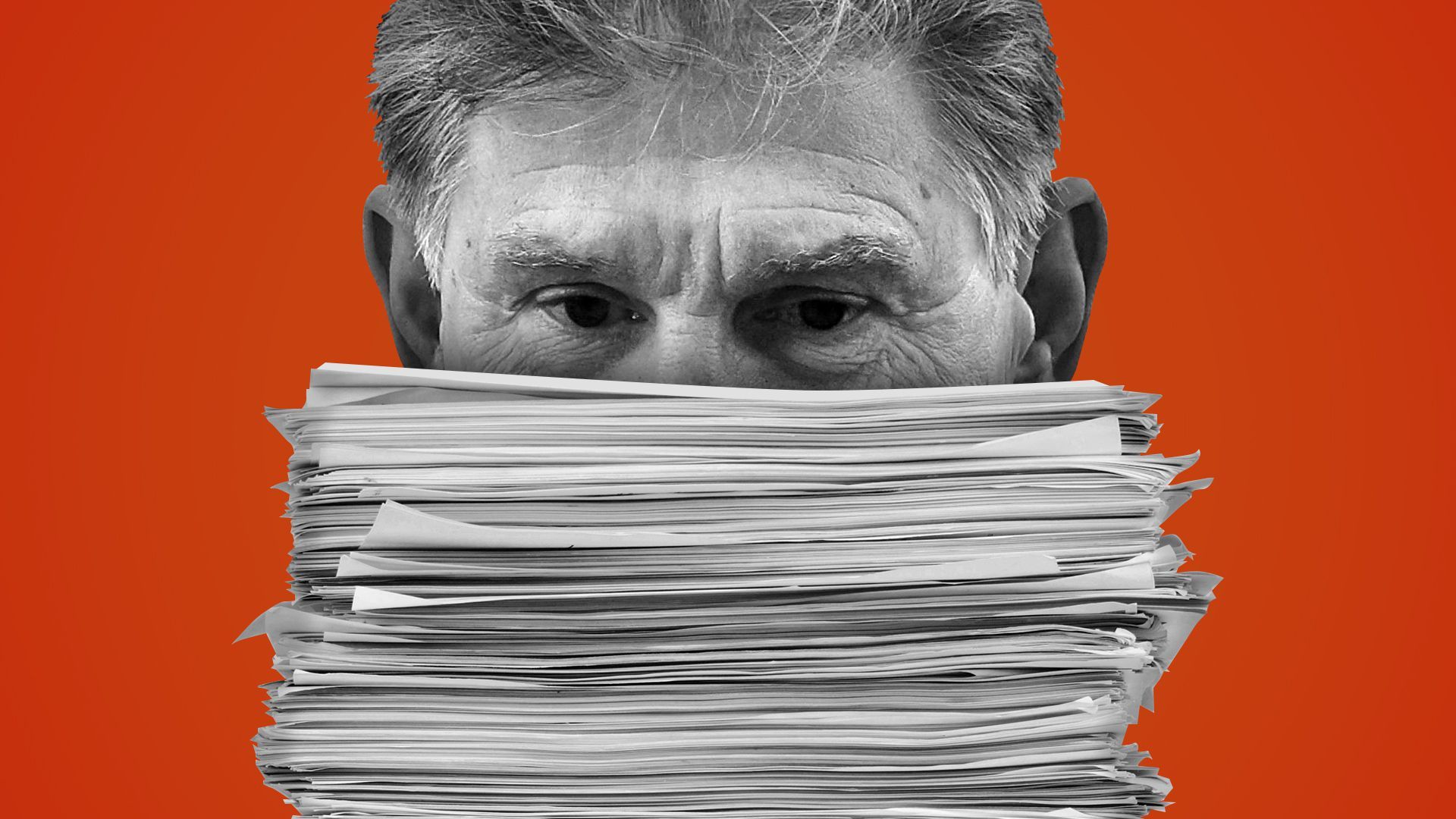 A new survey conducted by Harvard University and The Harris Poll gives Democrats a road map to get back in voters' good graces. The challenge is that Sen. Joe Manchin (D-W.Va.) stands in the way of two of the most popular routes.
Why it matters: Democrats are feeling immense pressure to turn voter sentiment around after Tuesday's abysmal election results. Yet two of their most popular policy ideas — expanding Medicare benefits and implementing paid leave — are opposed by Manchin.
By the numbers: 78% of poll respondents said they favor expanding Medicare to cover vision and dental benefits, which largely got left out of Democrats' $1.75 trillion budget reconciliation plan.
It does include hearing coverage, which is much cheaper than dental.
61% of respondents also said they favor 12 weeks of paid family leave.
House Speaker Nancy Pelosi reinserted four weeks of paid leave into the House version of the bill this week after it had been dropped entirely, but that's likely to face an uphill battle in the Senate — in part because of Manchin.
During the past several weeks, Democrats across the political spectrum have complained that Manchin is robbing them of these clear and crucial wins.
Their frustrations peaked after Democrats lost the governor's race in Virginia and nearly did the same in New Jersey.
Manchin defended his approach to the president's proposed $1.75 trillion social safety net expansion, telling reporters Monday, "As more of the real details of the basic framework are released, what I see are shell games."
The poll, though, gives his critics some ammunition.
Between the lines: The policies most popular with voters right now are "things that concretely help people in the short-term," said Harvard professor Bob Blendon.
"When people are worried about the next year or two, talking about 2050 doesn't have the same impact as it will when the short-term problems are not as visible to people," he added.
What we're watching: Front-line Democrats are eager to get back to their districts during recess next week to see whether their party's losses reflect the feelings of their own constituents.
The overwhelming consensus among members of Congress is to produce real results immediately.
That's why Pelosi is demanding her chamber take up both Biden's infrastructure and social spending bills before members leave town for recess.
What they're saying: "I think many Democrats now understand that good policy is good politics," said Sen. Bernie Sanders (I-Vt.).
"My strong criticism is, it is wrong when the American people, when the president of the United States, when 96% of your [Democratic] colleagues want to move forward, it is wrong to obstruct," Sanders said last month in a jab that seemed pointed at Manchin and fellow moderate holdout Sen. Kyrsten Sinema (D-Ariz.).
Sanders also recently complained about a separate poll regarding the popularity of expanding Medicare on the Senate floor, venting to his colleagues: "So, we drop what's most popular?"
Go deeper