Pfizer says COVID pill cuts risk of death or hospitalization by 89%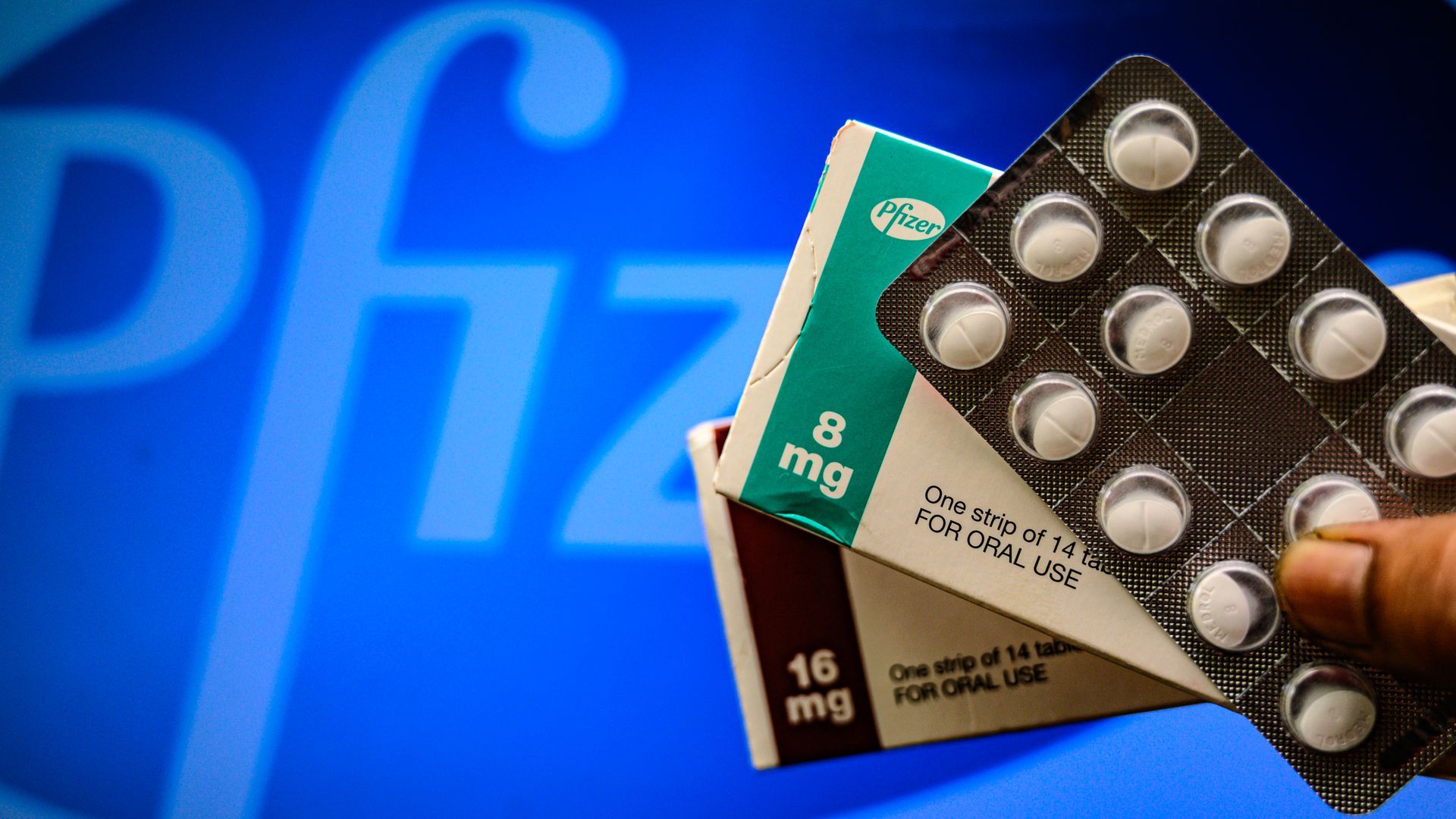 Pfizer's oral antiviral drug was found to reduce the risk of hospitalization or death from COVID-19 by 89%, according to interim results from a mid-to-late-stage study announced by the company on Friday.
Why it matters: Antiviral drugs can be a key pandemic-fighting tool, as not everyone will get vaccinated against the virus and it may take years to fully inoculate people in certain countries — particularly given current gaps in global vaccine supplies.
Pfizer CEO Albert Bourla said in a statement that these findings from the phase 2/3 study marked "a real game-changer in the global efforts to halt the devastation of this pandemic."
Details: Pfizer's antiviral pill, PAXLOVID (PF-07321332), was developed specifically to treat COVID-19, by blocking activity of the main enzyme the virus needs to multiply.
This was co-administered with a low dose of ritonavir, which is widely used in combination treatments for HIV infection.
Of note: No deaths were reported in patients with COVID-19 who received PAXLOVID for the study, according to a Pfizer statement.
10 people who received a placebo died of the virus.
Be smart: Paxlovid's results are very encouraging to a lot of researchers because, like Merck's COVID-19 pill, an easy-to-take oral drug that reduces severe illness and hospitalization will offer a way out of the pandemic, says Axios' health care business reporter Bob Herman. 
Yes, but: There are some caveats. Pfizer's findings came through a corporate press release, not a peer-reviewed journal, and federal regulators haven't had a chance to scrutinize the drug's clinical trial data yet.
The big picture: Remdesivir, a drug investigated earlier to treat Ebola and other diseases, is currently the only antiviral approved for COVID-19 treatment in the U.S.
PAXLOVID is one of several antiviral pills being developed to treat people after they've been diagnosed with the coronavirus.
The U.K. on Thursday became the first country in the world to approve an antiviral pill designed specifically in response to COVID-19: British regulators approved molnupiravir, developed by Merck and Ridgeback Biotherapeutics to prevent or treat the virus.
What's next: Pfizer said it will submit the findings as part of its ongoing rolling submission to the FDA for emergency use authorization "as soon as possible."
Go deeper