Pa. voting official alleges Trump, Giuliani claims led to his heart attacks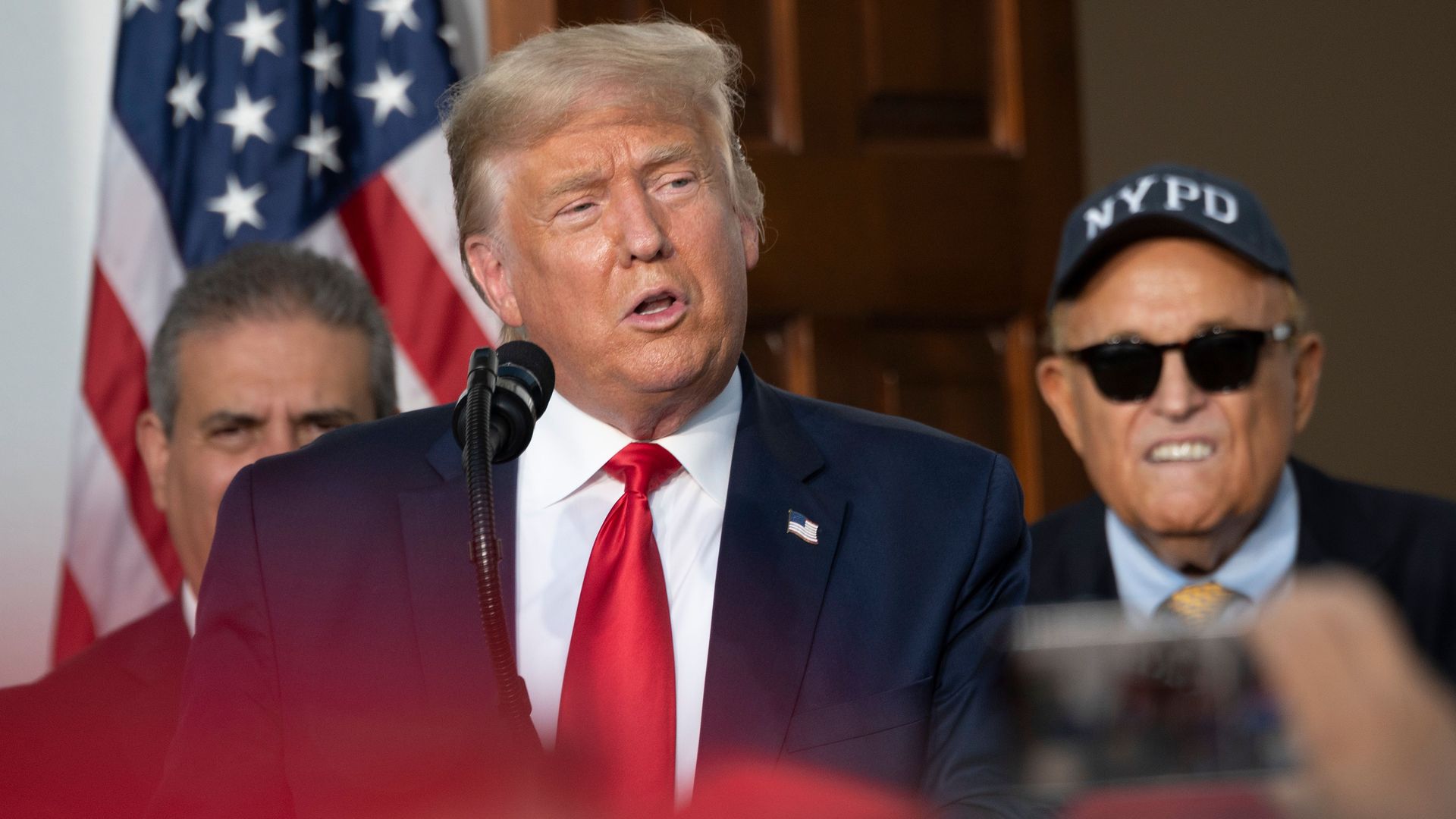 A Pennsylvania election official is suing former President Trump, Rudy Giuliani and Trump surrogates, alleging that their baseless claims about the 2020 presidential election led to him receiving death threats and experiencing two heart attacks.
The big picture: James Savage, a voting machine warehouse custodian in Delaware County, said in his lawsuit that his character was "assassinated on a national level" by the defendants, whom he alleges made "deliberate, malicious, and defamatory statements and insinuations" about him during news conferences and on Fox News.
This was allegedly in regards to "hollow and/or false and/or baseless and/or vacuous claims" that he uploaded 50,000 votes for now-President Biden, according to the suit, filed in the Philadelphia Court of Common Pleas this week and first reported by Law360.
"Despite knowing the impossibility of such claims and/or insinuations," Trump, his surrogates and supporters "spread, reposted, and disseminated these outrageously defamatory claims and/or insinuations" against Savage, "subjecting him to threats of physical violence, and causing [him] to suffer ... two heart attacks," the suit alleges.
"Mr. Savage's physical safety, and his reputation, were acceptable collateral damage for the wicked intentions of the Defendants."
— Allegation in lawsuit
Of note: The lawsuit states that Trump and the other lawsuit defendants mostly referred to Savage by his job title, "voting machine warehouse supervisor," when publicly airing their complaints.
But "anyone who heard or saw these defamatory statements or insinuations would have known that they were referring" to Savage because he's the only person in that position in Delaware County, so it's "obvious there was only one person who was being accused of election fraud by all of the Defendants," the suit adds.
"As a result of the Defendants' knowingly false statements, Mr. Savage and his family have been the target of threats and intimidation, including at his place of work and/or his home," the lawsuit notes.
It claims that "less than a week before Trump supporters stormed the U.S. Capitol" on Jan. 6, Savage "was accosted at his work by two men without credentials asserting that they wanted to search his work and were there on behalf of 'the voters.'"
For the record: Other defendants named in the lawsuit include former Trump attorney Jenna Ellis, along with GOP poll watchers Gregory Stenstrom and Leah Hoopes — both of whom Savage alleges "baselessly claimed that they saw" him use "tampered versions" of a voting machine mechanism.
Former Kansas attorney general Phillip Kline and the Thomas More Society, a nonprofit conservative legal group, are also named as defendants in the suit.
Representatives for Trump, Giuliani and the other defendants did not immediately respond to Axios' requests for comment.
Read the lawsuit in full, first obtained by Law360, via DocumentCloud:
Go deeper