First look: Heritage Action takes aim at Murkowski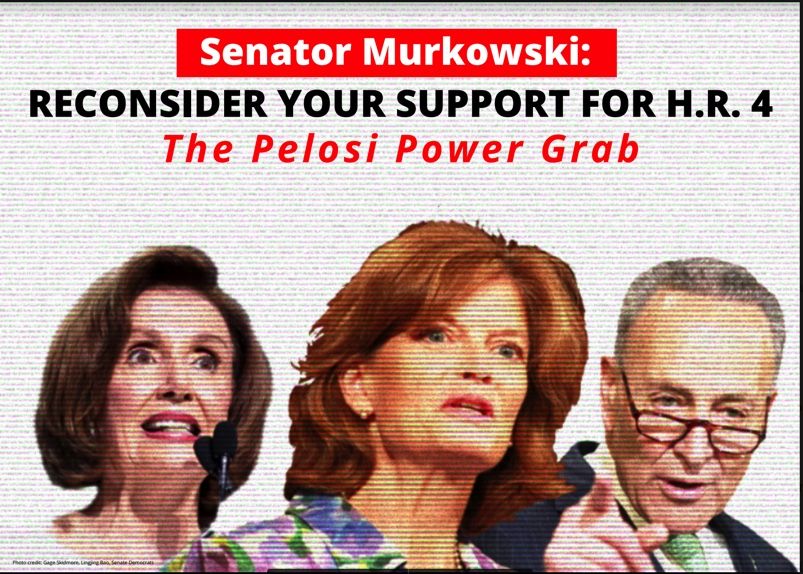 Heritage Action for America, a conservative 501(c)(4), is taking its first shots at an incumbent Republican senator this cycle, hitting Sen. Lisa Murkowski (R-Alaska) with full-page ads for supporting voting rights legislation, Axios has learned.
Why it matters: Heritage Action, which can raise unlimited donations, has been engaged in contentious cultural issues, like criticizing Major League Baseball for moving its All-Star Game, as well as the broader debate about voting rights.
But it hasn't been training its fire on Republicans for several years.
A decade ago, the group rose to prominence as the political arm of the Heritage Foundation, a conservative think tank, and gleefully attacked Republicans for being insufficiently conservative.
The attacks on Murkowski may signal a return to its more renegade roots.
The big picture: Murkowski, who voted to impeach President Trump in his second trial, is facing a contested primary in 2022, including a challenge from Kelly Tshibaka, a former commissioner in the state Department of Administration, who has been endorsed by Trump and is planning a Mar-a-Lago fundraiser next year.
While Murkowski's primary will be closely watched, her supporters point out that she won a write-in campaign in 2016 after not getting her party's nod.
In 2020, voters in Alaska moved towards a more open primary, which will allow the top four finishers into the final round, where they will then be selected by rank choice voting.
Driving the news: Earlier this week, Murkowski joined three Senate Democrats to introduce amendments to the John Lewis Voting Rights Advancement Act as a way to build bipartisan momentum for the legislation, which has been stalled in the Senate.
Supporters say the legislation is needed to update federal voting rights laws, while critics insist it amounts to a federal takeover of state laws.
The full-page full-color ads will run in Sunday's editions of the Anchorage Daily News, Juneau Empire and Fairbanks Daily News-Miner, featuring a letter from 155 Alaskans demanding that Murkowski oppose federal voting rights legislation.
What they are saying: "It is disappointing to see Sen. Murkowski support this blatant power grab from Democrats, taking away power from the people of Alaska and handing control of Alaska's elections to unelected, federal bureaucrats in Washington," said Heritage Actions Executive Director Jessica Anderson.
Between the lines: Murkowski hasn't announced running for reelection yet, but her campaign and her leadership PAC have raised almost $6 million and reported some $3.6 million cash-on-hand at the end of the last quarter.
She's prepared for both a primary campaign and a general election.
Go deeper