Democrats reach drug-pricing deal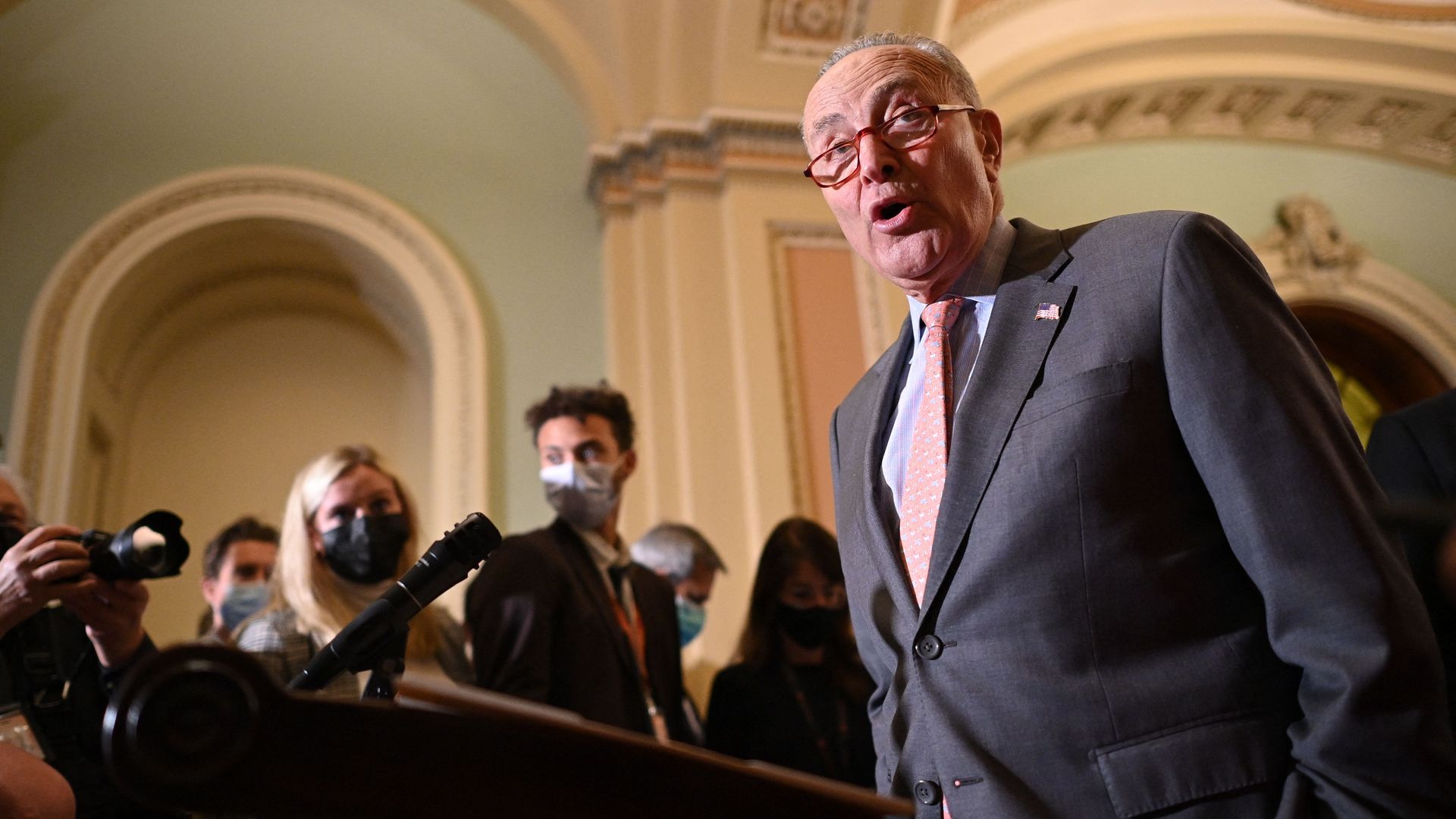 Senate Majority Leader Chuck Schumer announced Tuesday that Democrats have reached a deal on lowering Medicare prescription drug prices — an omission that had stalled support for President Biden's $1.75 trillion social spending plan.
Why it matters: Democrats have run on lowering drug prices for years. If the agreement is finalized, it'll allow them to tell voters that they've fulfilled their promise.
What they're saying: "For a generation, House Democrats have been fighting to deliver real drug price negotiations that will lower costs," House Speaker Nancy Pelosi said in a statement.
"With today's agreement on strong lower drug price provisions for the Build Back Better Act, Democrats have a path forward to make good on this transformational agenda for our seniors."
State of play: Sen. Kyrsten Sinema (D-Ariz.), a key Democratic holdout to getting this provision in the bill, released a statement shortly after Schumer's announcement saying that she's on board.
Sinema met Pelosi — who was trying to rescue the drug pricing components of the package — beginning Friday, Punchbowl's Jake Sherman first reported and Axios has confirmed.
The House and the Senate worked all weekend to hammer out the deal, which was clinched shortly after noon Tuesday when Pelosi and Sinema spoke.
Details: The emerging framework of the deal would allow Medicare negotiations in Parts B and D, limit how much drug companies can increase the prices of drugs already on the market and restructure the Part D benefit to lower seniors' out-of-pocket costs.
The cap on price hikes would apply "not just for seniors but for all Americans," Pelosi said, suggesting the caps extend to the commercial market.
Seniors would pay no more than $2,000 out-of-pocket for drugs covered by Part D. There would also be caps on out-of-pocket insulin prices, Schumer said.
Yes, but: The number and type of drugs subject to negotiations would be limited. One draft framework circulating among lobbyists and reporters Tuesday morning said Medicare would negotiate the prices of 10 drugs in 2025, but that number would increase to 30 drugs in 2028.
Drugs that are still covered by their initial FDA-granted exclusivity period would be exempt from negotiations, according to the draft framework, although the time frame may have changed in the final deal.
Drugs earn their maximum profits during that exclusive period that precedes cheaper generic versions coming to market.
Limiting eligible drugs helps alleviate concerns Medicare negotiations would reduce drugmakers' financial incentives to develop new drugs.
The bottom line: The drug pricing policy may not be as aggressive as many Democrats had hoped, but if it becomes law, it will still be historic.
Go deeper