Kerry's climate diplomacy at stake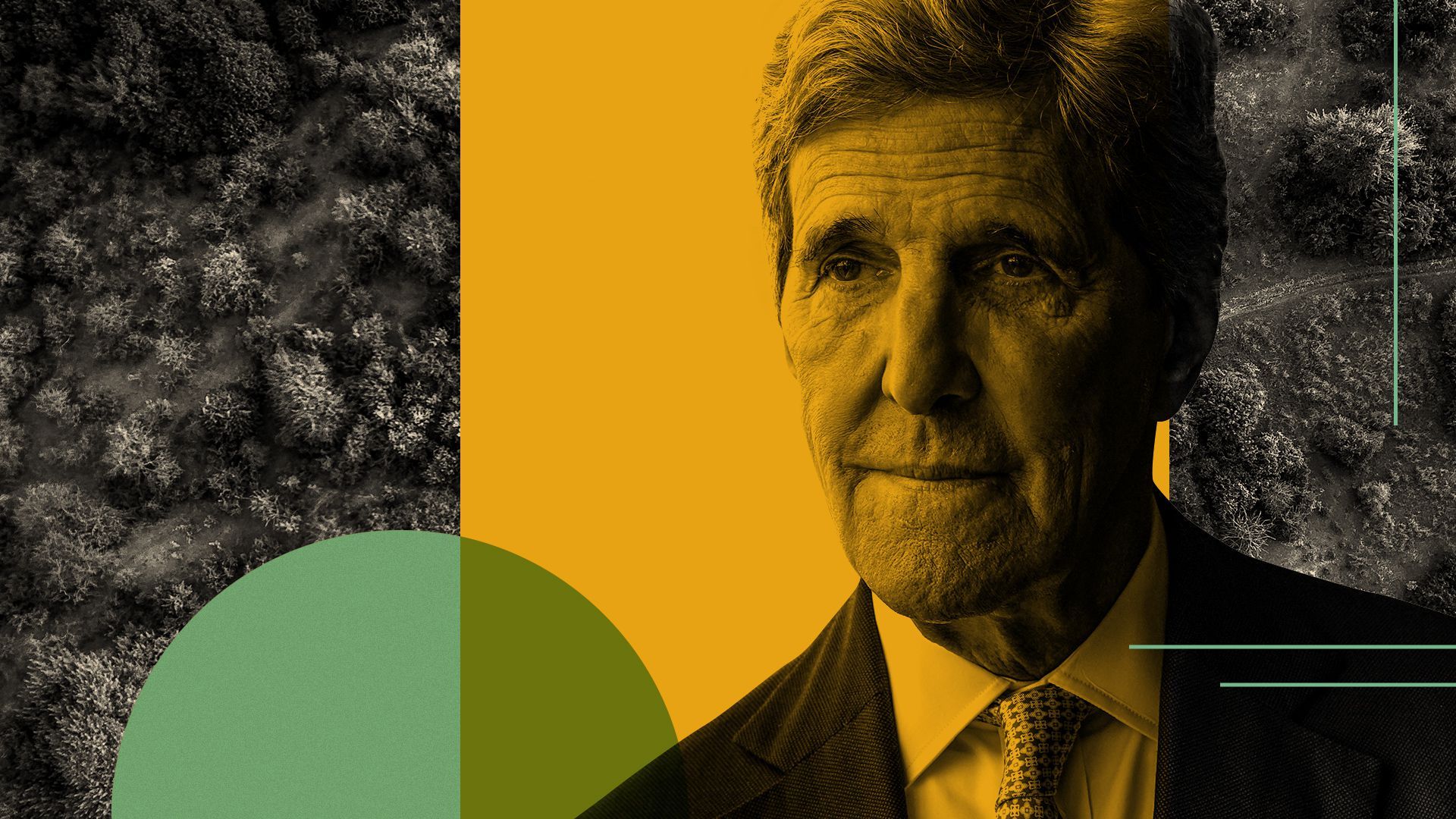 John Kerry has made one special ask of world leaders since he became President Biden's climate envoy in January: help me consign coal to history. As the UN climate summit convenes in Glasgow, Scotland, all signs suggest they won't deliver.
Driving the news: The COP26 summit is a proving ground of sorts for Kerry's style of personal diplomacy, which helped him broker the 2015 Paris climate accord. The challenge is having it pay off in a world rife with multilateralism, and with the U.S. leadership role in question.
Kerry has billed Glasgow as the world's "last, best chance" for averting potentially catastrophic effects from global warming.
At the same time, he's been working to lower expectations. As recently as last Thursday, Kerry acknowledged there will be a gap after Glasgow between where the world needs to be on emissions and where it is.
He's also started to look past COP26, emphasizing that this needs to be a "decisive decade" and "decade of action."
The U.S. and other countries secured some commitments on coal use at the G20 summit on Sunday, but this fell short of what Kerry had been fighting for.
Efforts to curb coal usage in his own country have been hampered by the resistance of Sen. Joe Manchin (D-W.Va.), who used to be governor of a coal state.
Between the lines: Any shortfall isn't for lack of effort.
Kerry has mimicked his time as the most-traveled secretary of State in history, maintaining a frenetic schedule.
He's visited at least 15 countries since January, some more than once, with a single-minded focus that other U.S. foreign policy officials can't afford.
Unlike his time heading the State Department, he largely flies commercial, toting his own bag into the passenger cabin.
In every meeting with his foreign counterparts, Kerry has sought five commitments, State Department officials tell Axios:
1. Reduce emissions
2. Phase out coal use by a specific date
3. Increase financing to help developing nations adapt to climate change
4. Join a new Global Methane Pledge
5. Strengthen emissions targets after COP26
Between the lines: Kerry arrives in Scotland with Biden's domestic climate agenda hanging in the balance — weakening U.S. credibility.
If Democrats fail to pass a robust climate bill, Kerry told the AP in September, "it would be like President Trump pulling out of the Paris agreement, again."
America's domestic political situation, with the likelihood of a Republican takeover of at least one chamber of Congress in 2022, has other countries greeting his big asks with caution.
Meanwhile, the Biden administration has described climate change as an "existential threat," and China as "the biggest geopolitical test of the 21st century."
That dual framework has created massive headaches for Kerry in his push to secure climate commitments from the world's largest carbon emitter.
The big picture: As a 77-year-old former Cabinet officer, senator and presidential candidate, Kerry's familiar with the often frustrating nature of securing multinational agreements.
He helped negotiate the Iran nuclear deal and the Paris Agreement under Barack Obama, only to see Donald Trump pull the U.S. out of both.
He's also had to endure brickbats from his own boss and former Senate colleague.
After Kerry made the comment that Biden arriving in Glasgow without Congress having passed climate legislation would be akin to Trump pulling out of the Paris accord, the president walked him back: "I think Senator Kerry has a little hyperbole there," Biden told reporters.
Go deeper