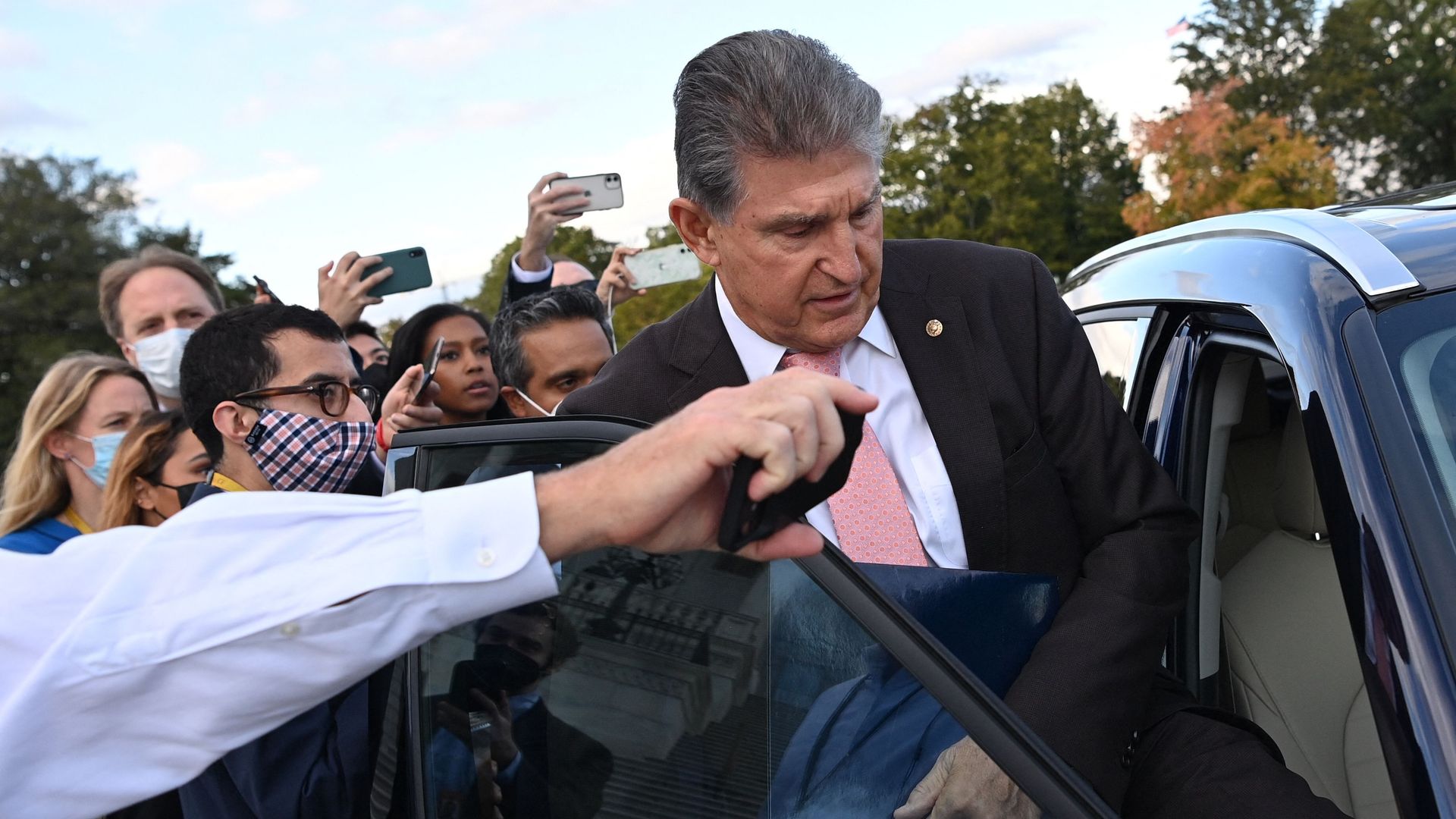 The House whip operation is working to convince Sen. Joe Manchin (D-W.Va.) to issue a more forceful statement in support of President Biden's $1.75 trillion social spending plan, people familiar with the matter tell Axios.
Why it matters: Vote counters in the House need help to convince progressive lawmakers to vote for the companion bipartisan infrastructure bill — and they're looking for Manchin to deliver. A deal Democrats hoped for Thursday stalled amid the intraparty standoff.
The emerging campaign to pressure Manchin to warmly and publicly embrace Biden's framework reveals a lack of trust among moderates, progressives and the White House.
Throughout Thursday, House progressive expressed their deep reluctance to support the $1.2 trillion roads-and-bridges infrastructure bill that's passed the Senate unless they receive ironclad commitments from Manchin and Sen. Kyrsten Sinema (D-Ariz.).
They want them to say they'll vote for the tandem $1.75 trillion package that contains the progressives' favored provisions to expand the social safety net and address climate change.
Between the lines: The need to pressure Manchin also indicates the failure of Biden's visit to the House on Thursday morning.
Addressing the House Democratic Caucus, he claimed his presidency was on the line with the two bills.
That still didn't budge the progressives — turning renewed attention to Manchin.
Driving the news: Manchin was relatively quiet in public on Thursday, saying the fate of the social spending bill was "in the hands of the House."
Told later progressives wanted him to publicly proclaim his support, the senator said, "If they can't take the word of the president of the United States, and the speaker, we are in trouble," CNN's Manu Raju tweeted. "We are going to work in good faith."
Sinema offered explicit praise for the framework but pointedly did not commit to voting for it.
The big picture: Manchin also was the subject of intense lobbying among his fellow senators on the substance of the social spending bill.
Some senators tried to convince him to fully embrace the current deal, while others hoped to convince him to help them alter it.
Sen. Kirsten Gillibrand (D-N.Y.) waited for Manchin at one point to finish speaking with fellow senators before lobbying him to support paid family leave — not letting him escape without saying her piece.
"If you let me write it, I will write it. I just want it in this bill," she said in a voice loud enough to be heard by a reporter. "It's so cheap."
Go deeper