Unruly customers threaten economic recovery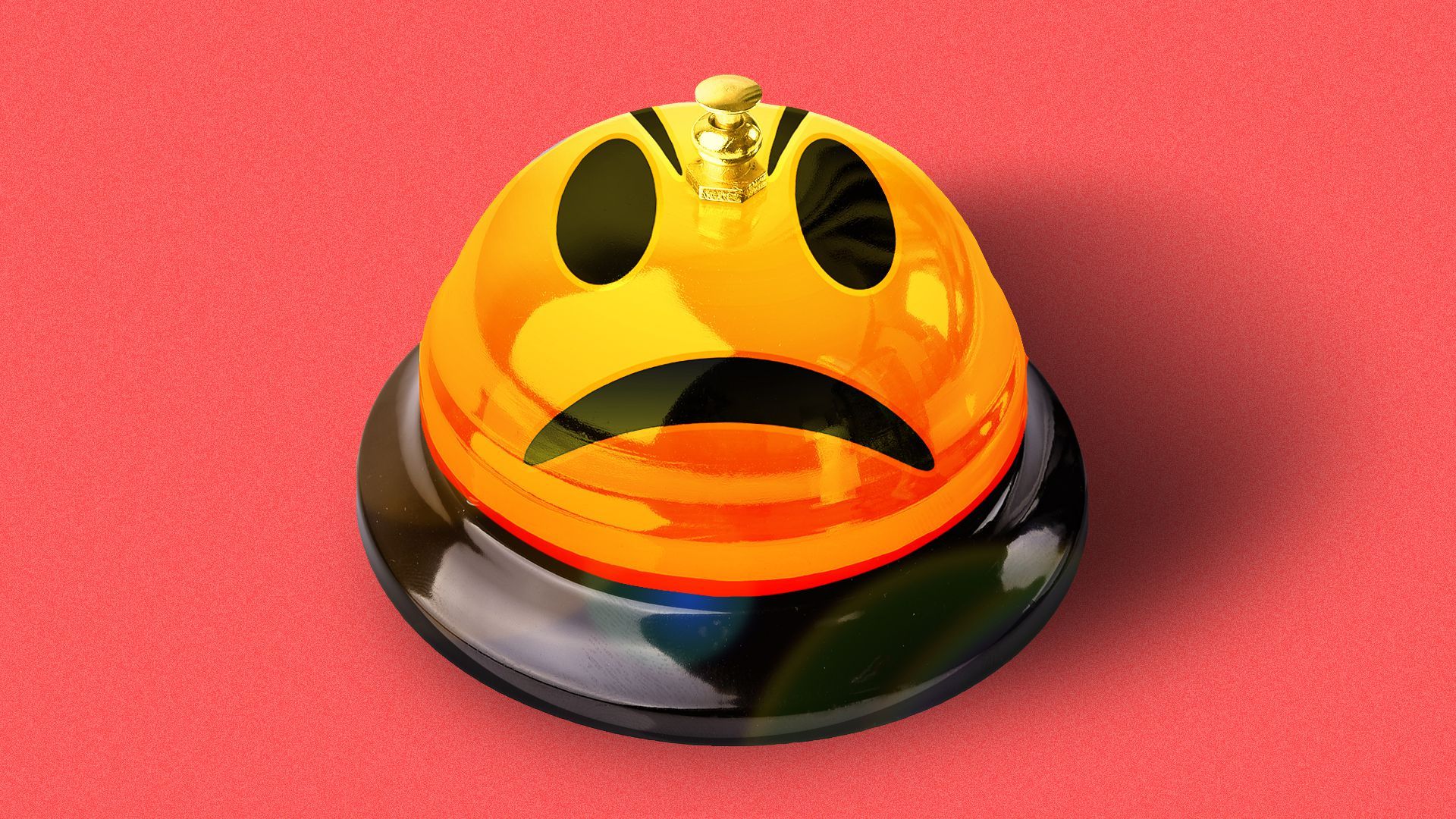 The pace of the economic recovery hinges in part on workers returning to jobs that involve dealing with an unpredictable public. But many of those workers say increasingly combative customers — angry about everything from long wait times to mask mandates — have prompted them to quit.
The big picture: Aggressive and violent clashes between customers and service workers over COVID safety protocols over the past nearly two years have led to prison sentences, fines and deaths.
Many workers say they're simply not willing to put up with the abuse any longer — and their employers are often taking their side, even in industries that have long deferred to their customers.
Businesses have shut down in support of their employees. Some industries have provided self-defense classes and banded together on public awareness campaigns.
Driving the news: Workers in restaurants, bars, hotels (6.8%) and retail (4.7%) businesses quit at a higher rate in August than the record national rate (2.9%), new data from the Labor Department on Tuesday showed.
Because consumers were so used to a "frictionless economy" before the pandemic, there was no tolerance for a slowdown in services as businesses opened back up, says Melissa Swift, U.S. Transformation Leader at Mercer, a consulting firm.
Class, she says, also comes into play. 
"Technology has insulated the upper classes from the physical labor that enables their lifestyle," she said.
What they're saying: "I was extremely lucky to work in a place where the employer treated the employees well and everyone made excellent money. ... [Customers] did make me quit," former bartender who goes by Ash in West Virginia, tells Axios Today.
"What really hurts is that the same people whining about people on unemployment were the same people who would come in and treat the people actually working like [crap]," she continued, saying that she also moved to Michigan.
"[As] an essential business — [we] continued to work tirelessly through the entire pandemic … All we ask for in return is empathy, courtesy and understanding," says Casey Carville, who runs a group of nonprofit veterinary clinics in Texas.
Between the lines: This trend of increasingly unpleasant, sometimes violent customers is changing the balance of power within the industry.
"We've unnaturally privileged the consumer over the employee for a while now," Swift said. "We're seeing a shift away from customer obsession to a more balanced view of the world." 
"Organizations have been forced to confront the fact that unhappy employees cannot provide the customer experience they're targeting," she added.
What to watch: If consumer behavior doesn't improve, more workers may leave, putting the workers who stay at more risk of abuse and placing even greater challenges on businesses to operate.
Workers' fears would likely abate if more Americans get vaccinated and the risk of getting infected on the job declines. That would also allow businesses and local governments to ease up on mask mandates that workers are often tasked with enforcing.
The bottom line: The customer is no longer always right.
Editor's note: This story has been updated to reflect the latest quit rates that were released after the story was published.
Go deeper