Scoop - Manchin: Delay Biden plan to '22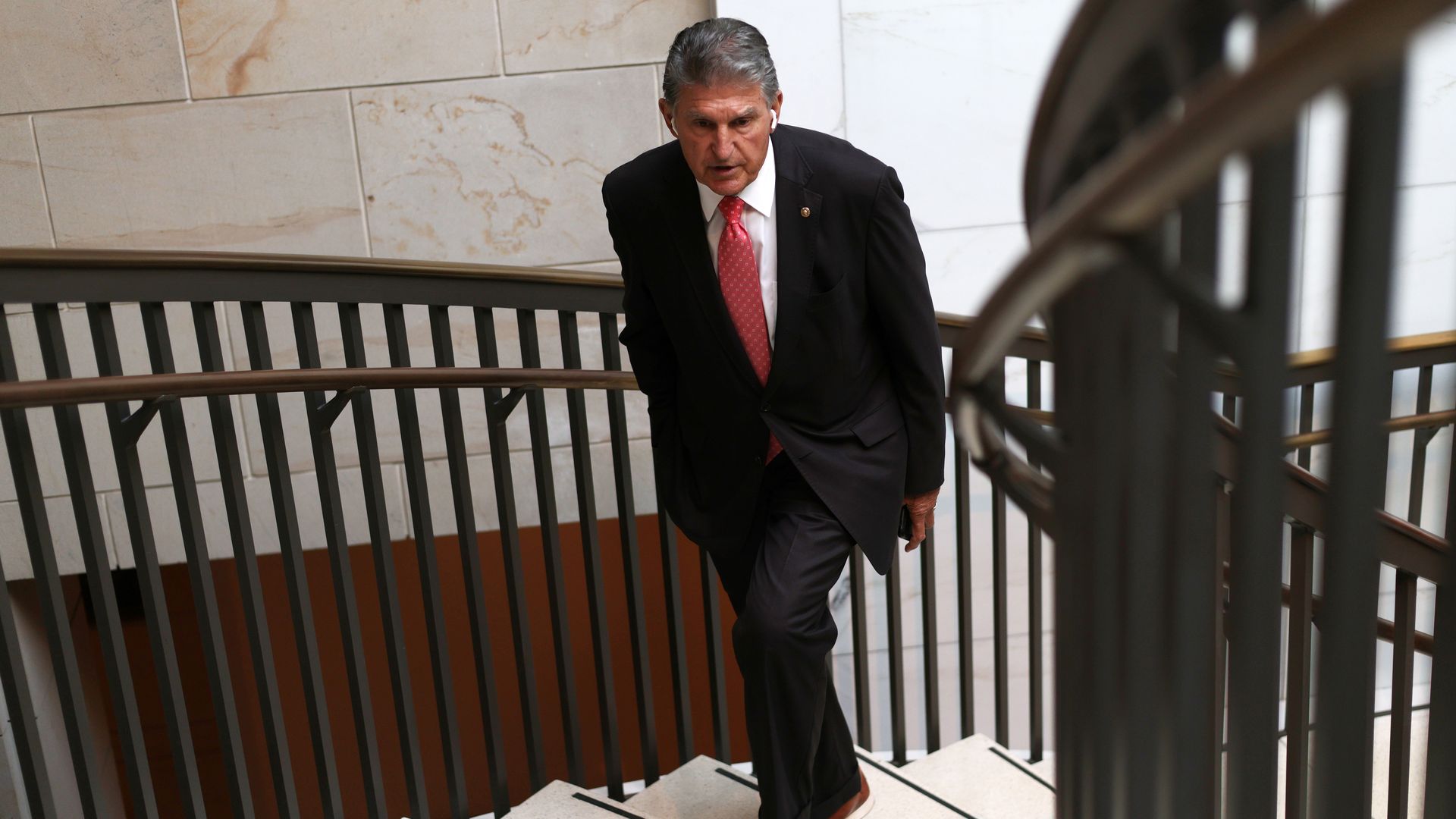 Sen. Joe Manchin (D-W.Va.) is privately saying he thinks Congress should take a "strategic pause" until 2022 before voting on President Biden's $3.5 trillion social-spending package, people familiar with the matter tell Axios.
Why it matters: Manchin's new timeline — if he insists on it — would disrupt the plans by House Speaker Nancy Pelosi (D-Calif.) and Senate Majority Leader Chuck Schumer (D-N.Y.) to vote on the budget reconciliation package this month.
Driving the news: Back home in West Virginia last week, Manchin told a group of employees at a Procter & Gamble facility in Martinsburg he wanted to pause all the talk about the $3.5 trillion bill until 2022, Axios was told.
Those semi-public comments track with some of his private conversations about how long he wants to impose the "strategic pause" he floated in a Wall Street Journal op-ed this month.
Manchin didn't give a specific timeline in his op-ed.
Any delay on the Democrat-only reconciliation package could imperil House passage of the separate $1.2 trillion bipartisan infrastructure bill, which Pelosi has promised to pass by Sept. 27.
House progressive lawmakers are publicly vowing to vote against the infrastructure bill if it's not paired with the $3.5 trillion bill to be passed through the budget reconciliation process.
But centrist Democrats are adamant the House pass the bipartisan bill first — next week.
The big picture: Manchin and Sen. Kyrsten Sinema (D-Ariz.) are leading the Democratic opposition in the Senate to the size and scope of the reconciliation package.
It's largely been written by Sen. Bernie Sanders (I-Vt.), and would vastly expand the social safety net from cradle to grave, as the New York Times recently put it.
Biden campaigned on many specific programs, including universal preschool and free community college. White House officials, as well as progressives in Congress, argue they're desperately needed to help foster a more equitable and inclusive society.
But Manchin has signaled he has deep concerns with specific elements of the package, and that his spending range is capped at $1.5 trillion.
Last week, the president failed to persuade him to accept the $3.5 trillion number during a meeting at the White House.
Between the lines: Manchin is more public about his opposition but Sinema also has deep reservations.
She continues to engage with the White House and Senate leaders and to negotiate in granular detail.
Go deeper: The Democrats' strategy of passing the two pieces of legislation simultaneously will face a crucial test this coming week.
Last Friday, nine House centrists reminded Pelosi of her promise to hold a vote on the infrastructure bill by Sept. 27 — a week from Monday.
"We reiterate our appreciation for the Speaker's public commitment to only bring a bill to the House floor that can garner the necessary 51 votes for passage in the Senate," the nine lawmakers said in a joint statement. "We need legislation that can get out of the Senate and to the president's desk."
But progressives insist the bipartisan package will fail if leadership brings it to the floor for a vote before the reconciliation bill is passed.
"It won't have sufficient votes to pass the House," Rep. Pramila Jayapal (D-Wash.), chairwoman of the Congressional Progressive Caucus, told Bloomberg.
What they're saying: Rep. Jim Clyburn (D-S.C.), the House majority whip, suggested Sunday his party may need more time to resolve its differences.
"Sometimes, you have to kind of stop the clock to get to the goal," he told CNN.
He also said of a $3.5 trillion reconciliation bill: "It may be $3.5 [trillion]. It may be close to that, or it may be closer to something else."
Editor's note: This article has been corrected to reflect that Clyburn is the majority whip, not the minority whip.
Go deeper