Biden's COVID-19 mandates: Our thought bubbles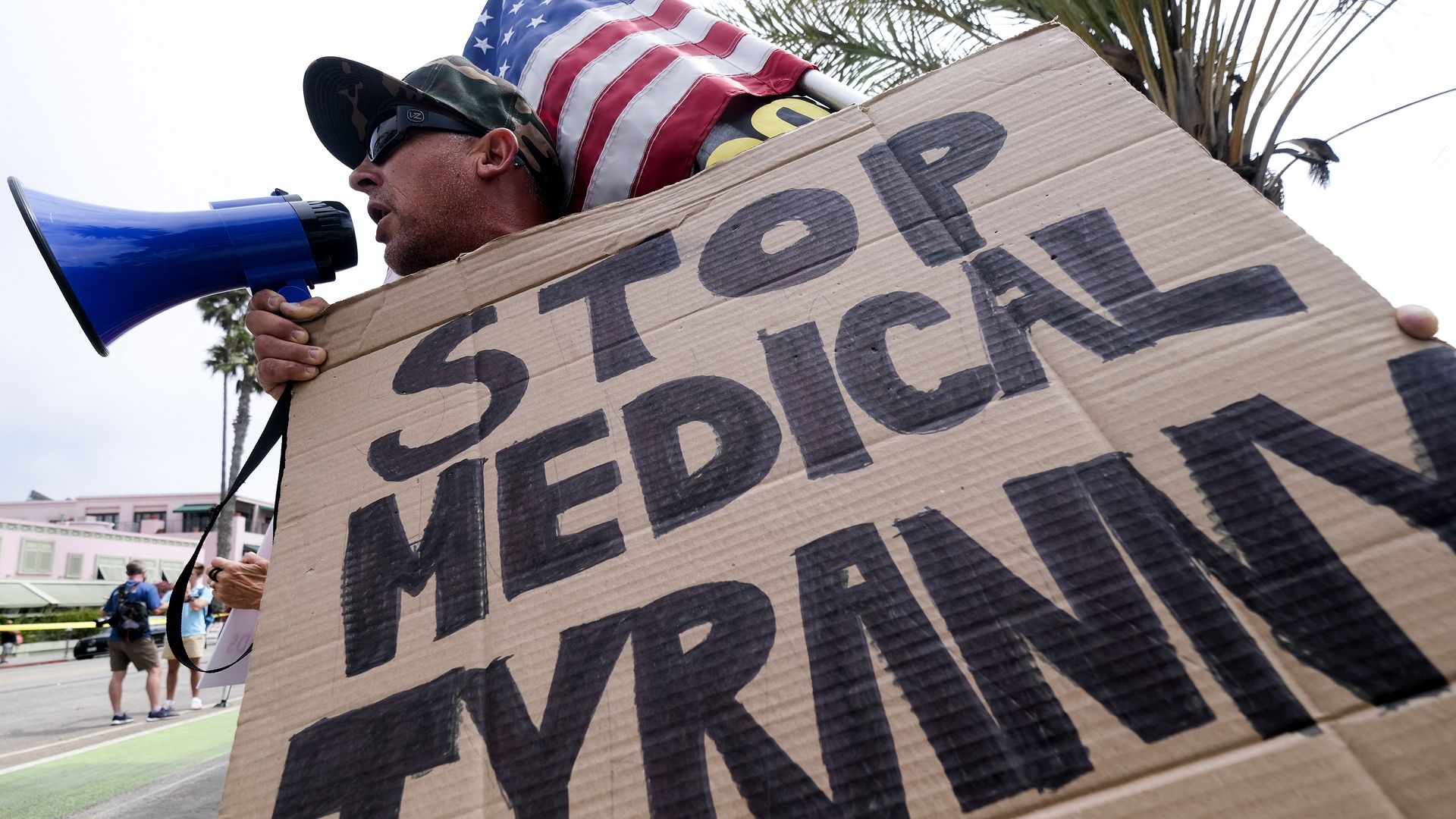 President Biden on Thursday announced aggressive new mandates on vaccinations and testing. Axios experts break down what the announcement means for politics, business and health care.
Axios' political reporter Hans Nichols: White House officials know that Biden was elected to contain the virus — and that if he's not successful, his entire presidency is at risk.
By acknowledging, and then channeling, the deep anger that many vaccinated Americans feel toward the unvaccinated, Biden has ended his diplomatic overtures to the roughly 80 million Americans who have not taken their shot.
By laying the blame for the surging Delta variant squarely on unvaccinated Americans, Biden is making a raw political calculation: He's willing to endure their immediate anger for the broader goal of defeating COVID-19.
The heated school board meetings — and occasional brawls at school drop-offs — over mask mandates are likely a harbinger of a bigger, and uglier, conflict over the federal government's ability to require Americans to get vaccinated.
Axios' health care reporter Caitlin Owens: Most voters are vaccinated and polling suggests Biden may not face as much backlash as Republicans hope — especially if voters ultimately see his heavy hand as helping life get back to normal.
But there's potential risk in mandates leading to staffing shortages if more nursing home or hospital workers quit.
Axios' markets reporter Courtenay Brown: Biden's move will give private sector stragglers cover to flex their vaccine mandate muscle.
Some CEOs — particularly those who have manufacturing facilities or a big share of blue-collar workers — have voiced fears that mandating a vaccine could scare off workers who don't want to comply and aggravate businesses' difficulty finding employees amid a nationwide labor shortage. But that could dissipate if it's the new norm across big employers.
Biden's move also might help attract some of the millions of workers on the sidelines who say they aren't working because they are scared of the virus.
Many big companies already were saying their workforce must be vaccinated or face persistent testing, particularly if they want to return to the office. Oil giant Shell was said to be weighing firing employees who refuse to comply. Delta Airlines said workers who forgo shots will face a health insurance surcharge.
Axios' business editor Kate Marino: Many corporate leaders have been looking for stronger guidance on vaccine mandates from the federal government. The downsides are that there are people who may quit jobs while we're in a labor mismatch and war for talent.
Go deeper