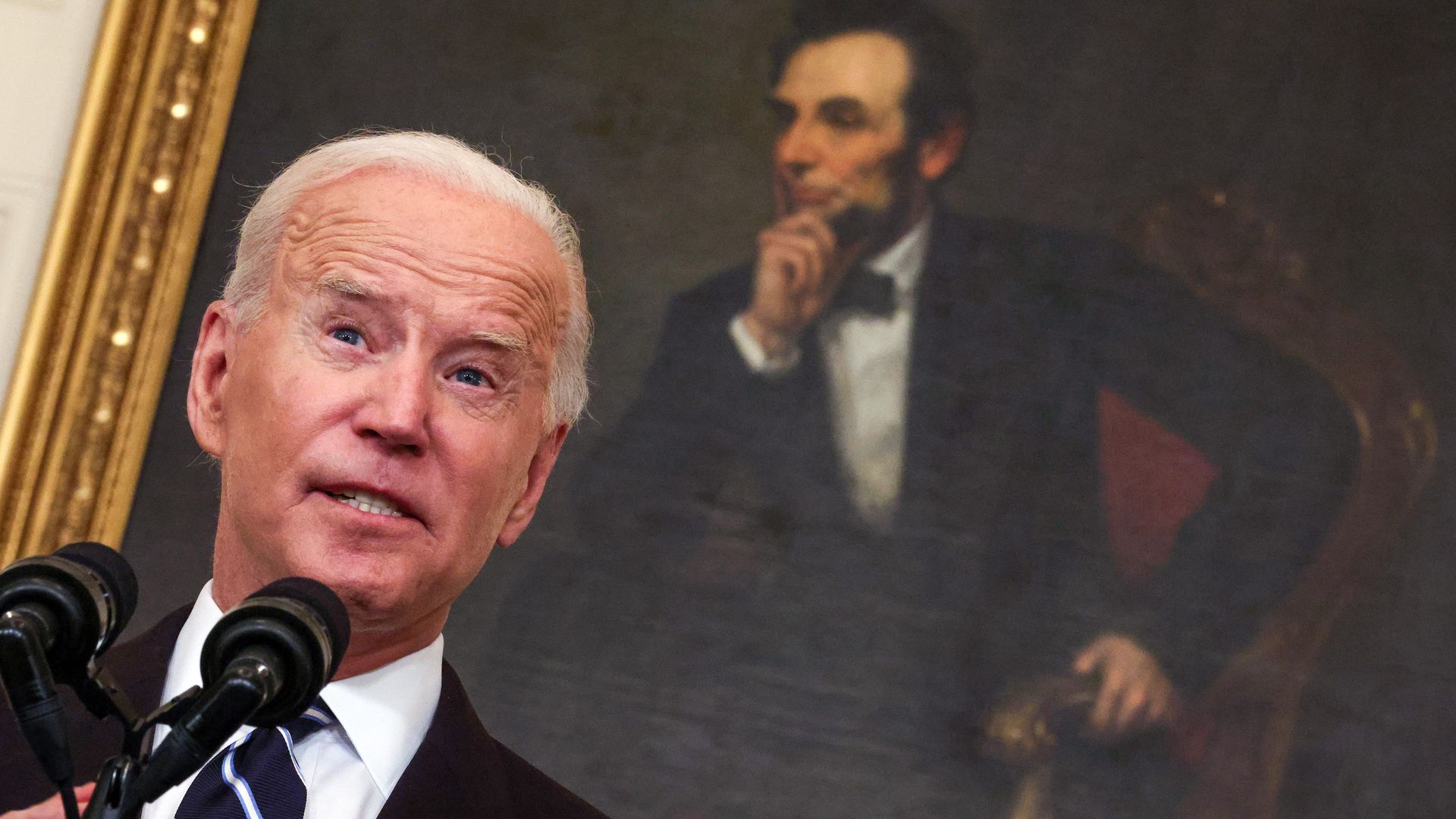 President Biden says he's met the enemy — and it's America's unvaccinated.
The big picture: The majority of U.S. sentiment may be with him. But Biden's still taking a major political risk, and he and his team know it. He's testing business leaders' resolve, putting Democrats' standing in swing states and districts on the line ahead of 2022's midterm elections and tempting a tsunami of litigation over new requirements that could touch 100 million Americans.
Driving the news: His aggressive new mandates on vaccinations and testing — announced in a speech ahead of TV networks' nightly news broadcasts — are far bolder and broader than most health care, business and political leaders expected. (Or than he'd previously suggested he'd have the authority to pursue.)
They're also a throwdown to those red-state governors blocking masking and vaccination requirements.
And they're a strategic effort, as he's watched his own approval numbers slip underwater in the past month, to shift frustrations about climbing Delta variant cases onto the millions who've either actively or passively rejected the shot and other precautions.
"What more is there to wait for? What more do you need to see?" the president said. "We've been patient but our patience is wearing thin. And your refusal is costing all of us."
The other side: Republican governors were quick to return fire and vowed legal battles over Biden's plan to require private companies to vaccinate their employees, with potential fines of $14,000 per violation.
"I will pursue every legal option available to the state of Georgia to stop this blatantly unlawful overreach by the Biden administration," said Georgia Gov. Brian Kemp.
"This dictatorial approach is wrong, un-American and will do far more harm than good," said Arizona Gov. Doug Ducey. "The vaccine is and should be a choice. We must and will push back."
Business Roundtable's president and CEO Joshua Bolten said the group "welcomes the Biden administration's continued vigilance in the fight against COVID."
But Glenn Hamer, president and CEO of the Texas Association of Business, said Biden's announcement "sets a frightening precedent that could be used to justify any manner of regulation on business" and that Biden's move was made "without any consultation from the business community, which will almost certainly lead to the further politicization of COVID-19."
Cultural and legal battles over vaccine mandates will be supported by conservative groups who are eager to join the fight.
"The Biden White House previously said that the federal government had no role mandating vaccines, said Tom Fitton, president of Judicial Watch. "I suspect statements like this can and will be used in court against this unprecedented federal power grab."
Go deeper