EU leaders worry U.S. will leave Afghan evacuees in Europe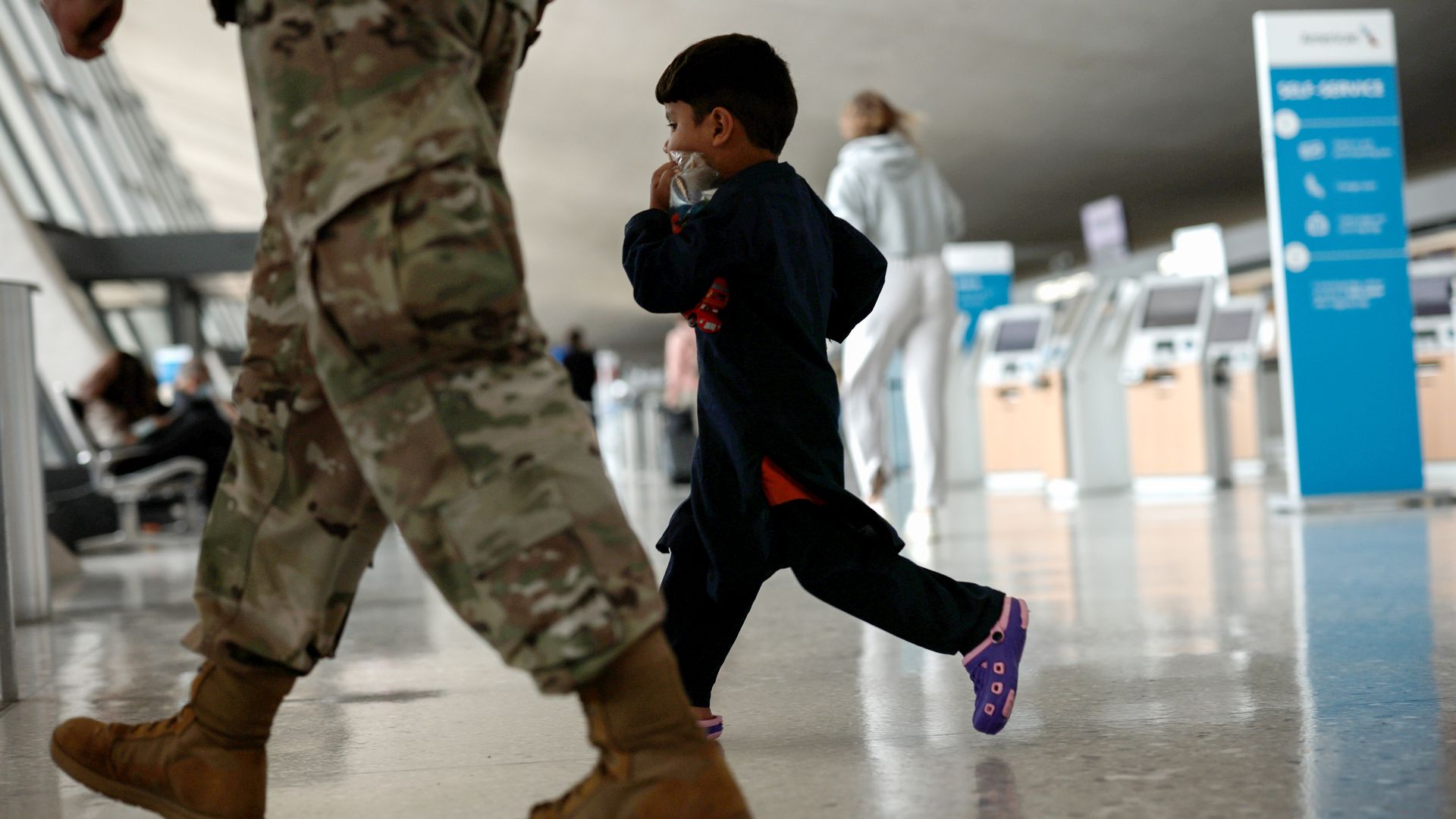 Thousands of Afghans are waiting at U.S. bases in Germany, Italy and Spain — and those countries want to know they will end up in the U.S. before they commit to resettling additional Afghan refugees.
The big picture: EU leaders are desperate to avoid a repeat of the migrant crisis ignited by the Syrian civil war, which drove a record 1.3 million people to seek asylum in Europe in 2015 alone.
"They really have a lot of concerns," European Commissioner of Home Affairs Ylva Johansson told Axios in an interview. "First they would like to know if these people they are hosting really will go to the U.S. before they answer me on how much they can do," Johansson said.
By the numbers: As of Friday morning, there were approximately 21,300 Afghan evacuees in the U.S. European Command region, EUCOM spokesperson Chuck Prichard told Axios.
17,000 were at U.S. military sites in Germany, 2,500 were in Italy and 1,800 were in Spain, although the numbers fluctuate daily.
Evacuees are staying for only a few days before heading to the U.S., Prichard said.
State Department spokesman Ned Price on Thursday declined to say what would happen to Afghan evacuees in third countries who failed the security vetting process to enter the U.S.
What they're saying: Johansson said that before considering the EU's role in resettling large numbers of Afghan refugees, Brussels had to focus first on the humanitarian crisis in Afghanistan, and then on helping neighboring countries to manage the influx.
She also said member states need to be proactive in resettling the most vulnerable Afghans, rather than waiting for them to show up at the border.
"As a feminist, it's important for me that we don't wait until we have a lot of people smuggled to the European border, because we know by experience that that's 90% men. And those most at risk are women and girls," Johansson said.
Context: The political backlash from the 2015 crisis resulted in a mainstreaming of immigration rhetoric historically associated with far-right parties, many of which saw unprecedented gains in the years that followed.
In an emergency joint statement this week, ministers from all 27 member states stressed the need to avoid "the recurrence of uncontrolled large-scale illegal migration."
Physical border fences, which the EU's top executive once said have "no place in Europe," have now cropped up in Poland, Lithuania and Greece with the tacit approval of the bloc's leaders.
"In some cases, physical barriers or fences are needed," Johansson, a member of the progressive Social Democrats in her native Sweden, told Axios. "Member states are obliged to protect their external borders for unauthorized entry."
"I don't want to have a 'Fortress Europe,'" she stressed. "And that's why we should not wait until we have migrants at our external borders. That's why we need to reach out much, much earlier."
Go deeper