Democrats eye budget reconciliation to aid Afghan refugees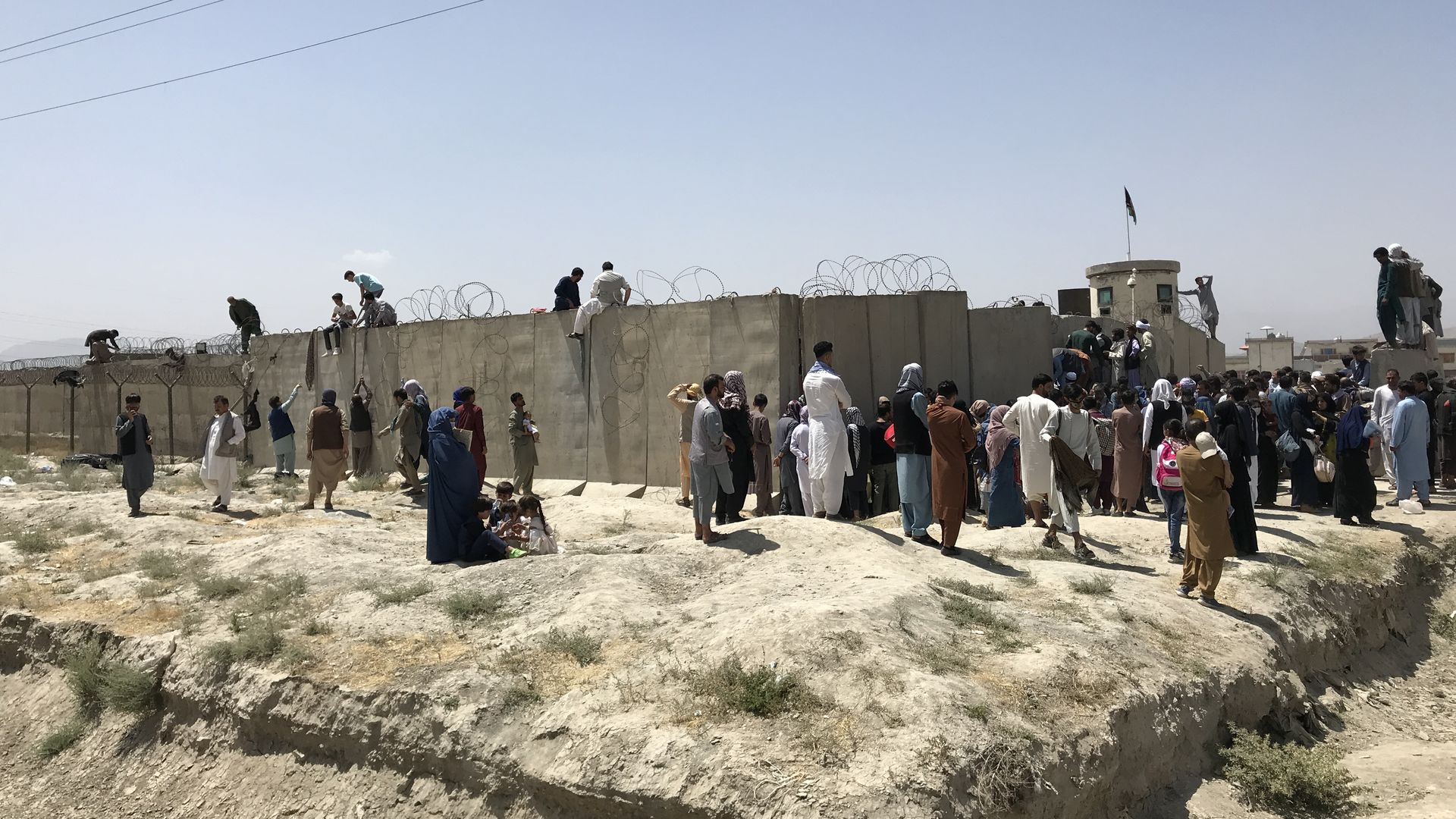 Some Democrats are considering allocating a portion of their $3.5 trillion budget plan toward refugee resettlement for those fleeing Afghanistan, three Hill sources familiar with the early discussions tell Axios.
Why it matters: As President Biden defends his plan for complete withdrawal amid searing images of the Taliban's swift takeover, Democrats who agreed with the plan, if not its execution, are scrambling for a way to protect some of the nation's most vulnerable — including women, children, interpreters and others who helped the U.S. over the past two decades.
The $3.5 trillion budget plan aims to give Democrats a vehicle to push through big infrastructure spending unilaterally via the budget reconciliation process.
Conversations about if and how to apply that to resettling Afghan refugees are in their infancy and will continue to develop over the next several weeks, these sources said.
The big picture: Many progressives fundamentally agree with Biden's withdrawal position and still maintain that he made the right — some even said "brave" — choice.
Rep. Ilhan Omar, among the first Somali-American, Muslim women to serve in Congress, called for the U.S. to "marshal an international coalition to evacuate every Afghan citizen who is fleeing for their lives."
"We have a moral obligation to the Afghan people," Rep. Alexandria Ocasio-Cortez tweeted. "The U.S. role in this crisis is indisputable."
Sen. Bernie Sanders tweeted that "we must do everything we can to evacuate our allies and open our doors to refugees."
But Biden faces criticism from Democrats as well as Republicans who say he lacked a comprehensive plan for evacuating those who risked their lives for U.S. or who face certain death or reprisal under the Taliban.
An aide to one progressives House Democratic member said their group is pressing the administration to share a comprehensive plan for evacuations within the next 24 hours.
Meanwhile, Republican Gov. Larry Hogan of Maryland said on Monday that his state intends to receive more Afghan interpreters than previously planned due to the crisis in Afghanistan.
What we're watching: How progressive challengers use Afghanistan against Democratic incumbents on the campaign trail.
Rana Abdelhamid, a liberal challenger to New York Rep. Carolyn Maloney, shared an image of Maloney wearing a burqa on the House floor after the 9/11 attacks.
"I was 9 years old when I watched my Congresswoman wear a burqa in Congress to justify the invasion of Afghanistan," she wrote in a now-viral tweet. "For the rest of my life, I knew that as a Muslim woman my identity would be weaponized to justify American wars."
Abdelhamid said in an interview with Axios that there's a "deep lack of engagement" and "deafening silence" from some House Dems who had supported the war.
Go deeper