Democrats tuck in border billions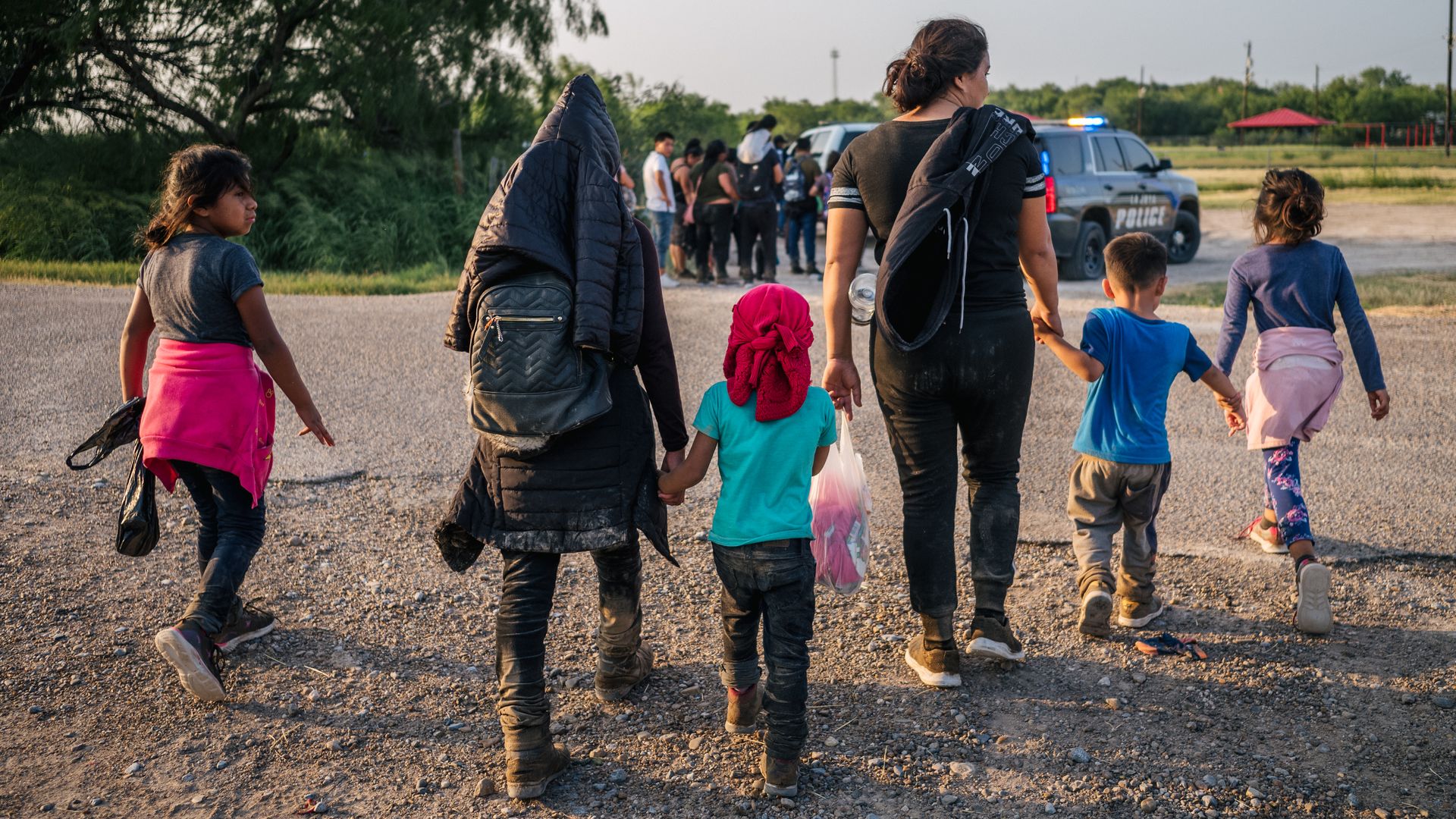 Senate Democrats are considering including about $10 billion in their $3.5-trillion budget reconciliation package for border security — focused on infrastructure at legal entry points, two sources familiar with their plans tell Axios.
Why it matters: Democrats already planned to include roughly $120 billion for pathways to citizenship for Dreamers, Temporary Protected Status holders and undocumented essential workers. The sources said there will be even more to address immigration — with more direct infrastructure ties.
What we're hearing: Details haven't been finalized, but the funds could be put toward facilities for handling asylum claims; additional staff for higher cross-border traffic areas; expanding immigration courts to address backlogs; alternatives-to-detention programs, and various ports-of-entry repairs, three sources familiar with the negotiations say.
They also expect roughly $10 billion to be allotted for border infrastructure.
The list underscores the border priorities of Democrats and the Biden administration — a clear departure from the previous administration.
President Trump's team, on multiple occasions, stalled budget negotiations over its funding demands for an expanded border wall.
What they're saying: Sen. Ben Ray Lujan (D-N.M), a member of the Senate Budget Committee, would not confirm whether border security was a part of the reconciliation package but said his perspective on infrastructure "includes modernization of ports at our border."
"I've consistently advocated for making smart, modern investments when it comes to border security, including requiring 100% of screening of passenger vehicles and commercial vehicles that come into the United States."
What to watch: All of this could potentially be a pipe dream.
Although reconciliation would allow Democrats to pass measures with a simple majority, winning approval from the Senate parliamentarian to use it for tackling immigration and border infrastructure could be a problem.
Remember: When senators first took a stab at using reconciliation to pass their $1.9-trillion coronavirus relief legislation, the parliamentarian ruled they could not tack on a provision to raise the minimum wage.
According to a statute known as the Byrd Rule, such provisions cannot be "merely incidental" to the government's finances.
State of play: Senate Majority Leader Chuck Schumer (D-N.Y.) set Wednesday as a deadline for getting all 50 Democrats on board with the general framework for the $3.5 trillion, Democrat-only proposal.
Some moderate Democrats — namely, Sens. Joe Manchin (D-W.Va.) and Kyrsten Sinema (D-Ariz.) — are still skeptical of the steep price tag and certain progressive components, but Schumer says they're on track with his goal of putting the budget resolution on the floor in early August.
His intention is to pass the measure before members break for the summer recess.
Go deeper