GOP split over infrastructure messaging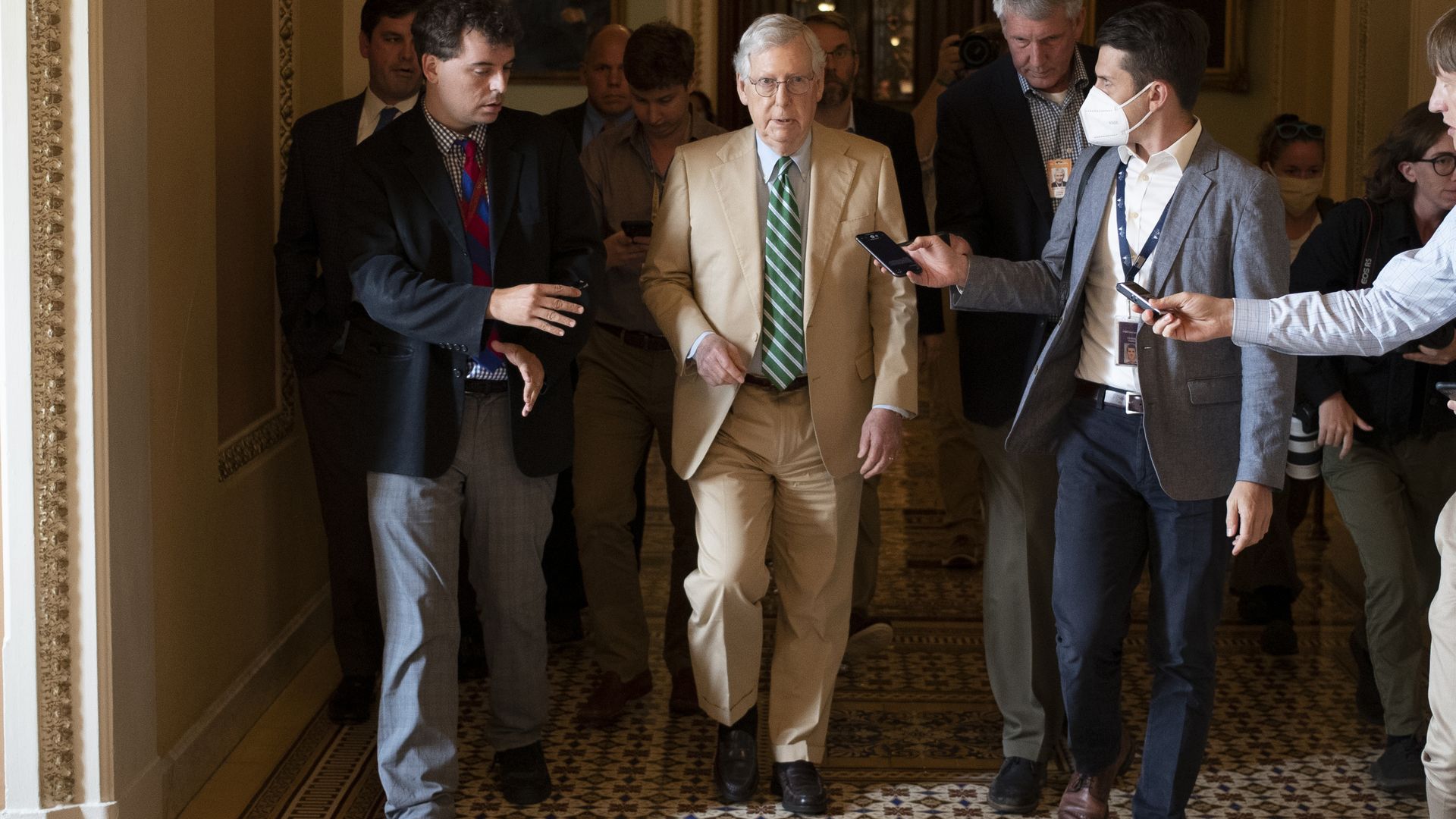 Republicans are all over the map about how their party should proceed on the $1.2 trillion bipartisan infrastructure proposal.
What we're hearing: GOP strategists tell Axios they've struggled over not only whether they support the current Senate negotiations but how to message off the broader infrastructure debate.
There are competing dynamics at play, they say, making it difficult:
The conservative movement has existential worries about the increase in spending, particularly as vaccines fuel a better economy and inflationary fears grip consumers — and send the stock market diving, as happened Monday.
They're wary of going on the record supporting a package that includes such a steep price tag, particularly after Congress already passed a $1.9 trillion coronavirus package this year.
They're also terrified of being held responsible for killing a bipartisan deal for something everyone loves: roads, bridges and photogenic local pork.
All this comes as they try to message against "reconciliation" and "inflation" — two terms not well understood by everyday Americans — and search for ways to simplify their attacks.
The latest: Senate Majority Leader Chuck Schumer (D-N.Y.) formally set up a Wednesday vote on a motion to advance the bipartisan proposal.
This was expected — but came as multiple Republican senators, including those involved in negotiations, threatened to vote against advancing the deal if the bill remained unwritten.
Schumer then announced that if the bipartisan group does not finalize text of the agreement in time for Thursday's session, he will offer an amendment "consisting only of the elements of the bill that have already been put through committee on a bipartisan process."
This could sway enough GOP members in favor. Schumer said the five leading Democratic negotiators — all moderates — embraced this approach.
Between the lines: Many Republican senators are waiting for Senate Minority Leader Mitch McConnell (R-Ky.) to provide needed direction.
McConnell has, so far, intentionally not gotten involved. The fact that the bipartisan bill is not even written, and will then take several days to be scored by the Congressional Budget Office, buys him more time.
Sources familiar with his strategy tell Axios he doesn't want to kill the bill, because there are Republican members who really want it to pass, and because he thinks it has some appealing provisions.
Yet he also has the midterms on his mind. Not only would passing the bill give Schumer and President Biden a huge Democratic victory but it also could prove a hard sell back in conservative territory.
Influential outside groups also are split over the package:
Members within the conservative movement are urging Republican lawmakers not to support a package relying too heavily on new spending.
"Democrats are playing an expensive shell game to try and lure Republicans into reckless spending," Alfredo Ortiz, CEO of the Job Creators Network, told Axios in a statement.
On the other hand, J.P. Morgan and the U.S. Chamber of Commerce are urging Republicans to publicly get behind the bipartisan deal.
They're concerned the GOP's opposition — or, at a minimum, its silence — will ultimately result in a more progressive, Democrat-only package with bigger tax increases.
"If this bipartisan infrastructure deal somehow gets blown up from the right, then it affirms everything that those who want to use reconciliation to pass tax increases, and those who want to get rid of the filibuster, are arguing to moderate Democrats is true," Neil Bradley, the Chamber's chief policy officer, told Axios.
Go deeper