Exclusive: MeWe looks to raise money to fuel expansion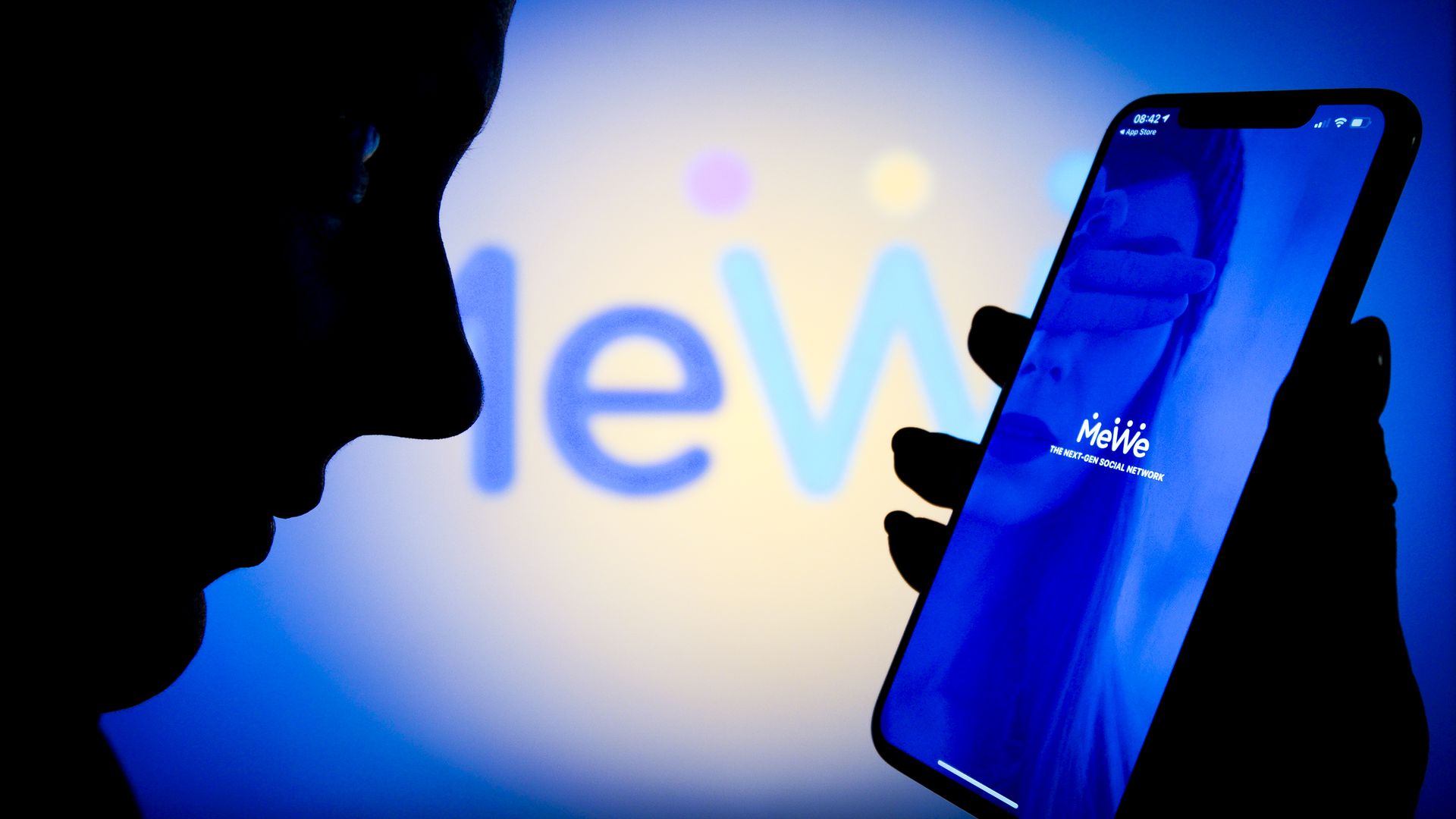 MeWe, a free and subscription-based social media platform that bills itself as a privacy-focused alternative to Facebook, is looking to raise two new rounds of cash to help fuels its growth, its founder and chief evangelist Mark Weinstein tells Axios.
Driving the news: The company is in talks with strategic investors, mostly venture capital and private equity groups, about a round it hopes to raise this year between $10 and $30 million, Weinstein says. He's hoping to raise even more cash, up to $75 million, the following year.
MeWe has raised $23 million to date from an array of high-net-worth funders, including former NFL executive Rick Smith, designer Rachel Roy, professional surfer Kelly Slater and Earth Wind and Fire bass guitar player Verdine White.
Moving forward, it wants to raise capital from strategic investors, including perhaps media or communications companies, to help it scale and invest more in marketing. To date, most of its growth has been organic.
By the numbers: In an interview with Axios, Weinstein says MeWe has benefited from some of the censorship claims levied against big social networks this year, most of which have been from conservatives.
The company, which he said broke even last year, saw revenues of over $3 million for the first four months of 2021, and expects to bring in $8-10 million for the full year. That's way up from the $1.165 million it brought in in 2020, and the $137,000 it made in 2019.
Weinstein says the app now has 20 million registered users, up from nine million in October. Of those, roughly 20-30% are considered monthly active users.
The app, which is available in 20 languages, has a global user base, with about 50% of users coming from North America, 26% from Asia, 23% from Europe and 1% from Australia. It also touts a pretty even age distribution among users.
The big picture: MeWe is part of a growing class of alternative social media networks that have gained traction among users who feel thy've been unjustly censored by mainstream social platforms like Facebook and Twitter.
While several of these networks, including MeWe, insist they are politically neutral, many have gained popularity on the right and among Trump supporters who argue they've been censored in the wake of the Jan. 6 Capitol insurrection.
MeWe has faced its share of moderation battles since then. Weinstein points out, as a sign of the company's conscientious efforts to moderate content, that MeWe's tech partners — app stores like Google and Apple and web servers like Amazon — have never banned it as they did with Parler.
Details: Unlike most social media platforms, the app makes all of its money from users paying for memberships and premium products, like extra cloud storage. It sells no targeted advertising and doesn't plan to.
It also avoids using algorithms to rank posts in its feed, which he says keeps users' feeds "natural and not manipulated."
"We have no censorship bias," Weinstein says. "We don't allow hate speech or speech that incites violence, but we're not going to censor you because you're progressive or conservative."
Still, 99% of the open groups on the platform are not political, Weinstein says. "MeWe is a mainstream social network. It appeals to all good people."
What to watch: MeWe isn't the only alternative social network that's caught the attention of investors.
YouTube alternative Rumble raised an undisclosed amount of money earlier this year from conservative investors, including Peter Thiel and Senate candidate J.D. Vance. The new. money valued the video-sharing app at $500 million, per The Wall Street Journal.
Go deeper